Legendary hair guru Julien Farel is living proof that the American dream is alive and well. He's had his hands in the hair of some of the most notable woman of our time (Streisand! Kate! Catherine Deneuve!) and has a loyal following of Uptown ladies who have made him one of the most in-demand and beloved hairstylists in New York City. This year he's celebrating 20 years in business so we thought it was a good time to catch up with him to find out how his love for women has made him a superstar in his world. 
What first brought you to the States?
I came to New York City in 1992. I knew no one and didn't speak English. I came with a little bit of money in my pocket, and was sleeping on the floor in Brooklyn. America is a dream for anyone from the other side of the globe. It is a country of aspiration. Early in my career, I was working for the French luxury franchise group, Jacques Dessange, which has 1,200 salon locations. I went from apprentice to assistant, and then became a junior and senior stylist, hair designer, and ultimately a teacher for their school. The JD group sent me to NYC to open their American school on Park Avenue in March 1992. I was supposed to stay for one year…I never went back to France!
What was New York like at the time?
I arrived in the Meat Packing District, which was, at the time, scary, dangerous, and dirty. Lots of prostitutes. The area was fun way before its time!! My friends and I used to go out there. There were also amazing nightclubs, like Club USA, which had a playground slide in the middle. I always loved working on Park Avenue because it was so residential and chic. It's incredible to still be able to work here everyday almost 30 years later.
How and why did you start your own business?
After two years at Dessange, I was head hunted by Frederick Fekkai, when Chanel had just acquired him and he was opening a new salon in the penthouse of the Chanel building, as well as on Rodeo Drive. I was recruited to train his talents in both locations. I stayed eight years and it really honed my career in NYC. After it became too big, and impersonal, and I was working like a machine doing 37 haircuts a day, I decided I wanted to have a more quality experience. I wanted to make women feel beautiful and spend one hour on a haircut, so I knew I had to open my own salon. Julien Farel Salon opened on 57th/58th Street and Madison on December 1, 2001 with one floor and four employees. We expanded to four floors and 55 employees. In 2014, we were approached by Jonathon Tisch to create a flagship at the newly-renovated Loews Regency hotel so we moved our flagship there to a 10,000-ft salon and spa called Julien Farel Restore Salon and Spa, with 120 employees.
Have women changed since you first started out?
Women have always been the same—interesting like the sea! Unpredictable! I'm a boater. They are looking for more, always driven, interested in trying new things. Today women run the world, drive business, are leaders and wear so many different hats. I remember this older woman, maybe 75 or 80-years-old, told me once while I was working at Bergdorf Goodman, 'You know Julien, women always want to look young, sexy, and attractive.' Since the first day I came to the U.S., nothing has or will ever change about women!
What are you most well known for ?
Loving and adoring people, especially women, and making them feel and look their best! I am the cheapest surgeon, as I work their hair like an architect; understanding and capturing who they are. I work very diligently to customize what works best on a women's face, so they can be the best versions of themselves and feel good and confident. I respect every detail. Their hairline, hair texture, cheekbones, nose, jaw, body, shoulders, body, even how tall they are plays into their hair style. I love listening to each person's needs and wishes.
Who are some of your celebrity clients?
Lauren Bush Lauren, Olivia Palermo, Audrey Tatou, Barbra Streisand, Rachel Weisz, Kate Beckinsale, Catherine Deneuve, Kate Moss, Greta Gerwig, Ines de la Fressange, and Kelly Rutherford.
Wow! Do you have a signature style?
The power haircut allows you to grow your hair with a maintenance of four-six months. It was very useful during COVID for each of my clients. With every haircut, there is a foundation that allows me to be consistent. Architecture means build a volume on a space, each hair holds the next one like a puzzle, there is a consistent line which goes from A to Z.
We hear business has been incredible since reopening doors after lockdown. Why do you think things are so good for you these days?
It was challenging when we reopened, with all the COVID measures that were required. We have a great team that work well together. When we opened our doors, our clients felt safe and in good hands and my team and I were on top of all the necessary precautions every hour of every day. We had a waiting list of 1,200 clients in June 2020. Our salon and spa offer a variety of services and clients were ready to come back and feel good and get out of the house.
Tell us about some of your products!
Our ageless products are about the health, the scalp, and the life of the hair. Restore, my line of "all-in-one" shampoos, is a non-foaming shampoo-treatment that started with five years of research by some of the most talented and committed Italian doctors. We have created five proprietary compounds exclusive to us to keep hair alive by hydrating the follicles and strengthening our scalp. This is my greatest passion and challenge to have the best formula and product to help people keep their hair forever. Our longterm goal is to make this shampoo affordable for everyone, everywhere.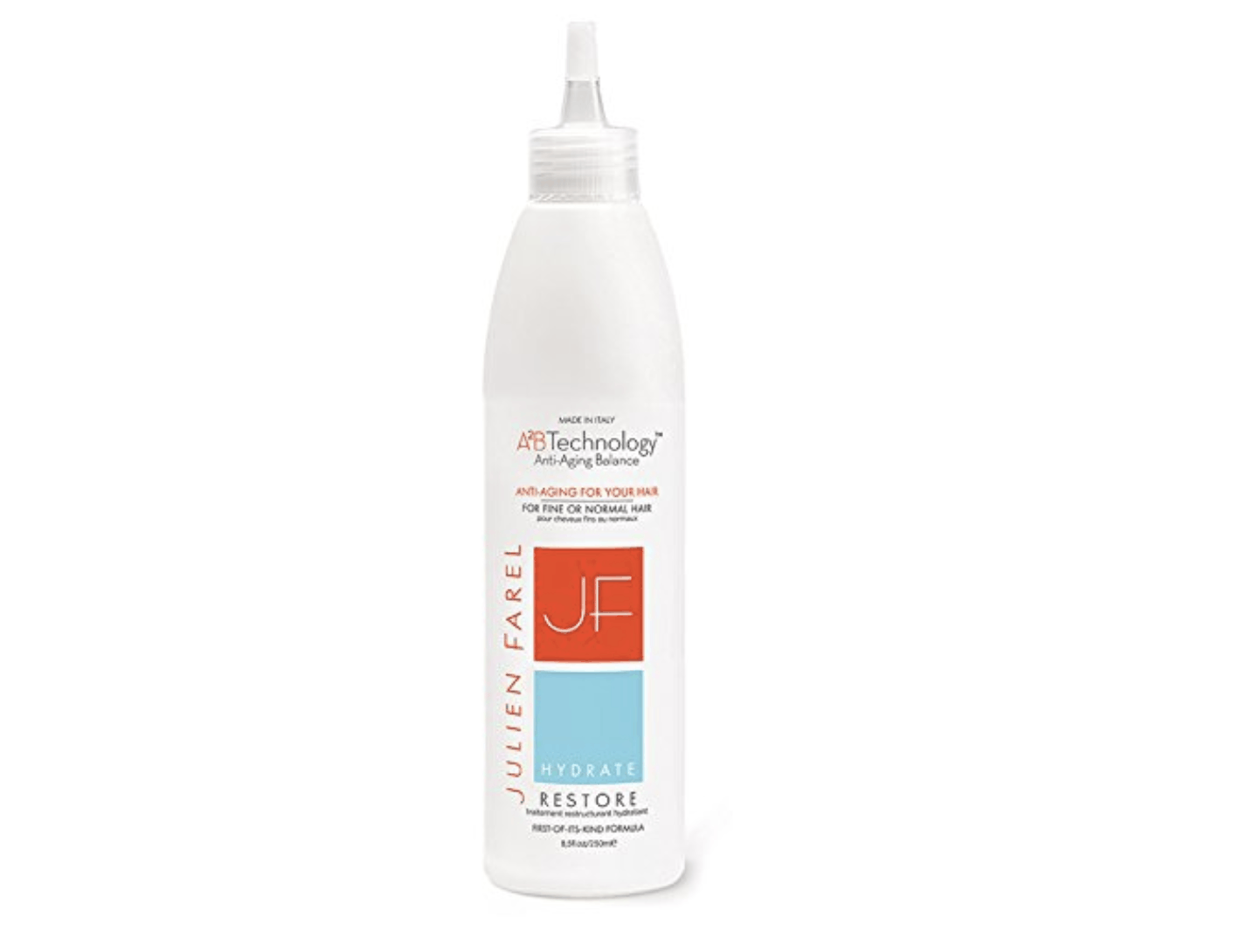 Do you have plans to open more salons?
We always want to grow. My personal motto, 'If you don't go up, you go down.' So let's go up! I never say never. I am very focused on my product line. I am driven, passionate, and hungry for any upcoming opportunities. I believe in the universe and all surprises. I just keep going with love, happiness, and courage, and I am grateful for all the country has given me.
What has been the most memorable part of being in business for 20 years?
Meeting my better half and business partner, Suelyn. She is my best friend, best supporter, and I could never have the success today without her. Also, some incredible mentors along the way, most notably Jonathan Tisch, who changed our lives by giving us the opportunity to set up at his amazing hotel. It is the true power of New York. I couldn't be celebrating 20 years without my incredible staff and team of talents who are passionate artists and incredible people, who I love to work with each and every day.
What advice would you give someone starting out in the business to get where you are today?
Work and work and work, do not think , don't worry, just go! Like the movie quote from Field Of Dreams… "If you build it, they will come."
What advice would you tell your young self if you could?
You are enough!
Subscribe to our newsletter and follow us on Facebook and Instagram to stay up to date on all the latest fashion news and juicy industry gossip.