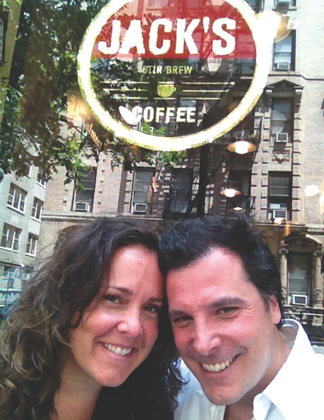 Coffee Talk! With Melissa Joy Manning
|
Who knew?! Jewelry designer Melissa Joy Manning and Jack Mazzola of java spot Jack's Stir Brew are tight in business and friendship…
How'd you and Jack become pals?
Jack is engaged to one of my best friends Christina Lehr. After five years of hanging out together, we forged a friendship around our love of scuba diving, vintage shopping, and, of course, coffee!
What's the collab about?
We do craft projects a lot. That's how we came up with these bracelets! They're about our shared tastes and entrepreneurial experiences.

Where do you guys like to unwind?
We hang out by the pool at Jack's house in Springs. Recently, we had a Mexican-themed, 20-person dinner party for Jack's birthday. We also go to East Hampton Grill for martinis!
The fish-festooned baubles are available at Jack's Stir Brew, 146 Montauk Highway, Amagansett, NY 11930, (631) 267-5555