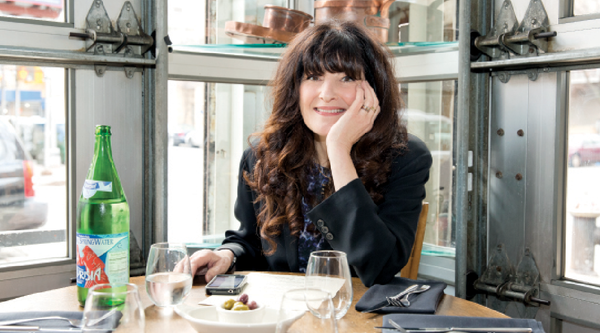 Best of The Daily: The Truth About Ruth Reichl
|
(NEW YORK)
More
Daily
faves from our NYFW print glossies to unearth from the archives! Life after Condé? Tough…but not impossible. Since losing her beloved glossy,
Gourmet
, in the McKinsey-backed bloodbath of 2009, Ruth Reichl has taken a dip in the Gilt pool, inked a three-book deal with Random House, and Tweeted up a storm. But
The Daily
isn't the only fangirl on the block: a four-top waited patiently through cappuccinos for a photo op with the onetime
Top Chef
judge, and Scott Feldman (the foodie set's answer to Ari Gold) popped by for a mid-meal schmooze. Thankfully, there's more than enough Reichl to go around.

BY ALEXANDRA ILYASHOV
Why'd you pick Barbuto for lunch?
I've known the chef, Jonathan Waxman, for years. My first big story ever was about Michael's opening in L.A., and he was a chef there. I love his carbonara. It's the most ridiculously large portion. It's, like, carbonara for three. They have a great kale salad with anchovies and breadcrumbs, too. Let's get both.
Yes, please! So, what happened with Gilt Taste?
[Gilt Groupe chairwoman] Susan Lyne is an old friend and told me they were doing an experiment in commerce-based journalism. Francis Lam and I signed on, and within the first six months we were nominated for three James Beard awards.
Wow. So why didn't it pan out?
We had a great audience, but there was a disconnect. The site is very successful, but not in the way we anticipated. It was very disappointing.
What have you been doing since?
I turned in my first novel in January, actually. It's called Delicious, and it takes place now and during World War II. There's a lot about food in it, but it's also a love story.
Sounds sexy! How much did you draw from your own life?
Nothing! It's totally invented. It was not easy, but I had the best editor. She taught me how to do fiction. I essentially wrote a novel, threw it out, and then started again. It's taken two and a half years.
Why fiction?
I always said if I didn't have a job, I'd write a novel. So I did! It's part of my three-book deal with Random House. I'm also working on a cookbook based on my Twitter feed, "The Tao of Ruth," which is a phrase Tony Bourdain came up with. It basically chronicles a year's worth of cooking and Tweets, after Gourmet closed. Cooking saved my life. It was such a blow to lose Gourmet. I never in a million years thought that would happen. Not even the faintest possibility! We were such a family there. It wasn't just losing a job. I lost a very big support group.
How did you find out you were being shut down?
Well, the Gourmet cookbook had just come out so I was on a book tour. It was so weird. It wasn't even my book, and all anybody wanted to talk about was why the magazine had closed! I didn't have an answer because I didn't know!

Is there anything you wanted to do at Gourmet that you never got a chance to?
I always wanted to get Barbara Kingsolver to write for us, and I really wish I had. I think every writer has at least one great food story in them.
Did you like Gourmet Live, the digital incarnation of your erstwhile mag?
I didn't even look at it.
Do you enjoy reading any food mags out today?
I love, love Lucky Peach. It's heartening to see that you can still do a magazine that's really well-written and has beautiful art direction. They're doing whatever they want!
We're guessing you're not a big Yelper.
Anybody who believes Yelp is an idiot. Most people on Yelp have no idea what they're talking about.
What about Zagat?
I've always hated Zagat. If I'm going to listen to someone else's opinions on restaurants, I don't care if I agree or not. I just want to know who they are. If you follow critics, you know whether they're Francophiles, or if they like a lot of spice. I know what [Times critic] Pete Wells' biases are.We mostly agree. He's not a snob, which is rare among critics. He loves food and has been brave with
his reviews.
You used to have his job. What was that like?
As a critic, I really hated the star system. It's stupid and insulting to readers. I'd sometimes give a restaurant a lower rating so people would leave a restaurant saying I wrote a three-star review, but only gave two stars. But as an editor, I would never get rid of it. When you run a four-star review, it gets talked about all over the world.
Which reviews were more fun to write: the raves or the takedowns?
One-star reviews are especially hard, actually, and most readers aren't interested in reading them. I never wanted to give anything one star, but readers love no-star reviews because they're nasty. And when it's about Guy Fieri, it's funny! No one reading the Times is going to that restaurant, anyway. If you gave a
restaurant like Barbuto a poor or satisfactory review, though, it would probably close in a few months, so it's a big responsibility.
Did you ever feel guilty?
Of course! When I was on book tour, a guy came to a signing with his eight-year-old son and told me he'd been the chef at this restaurant I'd given a bad review to and that he hadn't worked since. So it better be a really bad meal that makes you mad enough to give it a terrible review.
What are you completely sick of seeing on menus?
Pastrami! Enough! It's the new bacon.
What's missing in New York?
Good bagels! They suck. H&H's? They're too soft. Bagels should be small and dense.

Whoa, Ruth. We must respectfully disagree! Moving on to Twitter. When did you fall in love?
Well, initially, I was like, "What the hell is Twitter?" Then I found I had another voice on Twitter. I love the discipline of 140 characters. I didn't want to use it promotionally. That's a betrayal of your followers. I'm big on privacy, too. I talk about my cat, but not my son or husband.
What would you Tweet about this meal?
"Gray. Cold. Barbuto, cozy. Fire burning. Kale salad: fuzzy, intense. Comforting bean soup."
Which words do you most abuse?
"Intense." It's a great descriptive. But I'm never OK overusing a word. That's why I have editors!
Are you more of a writer or editor?
I'm more of a writer, but by the time I left Gourmet, I was a really great editor in chief.
What makes a great EIC?
Hire people who are better than you, and your job is then to facilitate, run interference, and get out of their way. Hiring people is not intuitive, but my managing and executive editors at Gourmetwere really good at it. Also, hire people who will tell you when you're wrong.
Not many EICs do that!
Not everybody needs that. Anna Wintour is amazing at what she does, and I very much doubt that anyone tells Anna that she's wrong-—but I need that!
Are you into fashion at all?
I'm a fashion idiot! Food and fashion are different beasts. Food writing is nothing like fashion writing—food is intangible and hard to describe. We all have different flavor acuities, but if we look at the same dress, we're definitely seeing the same thing.
You had several disguises during your reviewing days. Who was your favorite character?
I loved dressing up as "Brenda." She was so nice! Nothing ever upset her, she had no edge, and she smiled at everyone. It was fun to be so sunny. The elevator man in our apartment building was madly in love with her.
Are there any disguises you wish you'd tried?
I wish I'd done a man. We're developing the script for Garlic and Sapphires now, and one of the disguises may be male.
How's that going?
I'm the producer on the film, so I'm very involved. We're now working with our sixth writer. Right after the book came out in 2006, HBO bought the rights and gave it to two TV writers, but their script was a disaster! HBO gave me the book back, and a week later, Fox bought it. The current screenwriter has a very different vision. It's focused on Ruth's relationship with her mother. It's really interesting to see what people think.
How many more memoirs do you plan to write?
I'm about to start my memoir about my time at Gourmet. I'm really hoping it's going to be the last one. My life should not be interesting enough in the next 20 years to write another book! I was privileged to have that Condé Nast life, right at the company's most excessive and successful period. You paid for nothing!
How excessive was it?
A car, hair, and makeup every morning at your house if you wanted it. When I traveled, I wouldn't even know where I was going. My secretary would tell my driver which airport to take me to, and then she would hand me a folder with my itinerary. I knew I was a visitor in that world, though—I wasn't going to be in it for the rest of my life. I didn't know money like that even existed before arriving at Condé Nast! It's not real life, in some important way. People gave each other lavish gifts. If somebody retired at Condé Nast in those days, your secretary would go buy a $500 gift. Some editors at Condé Nast have never been on the subway—they'd take a car to go two blocks! I've stayed in touch with my wonderful driver, Mustafa. We still meet for coffee. It was fun, but I didn't want my nine-year-old son to think everybody had a driver to take him to camp.
Any editor pals while you were at 4 Times Square?
No. Condé Nast doesn't work that way. You barely saw anyone. Steve Florio used to have a big party at his house once a year. Everybody would leave the office at the same time to go to the party—and everybody took their own car. There'd be 40 cars waiting! It was hilarious.
PLUS! Ruth's Restos Du Moment!
Four delectable spots Ms. Reichl has been into lately. Ready, set, reserve!
Il Buco Alimentari (53 Great Jones St.)
"I'm quite obsessed. At lunch, you have to get the shortrib and gorgonzola sandwich, which is ridiculous. Their spaghetti cacio e pepe is amazing, and their punterelle salad is spectacular. It's like eating in Rome!"
Momofuku Ssam Bar (207 2nd Ave.)
"I get their wonderful pickles. I love their rice stick with Chinese broccoli and sausage, fluke dish, and pork buns."
Pearl Oyster Bar (18 Cornelia St.)
"I don't even have to order anymore. I get clams on the half-shell, a Caesar salad, boiled lobster, and French fries instead of corn pudding."
Neta (61 W. 8th St.)
"It's a great sushi bar, from guys who worked at Masa. They're young, there's a great mixologist, and it doesn't feel like a hushed temple the way some sushi bars do."