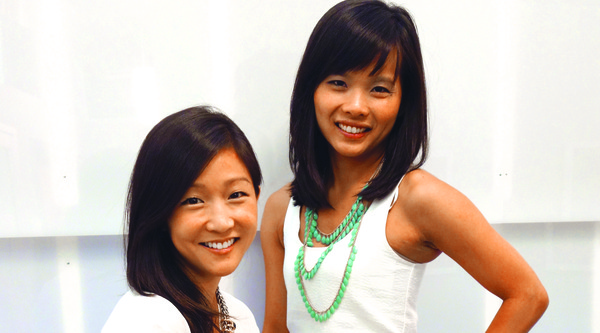 A Very Personal Stylist: Meet The Keaton Row Crew
|
(NEW YORK) Fashion site Keaton Row thinks an army of stylists can reinvent e-commerce, one killer outfit at a time. From the sound of it, they're on their way.
BY DENA SILVER
Cheryl Han, co-founder, and Elenor Mak, co-founder
What's the concept behind Keaton Row?
Elenor Mak: Cheryl and I both really care about what we wear, but we're both fairly busy. Cheryl was always playing the stylist role for her friends and offering fashion advice, and it gave us the idea. Keaton Row offers women access to a free stylist, while also giving a reward to the people who are doling out advice.
Before Keaton Row, did you use a stylist?
EM: I didn't have that luxury, and now I know how much I was missing out! Most women have a friend they're always turning to and asking, 'What are you wearing? Where did you get that?' That's exactly how our site works.
Where does the e-commerce component come in?
Cheryl Han: We paired with four major retailers: ASOS, Shopbop, Nordstrom, and Les Nouvelles. Retailers are always looking to tap into influential people who bring in meaningful customers, and Keaton Row is that ideal place. We have such a great volume of stylists, and they're bringing in such great customers, our retailers are willing to compensate us based off the stylist's sales. The stylists make a commission based off of every sale.
You have a background in e-commerce, right?
CH: After college I worked at L'Oréal and spent three years developing e-commerce sites for Shu Uemura and Armani. After that, I managed e-commerce at Clarins. Through working in e-commerce, I saw an opportunity to bring a higher level of personalization.
Where do you recruit your stylists?
EM: There's an application process, where you have to put together sample looks, answer questions, and share your social-media background. Our team evaluates the stylists, and if you are accepted, we train you on everything from styling to how to use our site and market your business.
How many stylists have you signed up?
CH: We have close to 300 active stylists and 10,000 registered clients.
What does Keaton Row mean?
CH: We like to say that we're a modern-day Savile Row, which was the first place busy men went for a bespoke experience. We're offering a personalized service but making it available online.
When in your own life have you needed a stylist most?
EM: When I worked for Avon. I remember going to Saks and asking for trendy business clothes and being sent to three separate floors. I was trying to mix and match on my own. If Keaton Row had existed, I would have used it in a heartbeat!
Do you have a stylist now?
EM: Of course! That's one of the perks.
Dani Stahl, creative cirector at Keaton Row, style editor-at-large at Nylon and jewelry designer at Lia Sophia
How often do your friends turn to you for styling advice?
My friends often turn to me for advice, and I can really relate to the stylists at Keaton Row. Before I even got started working in fashion, I loved clothes, and I was always the one that people turned to.
What's your favorite part of the gig?
I've always loved inspiring and working with people who are really passionate about what they're doing.
What's your interaction with the stylists on Keaton Row?
I'm sort of the queen bee. That includes making videos, giving them tips and inside information, and helping them further their businesses. I also host Twitter chats, and I have a blog on the site where I post my favorite things every month so stylists can see what's inspiring me right now.
How often do you take advice from the lookbooks you create for the site?
Every time I make a lookbook, I end up buying something. I really like to keep it true and genuine to things that I really like, so from Nordstrom to Shopbop, Les Nouvelles, and now ASOS, there's plenty of amazing stuff to want.
How do you balance this gig with all your other ones?
I think there's something very relatable to my lifestyle. I'm a stylist who's running her own business. Juggling different gigs is the way to keep things exciting!
Nicole Fasolino, celebrity stylist & Keaton Row stylist
Aside from your Keaton Row clientele, who do you style for?
Kate Hudson, Elizabeth Olsen, Blake Lively, Cintia Dicker, Jessica Perez, Shanina Shaik, and I also work with Chrissy Teigen and John Legend.
How many clients do you have on Keaton Row?
I have about 38 clients.
Do you approach Keaton Row styling differently from styling a red-carpet client?
Absolutely! When I'm working with celebrities and models, they understand that I'm going to push them to the fashion limit. My Keaton Row clients don't want to look stylized. They want to look like better versions of themselves.
What's your favorite part about being a Keaton Row stylist?
I think the site is a genius idea, because so many women are interested in fashion but don't know how to dress for themselves. So many of my clients are obsessed with fashion, but they don't necessarily know how to pair their Alexander Wang bag with a pair of jeans. My job is to change that.
How frequently do you communicate with your clients?
Some clients I only communicate with once a month, but others email me every day!