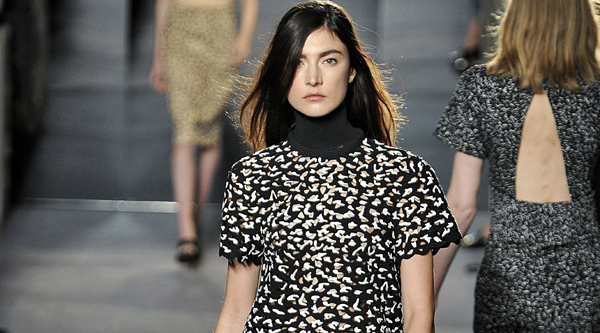 NYFW Fall 2013: Proenza Schouler, Marchesa, Rachel Zoe
|
(NEW YORK) Proenza Schouler
Lace and leather, like birds of a feather: Jack McCollough and Lazaro Hernandez came out with guns blazing at their FiDi show at 5 Beekman Street, that wonderfully raw, dilapidated building dating back to 1881 and considered to be the city's first highrise. Fitting, since their Fall collection lifted the brand to new heights. How so? Let us count the ways. Novel fabric finesses, for starters: skirt suits in confetti-printed noir, white pony hair, and woven leather intricately intertwined to look like tweed. Those belted slim shift dresses in punky chain metal? Probably placed immediately on reserve for the upcoming Met Gala exhibition, "Punk: From Couture to Chaos." Other feats of technique included ombre ostrich skirts paired with needlepunched leather knit sweaters (alos ombre-d). Also, perfect peplum dresses fashioned from crepe-backed lace that resembled perforated leather at a distance. Front rowers like Elizabeth Olsen and Liv Tyler will likely be donning these confections tout de suite. An outstanding collection, combined with new financial backing and business guru Rose Marie Bravo serving on their board, is bound to translate to even higher echelons of success. Enjoy the ride, boys!
Marchesa
Keren Craig and Georgina Chapman looked to Francisco de Goya's Portrait of Maria Teresa de Vallabriga on Horseback for their 17th century-inspired Fall collection steeped in aristocratic elegance fit for the modern deb. To wit, there was no shortage of embroidered corsetry paired with tailored shirting and silk wool matador trousers, or duchess satin gowns, draped at the skirt and embroidered with opulent gold leaf flowers. For the red carpet circuit, a red satin strapless fishtail gown was particularly noteworthy. Ditto for that black draped sleeve cocktail dress sprinkled with nude florals. Stylists, if you haven't put in your orders, it might be too late!
Rachel Zoe
The seventies has notoriously been Rachel Zoe's beat, but this season the SoCal stylist turned designer infused a touch of English equestrian into her tried-and-true groove. As Coco Rocha and Miley Cyrus sat front row, a troupe of mods stomped out in neatly tailored 3-piece suiting, sequined sleeved sweaters, riding jodhpurs, and leather trousers buckled above the ankle; a nice continuation of Zoe's leather offering circa Pre-Fall. Outerwear, another category Zoe has been growing for a few seasons now, was particularly strong this time around. Standouts in the topper department included a shearling-trimmed bomber and plaid capelet. New this season? A scale-back on accessories, but not to worry: The clothes more than made up for it.