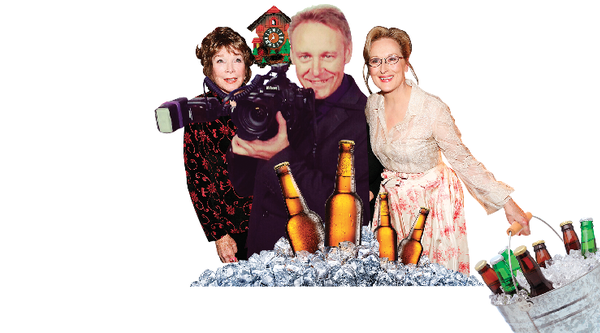 From The Daily's Hollywood Issue: 24 Hours Of Madness
|
(LOS ANGELES) In this town, Oscar day is total insanity, whether you're teasing follicles, behind the lens, or chauffeuring nominees in a meticulously cleaned limo. Here's how a slew of backstage pros help make the magic happen.
BY ALEXANDRA ILYASHOV
Erica Gray, The Celebrity Publicist, Viewpoint
This PR pro's roster includes Jon Hamm and Elisabeth Moss.
Wakeup Call: Around 8 or 9 a.m.
Red Carpet Uniform: Stylish and functional. A shoe with an ankle strap, platform, and/or stacked heel is very helpful!
How I Get There: I mostly park in a faraway lot. Or I'll cab or Uber. Or I ride with my client, which is, by far, the easiest.
Weather Woes: At the Globes in 2010, it was pouring rain and the red carpet wasn't tented or tarped. Everyone was soaked!
Lunch Order: I don't eat lunch! But I've been trying to be better about bringing a snack with me.
While the Show Is On… If my client is nominated, I'll hang backstage. If I'm with a presenter, I don't stay for the show. I rush to the nearest TV to change into my sweats and watch on the couch like everyone else!
Spotted On The Tube: Sometimes, a friend will take a photo of me from their TV and text it to me. Always mortifying!
Dinner M.O.: "Backstage catering (mostly yuck).
Awards Show Day, In A Word… Hectic.

Frazer Harrison, The Red Carpet Photographer, Getty Images
This shutterbug has shot for the mega-agency for over a decade.
Oscars, in 3 words: Total organized chaos.
Wakeup Call: Around 8 a.m.
Typical Outfit: Tuxedo. Black tie, possibly with a waistcoat
Getting a Star's Attention 101: Shout, or make a comment to get their attention. Some guys use compliments, or lines like, 'I loved you in whatever' which is usually one of the more obscure movies that they never get compliments on properly as it was bad. We are bad.
Photos Taken On Oscar Day: 3,000
Starstruck Moments: After 14 years, it's rare but I did have an experience escorting Meryl Streep across a room with her hanging onto my arm, like I was her date, to meet Shirley MacLaine.
Bathroom Breaks: Before and after. If you need to go during, then it's tough!
Drama Alert: There's no love lost between photographers. Tempers flare and harsh words are exchanged. But afterwards, all is forgotten and forgiven. Sometimes.
After-Work Libations: A couple—or six—cold beers when I get home!

Konstantin Godzhik, The Driver, Gr8limo
Wakeup Call: Work doesn't start until 3 p.m., but we'll get up as soon as the car wash is open, at 8 a.m., to make sure cars are clean and detailed before we pick up.
Stars Per Day: From two to six stars
Stocked Ride: We do complimentary beverages, like chilled Fiji water, candy, nutrition bars, and magazines.
Any Oscar Day Crises? Thank God, no!
Traffic Snafus: The traffic is unbelievable! We're pretty aware of the traffic and security checkpoint, so we allow enough time to get through that.
Time Allotted For Security: We allow 45 minutes to an hour. The Oscars are a really big event, where we know there will be hundreds of limos that will valet at the red carpet.
On The Waiting Line: Celebrities are provided with limo passes for the red carpet. We stay just five minutes from the venue.
Staying Mum: We talk to the other drivers, but they usually talk about their clients. We don't do that, because we're strictly confidential about who we drive.
Keeping Secrets: We've had clients ask us to sign a confidentiality agreement before we go to their property.
Any Drunk Celebs? They do go out and want to have fun, and they do drink. But as long as they keep themselves in control, it's all good.
In-N-Out Requests: It depends on the food they get at the event. Sometimes they get no food at all, so after the ceremony they'll eat anything!
Ever Get a Plus-One Invite to an Afterparty? Absolutely not! It's against our policy to be invited into their house or any other location.

Mara Roszak, The Hair Stylist, L'Oreal Paris
This coif whiz tends to the tresses of starlets like Emma Stone, Mila Kunis, Lily Collins, and Zoe Saldana. Recently she did Amy Poehler's mane for her co-hosting duties at the Golden Globes.
Wakeup Call: Around 8 a.m.
Breakfast: A big cup of coffee and a smoothie or eggs and toast.
How does YOUR hair look on Oscar day? Not fabulous—my natural texture, with a bit of wave. I'm usually not focused on my own hair.
First Phone (And Email) Check: Around my morning coffee time.
Highlight Of The Day: Waking up and going to sleep in my own bed!
Prep Time: Sometimes I have the luxury of knowing a week before the Oscars what my client is wearing—that is, if they've decided on one dress. Sometimes it's only a couple days before or the day of. The dress is a huge part of the inspiration and process for me in determining the hairstyle.
Lunch Break: If I have time to stop, I grab a smoothie or a salad somewhere. I always pack snacks, like fruit and nuts, to eat throughout the day.
Bobby Pins Per 'Do: I use a lot of bobby pins! Maybe 1/2 a pack.
Hairspray Usage Per Awards Show: Not a full can, but I always have back-up products in case
Major Stress Factors: Making sure the style stays through the night, and hoping it doesn't get smashed by a hug or in the car ride!
Wrap-Up Time: Usually in the evening, around 8 p.m., after getting people ready for Oscar parties.
Where I Watch: I like to watch at home and have friends over, or go to a friend's house. The red carpet is always taped along with the show, so I don't miss a thing!
Post-Oscars Unwinding: I take my shoes off and make a cup of tea.