Award-winning chef and Hamptons legend David Burtka is sharing his  love for entertaining in his first book, Life Is a Party. He dishes his expert advice to The Daily Summer!
The book is a fun read!
Thanks! There's a lot for everybody. It's not just recipe — there are party tips, crafts, playlists, outfit ideas, beautiful pictures… It's really a seasonal entertaining guide with 106 recipes, 16 party themes, 300 party tips, and 250 photos. It's a glimpse into the way Neil [Patrick Harris, Burtka's husband] and I like to entertain. Nothing is fabricated. I threw every one of those parties [featured in the book]. I threw a party in the morning with the kids and a party in the afternoon with the adults. It was an all-day affair. I had my friend Danielle Levitt, an amazing editorial and modern-art photographer, be a fly on the wall. She just shot us as we went and partied our night away.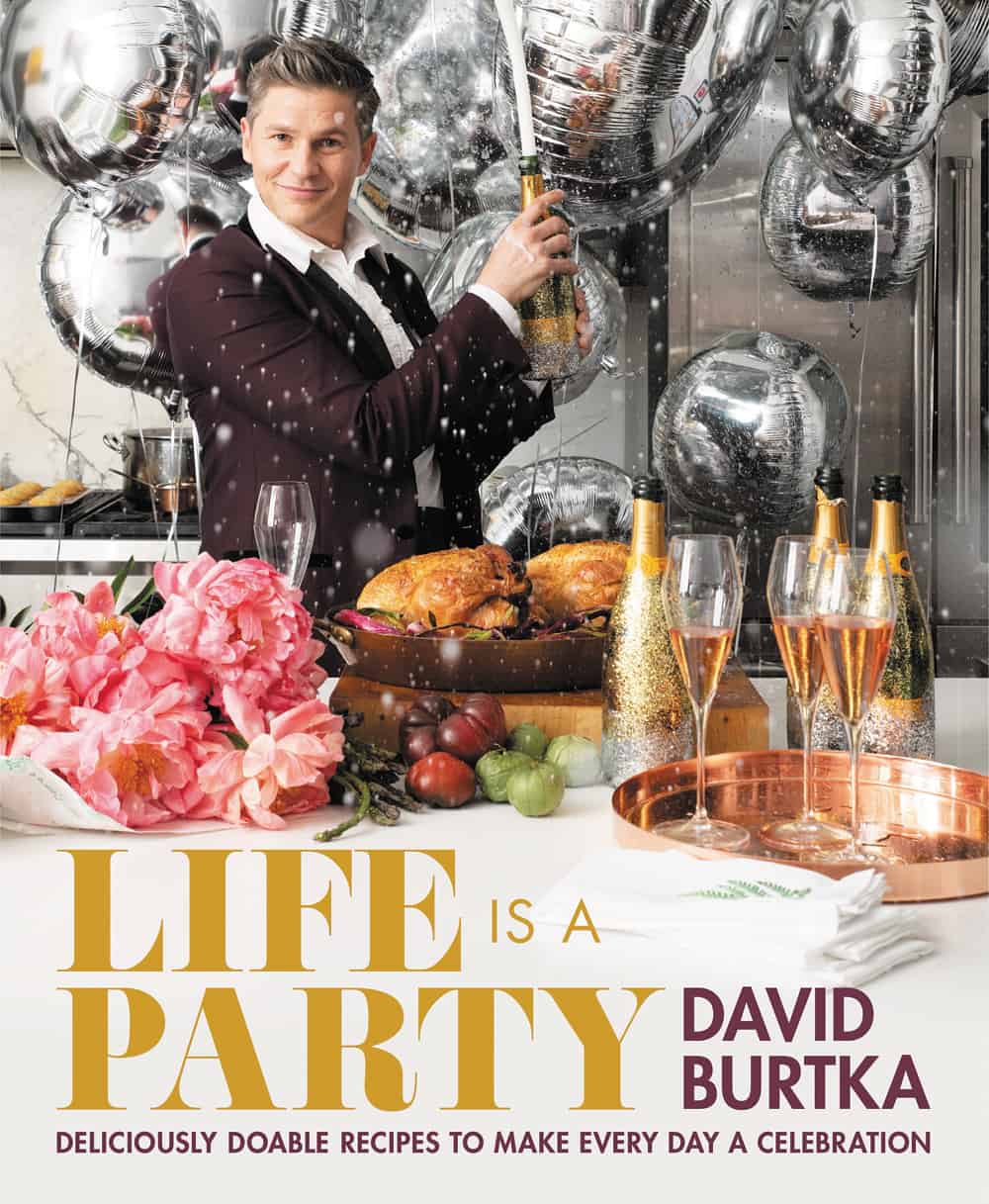 How did you break it down into sections?
I wanted to do a seasonal book. I shop at the farmer's market, and I never would buy a tomato or strawberry in winter. I love to cook when the produce is at its finest. We all have an obligation as humans to support our local farmers, and support things that are coming out of the ground at the time they are coming up. I also wanted to celebrate the little days, and not take life for granted. It's important to have fun in everything you do, and enjoy the time you are on this planet with your loved ones. Given all the things that are happening in this world, we all need to take a break, grab our loved ones, and have a laugh. It sounds cliché, but it's true!
What's your favorite kind of party to throw?
I like a group effort. I don't like to wait on everyone hand and foot. I like it when the guests take initiative — shaking cocktails, playing DJ, coming early to put the table together. If it's a group effort, people are more invested — and in turn, have more fun!
You're quite the expert in summer entertaining, in particular.
The Summer SOULstice [chapter] is all about cooking for a large group or a charity. Why not cook to raise funds for your local animal shelter or retirement home? There are so many tips about how to pay it forward. To prep for Memorial Day weekend, read the Sunday Funday chapter. It covers the summer barbecue to a T. There are great recipes for grilled ribs with cola barbecue sauce and grilled potato and leek salad with salsa verde vinaigrette.
What are some of your entertaining essentials?
Always go the extra mile, whether it's through flower arrangements, tablescapes, or take-home gifts. Those details make people feel special. Another great party tip: Once the party starts, don't freak out! Have fun! Don't stay in the kitchen the whole time worrying about the meal. If you need reinforcements, call people in!
Any rules?
For any meal with our kids, there's a no cell phone policy. One of my biggest pet peeves is going out to dinner and seeing a family on their iPads and cell phones. Why are you even at the restaurant? You might as well be at home in front of the TV. I know places now, even bars that are checking cell phones at the door. There's a fun game you can play where you all put your cell phones in the middle of the table and the first person to grab for their phone during the meal has to do the dishes.
Did you always plan to do a book?
No! I've been an actor my whole life. I've done Edward Albee plays, I worked for Sam Mendes on Broadway, and I used to dance. This has been a real eye-opener! I ended up cooking because my mom passed away suddenly, and I couldn't deal with the rejection of Los Angeles and acting. I thought about what else makes me happy — I love cooking and trying new recipes. I ended up going to culinary school, and from there, amazing things started falling from the sky. I Instagrammed a lot of what I made with my kids, people said I should do a book, and here we are!
You and Neil spend a lot of time on the East End. Any favorite spots?
I really love Serene Green. They've got some of the best produce in all of the Hamptons. LT Burger in Sag Harbor is fun. Le Bilboquet is really nice and right on the water. My kids love BuddhaBerry. The beauty of the Hamptons is that you get to go to farmer's markets and cook your own meals and be with people. I always love cooking in.
Switching gears — you were a producer of the Wigstock event last year.
I went to the original Wigstock, and I said to Neil, "Drag is so big right now, and you don't ever get to see these girls do what they want to do." RuPaul has them in such a bubble of what she wants them to do, but you never really get to see what these girls are famous for. I called Lady Bunny, and said it was time to bring back Wigstock, and so that's what we did. Drag is more relevant than ever. When we decided to put the festival together, we got together with HBO and hired Chris Moukarbel to direct and make a documentary about Wigstock and the relaunch of the festival. It's a really fun film! Wig airs on HBO on Tuesday, June 18th.
Are you going to do it again this year?
Here's hoping! It's been a wild ride. Bunny wants to do it, but nothing has been announced yet.
What are you looking forward to this summer?
Neil and I have been asked to go to Tel Aviv for World Pride, so we're going there for a bit. I'm going to be doing some stuff for Pride in New York, too. We're going to hang out with our kids, check up on the construction of our Hamptons house, and do some traveling. And we'll probably go with Elton [John] and David [Furnish] to Nice on our annual trip with the kids!
Read the complete new issue of The Daily Summer below.
Subscribe to our newsletter and follow us on Facebook and Instagram to stay up to date on all the latest fashion news and juicy industry gossip.