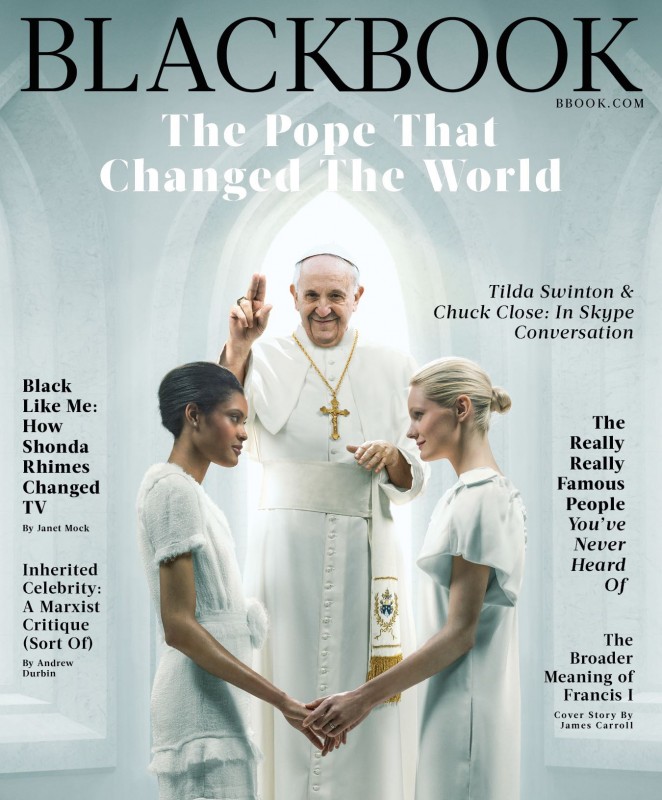 The eagerly-anticipated redux of BlackBook was recently toasted with a bash and screening of Cole Haan's The American Dream, and while the biannual glossy has been on select newsstands for a week or so, today the mag drops on stands internationally. We rang up BlackBook's editor-in-chief, Jacob Brown, to get the scoop on the relaunch and what you'll find inside the issue. Plus! Check out an HP video of the issue being put together, right here!

What kind of feedback have you gotten about BlackBook?
The reactions have been pretty good. People are really responding to our sorts of idea-driven stories. That's really obvious right from the cover. We looked at old covers of Esquire and Spy, and current New York covers. We wanted a high fashion aesthetic level and a visual statement—the cover visual conveys an idea, which is backed up by the cover story, written by James Carroll. It's really interesting to have a writer of really high intellectual stature, writing for us on the topic he's an expert in.
Quite the controversial cover! Did you have any reservations?
To be honest, we were finalizing it when the whole Charlie Hebdo thing happened, so we were very aware that people could have negative reactions. But our cover is not very overtly trying to be controversial—it's just a beautiful image and a beautiful sentiment.
Have you gotten any negative feedback from super-conservative groups about it?
Well, we haven't had any angry letters yet but maybe a week after it's been on stands…we'll see.
Talk us through some features in the inaugural relaunch issue.
First of all, I'm really proud of the fact that we're putting authors' names on the cover! So we had Janet Mock write a really personal essay about Shonda Rhimes, who's a really fascinating person. She's one of the most powerful, influential people in television right now, and it has nothing to do with the fact that she's black and that she's a woman—but she is black, and she is a woman. She's done so much in terms of creating shows where characters aren't excluded based on race or sexuality. Janet is a black and trans, and she's a pretty famous activist in both those arenas—and she's a fantastic writer. It's a fun read, but it's also really important and moving.
What else is on tap?
This young writer and poet, Andrew Durbin, wrote an essay for us about the idea of inherited celebrity. You used to be able to inherit money or a title, but now the most valuable thing you can inherit is celebrity status from your parents. That's all thanks to social media and what's going on in our culture in general. There's also some interesting celebrity stuff—Tilda Swinton got on Skype with Chuck Close and had a fascinating conversation with him. There's also this really great story with James Franco and first-time director Justin Kelly about their movie, I Am Michael, based on a New York Times Magazine story that Benoit Denizet-Lewis wrote about an old friend of his that turned into an ex-gay, played with James in the movie.
What's your M.O. editorially?
I think it's really important for an independently-published, fashion-oriented magazine to have these deep, long reads. I definitely learned that when I was working for Sally Singer at T.  
What else did you learn from Sally?
For her, it's really always about creating a moment with the magazine, Your reader looks forward to receiving and spending time with it, and has his emotional bond with it. You take them on a journey as they read it. That's the idea with BlackBook.
Let's talk about advertising. Having HP as a dominant advertiser is an interesting model. Is it an industry game-changer? 
I don't know if we're doing it differently—we're just being really open about it. For this issue, we worked with HP, and used their design device, Sprout by HP to [design] stories. We didn't lay out the actual cover on it, but used it for an internal mock-up. We just used the machine in a really organic way.
What's the circ like?
Generally the circulation is around 100,000. We have the same reserved spots at Barnes and Nobles and airports that BlackBook has always had—it's a relaunch, but we have a lot of the ground work for distribution already in place.
Who do you hope will be reading this issue?
I think there is a really broad base of readers, that aren't just into fashion, but are interested in the full range of arts and culture and want to see an independent perspective that's both highly intellectual and highly aesthetic.
What else do you imagine the BlackBook reader is poring over?
People reading BlackBook probably aesthetically like V and Interview, and also read The New Yorker and The New York Times Magazine.
What was the trickiest part about a relaunch of an established title?
The hardest thing is getting people to understand your vision when you can't show them anything. When I was pitching this idea for the cover to my team, internally I didn't have a way to show them what I meant by, "We're going to have the Pope marrying a lesbian couple" when we can't shoot the Pope. The section that opens the magazine, called "All That Is", has a very specific voice—it's a little bit like The New Yorker's "Talk Of The Town". It's kind of fly-on-the-wall and really fun to read, but it was really hard to explain the section's voice to writers.
What's it like working with Anne Christensen?
I just adore Anne so much—beyond aesthetics, in terms of her personality and intellectually.  She's just really smart. We've been really lucky to have her.
Why did you take this gig?
Working with Sally [Singer] at T was sort of the pinnacle of anything I'd ever dreamed of doing in the magazine world. After that, I was writing for awhile, and I also work in film—I do a lot of short films for places like Purple and Vogue.
BlackBook is a biannual—any plans to churn out more issues in the future?
I don't think we have any intentions to be more frequent than that. Being an independently published print magazine that's out twice a year lets you create stories that are lasting. Being biannual also gives me a lot of freedom to work on films, write for other magazines, and be really involved in culture in a lot of different ways. Also, on the advertising side, biannual is the way to go.
PLUS! Brown shared a chic fashion spread from the issue with us, shot by Philip-Lorca diCorcia, styled by Christiansen, and starring Next Management mod Daisy and L.A.-based transgender artist Zackary Drucker. Fun fact: diCorcia included an image from the shoot in his show at David Zwirner gallery. Check out the full story at BBook.com.