Salar Bil is the alter-ego of Bilehsavarchian the Godfather of conceptual fashion based in Tehran under the pen of Salar Bil , an Iranian artist, writer, translator who has worked for years in the field of underground art, under strict laws , with the message of Art by the artist most of the creative parts of projects are by himself. He wrote about Anthropocene age of earth in a book published in Iran, as Sophie Fontanel, Tim Blanks and Diane Pernet mentioned Salar Bil is The Forefather of conceptual fashion in Tehran, all of them are icons in shaping the Global Fashion Industry (Three icons of BoF 500 People Shaping the Global Fashion Industry). 
Antonio Mancinelli for La Stampa called him The Godfather as well, Diane Pernet wrote about the forefather of conceptual fashion in A Shaded View on Fashion Film from Anti-capitalism to Anti-Iranian regime! Sophie Fontanel In a Vogue France article called him the Godfather and and an important thinker in politics, before that Sophie Fontanel wrote a complete article about him in L'Obs which is related to the left wing and care about issues such as politics, culture, literature and also issues related to Middle East countries. Tim Blanks also in Fashion in the Middle East, Optimism and Transformation called him the predecessor of Iran's perceptual and a unique author. Salar Bil is Iran's pioneer in success of market in BoF as well and hottest Designer of 2015, He is working for his art-journal that is about art history to find the intersection between art and fashion or how fashion can be produced as work of art and his journal that is about interdisciplinary of fashion, that is fashion and culture, fashion and philosophy. 
Christina Aguilera wore a signature belt designed by Bil during her performance at The Hollywood Bowl on July 16, 2021. He was the costume designer for David LaChapelle's Take Me to Church, Salome by Romeo Castellucci and Orlando by Alexey Bogorad and Christian Spuck, He also designed clothes for Erykah Badu, Boy George, Róisín Murphy and Ellen von Unwerth. Bilehsavarchian also dressed Daniel Lismore and Betony Vernon as his figures; He is currently the ambassador of Tom Of Finland and Christina Aguilera made him the ambassador quoted : "From the green palette being a take on the legendary & controversial artist Tom of Finland's artwork and imagery." Patti Smith made praised him as a master of punk literature icon and someone that his work encompasses all roots, Erykah Badu offered him collaborations with Marni & Off-White™ and Kim Gordon for his No Wave avant-garde genre m his pillar of Salar Bil's foundation, He wrote about Fashionable Technology refers to the intersection of design, fashion, science, and technology. Fashionable wearables are 'designed' garments, accessories, or jewelry that combine aesthetics and style with functional technology. 
As designers of fashionable wearables, we view end users as fashionable beings who are attentive to style and the powerful potential of wearable technologies. Our design philosophy is based on the notion that garments are the immediate interface to the environment and thus are a constant transmitter and receiver of emotions, experiences, and meaning. '… the electric age ushers us into a world in which we live and breathe and listen with the entire epidermis' Marshall McLuhan's observation describes the garment as being an interface to the exterior mediated through digital technology. Fashionable wearables have great expressive potential that is amplified through the use of technology. The limitless possibilities for the immediate dynamic personalization of clothing are fascinating and current experimentation in the area is showing great promise. 
Today, fashionable wearables are mediators of information and amplifiers of fantasy. In our contemporary world fashion is synonymous with style, dress, adornment, decoration, and clothing. As a communication medium it has unlimited potential. Many wearers of technology are engaged through the mechanisms of fashion. However, fashionable wearables are much more than mere fashion. They incorporate technological elements that transform them into interactive interfaces. 'An aesthetic explanation is not a causal explanation. 'The context of use is tremendously important when creating meaningful fashionable wearables. While aesthetically pleasing design is an integral part of the success of a fashionable wearable, the context truly determines the functional and expressive definition of a fashionable wearable. Early wearables were functional but awkward to wear and to look at. Today wearables are rapidly rising to meet the fashion world on its own terms by producing garments that are both stylish and comfortable. Personalization of wearables allows for new modes of self-expression, which is an essential factor in making fashion items that appeal to the public. 'All clothes have social, psychological and physical functions. 'Through technology the functions of clothing can be enhanced and new ones are defined. Material (or physical functions) functions are protection, concealment, and attraction. Cultural functions (including social and psychological functions) are communication, individualistic expression, social or economic status, political or religious affiliation. Fashionable wearables can enhance the cognitive characteristics of our epidermis. 
Our clothing is often referred to as our second skin. Today this is more than just a metaphor as advances in technology produce fabrics that mimic many of the skin's properties. Fashionable wearables range in levels of expressiveness versus functionality. 1 The fashionable wearables in the high fashion realm are expressive and the functionality is less important. 2 The fashionable wearables have a defined function and some need to be stylish. Sportswear and health-monitoring garments require this duality. 3 The functionality is the focal point. In workwear the necessity for personal expression is limited by strict pre-defined functionalities and restrictions. Technology and fashion are not as distant from each other as it might first seem. The thread-up and thread-down of the weaving process corresponds to the 0 and 1 binary logic of computer circuitry. Ed Thorpe and Claude Shannon revealed the first wearable computer in 1966. It was a cigarette-pack sized analog computer with four buttons to indicate the speed of a roulette wheel and the predicted results were transmitted by radio to an earpiece. In 1981 Steve Mann created a backpack-mounted computer to control his photographic equipment. 'A wearable computer is a computer that is subsumed into the personal space of the user, controlled by the user, and has both operational and interactional constancy, i.e. is always on and always accessible.'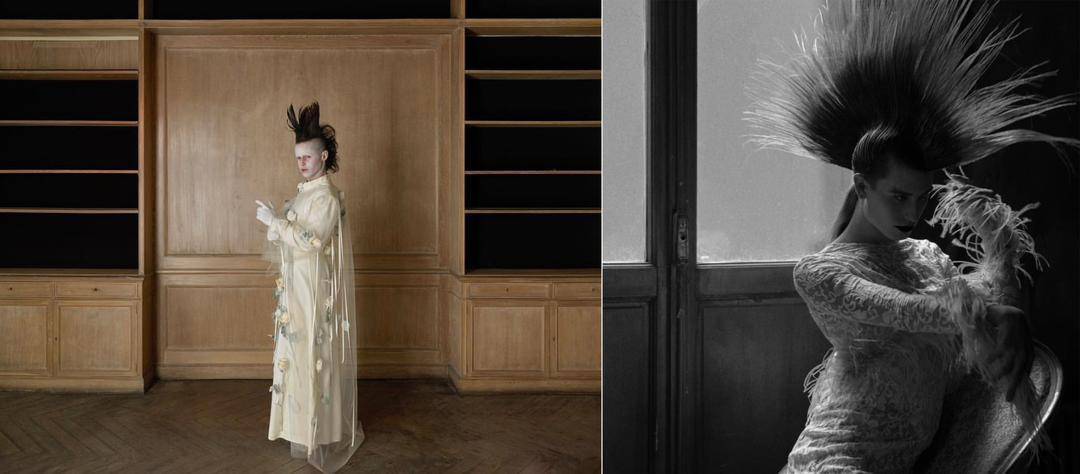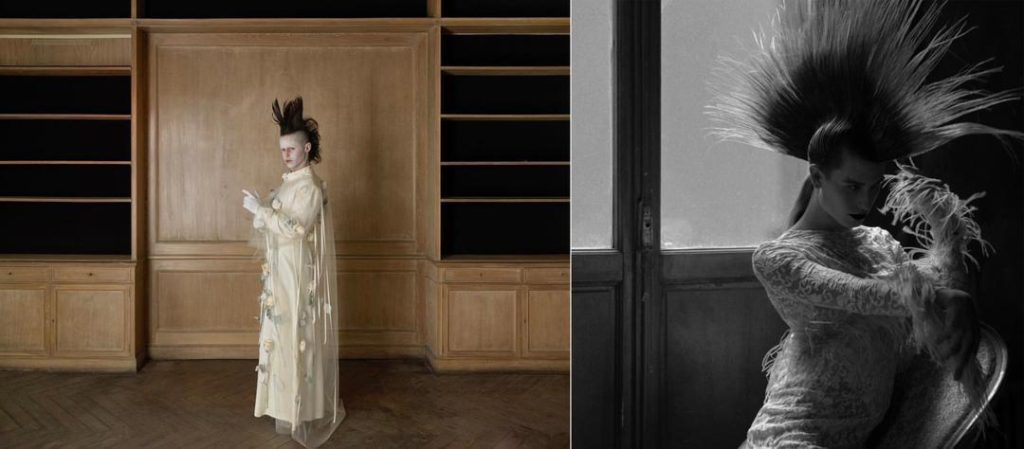 The term 'wearable technologies' refers particularly to the electrical engineering, physical computing, and wireless communication networks that make a fashionable wearable functional. Today, the development rate of wearable technologies is accelerating rapidly and our vision is becoming reality. Processing power is doubling at light speed, components are miniaturizing, alternative energies are becoming viable options, and ubiquitous computing is pervasive. Embedded technologies influence the wearability, comfort and aesthetic of a fashionable wearable. The incorporation of technology depends on the context of use and the desired interaction between the fashionable wearable and its surrounding environment. The main technical components used for the creation of fashionable wearables are: Interfaces (connectors, wires, antennas, …), Microprocessors, Inputs (sensors, …), Outputs (actuators, …), Software, Energy (batteries, solar panels, …), Materials (electronic textiles, enhanced materials, …). The microprocessor is a single-chip computer that can run and store a program. It collects and computes data derived through various interfaces from the input sources. This computation is necessary to address the outputs on either the garment itself or to signal external devices. Cell phones typify external devices that are able to compute and deliver extensive data through diverse communication networks. Readings is the title of the Spring/Summer collection and is also a film collaboration with leading crystal innovator Swarovski and Nick Knight's fashion broadcasting company SHOWstudio. 
The highlight of the collection is inspired by ancient sun worshipping and contemporary celebrity status. Laser lights are beamed through Swarovski crystals, reflecting light from the garment and bouncing it off mirrors surrounding it, thus representing the interplay between the scrutinized figure and the audience. Hussein pushes the boundaries of fashion by integrating the latest LED technology into his fashion collection. The collection uses climate as a metaphor and reflects our primal feelings towards nature and the cycles of weather. An LED dress consisting of 15,600 LEDs, combined with crystal, displays short abstract films that correspond to the arrival of a particular season. 
An association with Swarovski has led to a collection that transcends a 111-year history of fashion and reveals a modern and unique vision. Each of the five beautifully hand constructed, mechanical dresses, represents a particular period in fashion history, incorporating contemporary vision and complex engineering. 1895 is the starting point for the collection, consisting of a full-length skirt with a tightly pulled in waist on a gown with a high, frilled neckline. This transforms into a looser fitting dress with a hemline that rises to the calf reflecting the style of 1910. In turn, this seamlessly morphs into a 1920s flapper dress comprised of a loose layered knee length skirt with a plunging neckline. The metamorphosis continues right up to the present day.
Presented by: Ascend Agency