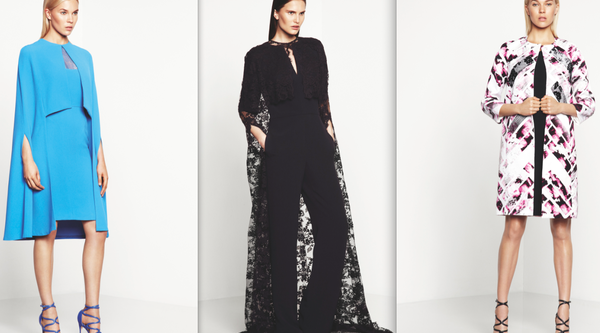 Resort 2014: Monique Lhuillier
|
(NEW YORK) Monique Lhuillier
Frock star Monique Lhuillier has plenty of pretty options for all of your party attire needs in her latest Resort roster of looks. In a palette that ranged from B&W to bright aqua and fuchsia, there were plenty of cocktail dresses in punchy prints, lush lace, and chic capes. The aqua pieces were particularly striking, in looks like a skinny pencil dress with sheer lace from the neck to the top of the bust, which was worn underneath a matching tiered matching cape. Other capes made cameos, like the sheer lace overlay that spiced up a black deep-v cocktail dress, or a floor-length lace iteration, worn over a black jumpsuit of the same lacy persuasion.
Lace appeared throughout the collection in an off-the-shoulder baby blue body-con dress, or on the sheer sleeves of some B&W wildly printed tops that reminded us of those old Magic Eye books. Perhaps if you cross your eyes and look close enough, a hidden picture will appear? Other cool prints popped up on pieces like a ruched strapless evening gown, complete with a sexy slit. Also on the menu: a demure yet eye-catching dress coat worn over a black pencil dress. If you're after the undivided attention of the crowd at your next glitzy affair, this collection has some haute head turners to consider.