Net-a-Porter is welcoming four hot new brands into their innovative designer incubator program from Spring 2019. The Vanguard program, which launched in September 2018, is a comprehensive mentorship program encompassing training and guidance from Net-a-Porter's global team, providing a 360-degree approach to building a successful and sustainable business. The Daily Front Row caught up with Net-a-Porter's global buying director, Elizabeth von der Goltz, to find out more about the program before checking in with the designers themselves. 
How do you find the designers for your incubator program? What do you look for?
Elizabeth von der Goltz: We look for brands that have a unique brand story and distinct, visual design. In order for us to support them through our Vanguard program, they truly have to be brands we stand behind and believe will resonate with our global customer. Through the program, we have every intention to grow each brand into a successful business.
What do you think is the biggest mistake most fledgling brands make?
Most designers are extremely talented and creative but may need help with the business aspect of building a strong brand. Staying focused on your creative vision and not overly influenced by the market and editors when you are launching a business is crucial. Providing an efficient production flow and synergies in the back of the house is also imperative for early stages of development. Once costs are in line, production quality is high and deliveries are on time then you can begin to build pre-collections and produce four collections per year. Many brands try to bite off more than they can chew in the early stages and as a rule of thumb, I think you should remember to not try and grow too fast and remain steady with your workflow and pace in the initial starting days.
Are there any advantages to being a small/new brand?
In an industry that is constantly focusing on the new, we want to introduce freshness to our customers and endorse emerging designers as they are ultimately the future of our business. It's an exciting time to be a younger, smaller brand because the industry seeks and thrives on the newness they provide. Emerging brands have flexibility since they can evolve and be nimble in order to stay current. They aren't restricted by large infrastructures, retail networks, and staff members. They also have closer and faster access to their customers, which leads the brands to better understand them and create best-selling results.
Now, let's meet the designers!
1. Peter Do
An FIT graduate, Do was awarded the LVMH Prize for Graduates and swiftly went on to work under Phoebe Philo at Céline. The collection is made up of beautifully-cut, standout shirting and innovative separates.
Why did you start your brand and what niche do you think you fill?
Even though I learned a lot at Céline and Derek Lam, I started Peter Do because I felt like I had more to say. It seems to me that there are a lot of voices shouting in an oversaturated market. My clothes are not making the loudest statement, but it is a conversation I believe people want to engage in.
What is the biggest issue facing small/emerging brands like yours and what are you doing to tackle this issue?
Many designers are never taught the business side of fashion. It's easy to forget when you're working under a different house with a budget you are not responsible for. I think it's imperative to understand cash flow and the market when launching your own brand, and how to make the most impactful statement with the resources you have. Launching your own brand is almost like being a student again, and you have to be asking all the right questions. I spend equal time discussing sales, press, and production with my team to ensure I'm constantly informed of the brand's standing.
Who would you love to collaborate with?
I would really love to work with photographer Momo Okabe. She has a very distinct perspective and her use of color is ingenious. I would love to have her see my collections through her lens in order to produce emotional images.

If you could nominate one designer to participate in this incubator after you, who would you choose?
There are tons of great talent out there, but I really admire Stefan Cooke.
Shop Peter Do's collection on Net-a-Porter now.
2. Anne Manns
Berlin-based Anne Manns' jewelry is inspired by sculpture and nature and her minimal aesthetic is perfectly articulated in the pea and aubergine-inspired collections created for Net-a-Porter.
Why did you start your brand and what niche do you think you fill?
After studying and working in clothing I felt like trying something new and experimenting in a different field. Personally, I believe that even though trends do exist in the jewlery industry, the industry is less controlled by seasons. Therefore, I feel that there are more opportunities to create long-lasting, seasonless pieces that stand out by themselves.
Who would you love to collaborate with?
If Babara Hepworth or Edward Weston were still alive I would choose them. I love Hepworth's sculptures. Weston's photography already has a big influence on my work, for his amazing nature studies. A collaboration with a bigger fashion house is also big dream, of course.

If you could nominate one designer to participate in this incubator after you, who would it be?
Hard to decide. I feel that the industry is changing. A lot of great new and creative minds are influencing the scene. Maybe I would choose Maison Cleo, a mother and daughter duo. They produce beautiful pieces in France and they are "made-to-order". A new way of consuming that avoids overproduction.

Shop Anne Manns' collection on Net-a-Porter now.
3. Angela Wang and Daniel Li of Ratio Et Motus
Launched in 2018, Ratio Et Motus is focused on creating fine leather goods in classic styles with a modern twist. They
produce styles with longevity in mind, utilizing Italian craftsmanship with clever, considered design details.
Why did you start your brand and what niche do you think you fill?
We were both in the handbag design field prior to the launch of Ratio Et Motus. Along the years of experience in the industry, we have grown stronger in the aesthetic that we both feel the urge to express and designing handbags just comes naturally as it's our most familiar medium.
We think there is a void on the accessory market right now for a young brand to focus on premium quality products with timeless styles at a reasonable price.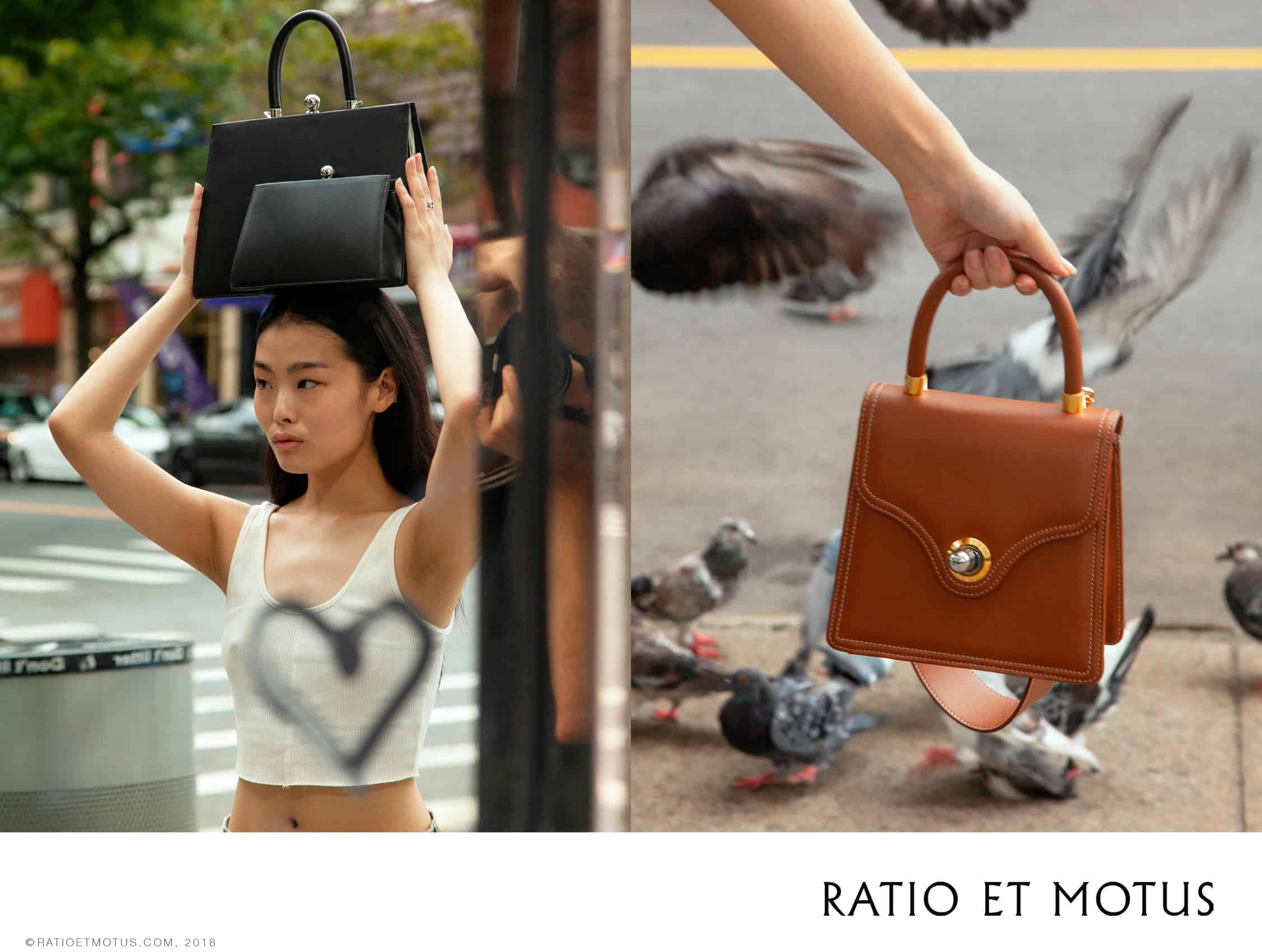 What is the biggest issue facing small/emerging brands like yours and what are you doing to tackle this issue?
Like any other business, finance management is crucial to the success of a young brand like ours. And It has been a challenge for us to maximize and execute our creativity while staying business-minded. We are still learning through the whole process, but keeping a healthy cash flow and planning budgets and projections wisely is a first step to grow our business.
4. Commission
The trio behind Commission all met during stints at Gucci, 3.1 Phillip Lim, Alexander Wang, and Prabal Gurung. Taking influence from diverse sources such as the globalization of Asia, New York youth culture, and corporate dressing, Commission has positioned itself as the intelligent choice for subtle cool.
Why did you start your brand and what niche do you think you fill?
We wanted to forge a conversation about our backgrounds and where we're from. We hope to provide a more rounded perspective of Asia and especially East Asia, which has often been represented in a very singular vision across the fashion industry and its referential language. We aim to represent it through clothing and a visual world where we are in control of the image and the representation, not someone else. We hope to be a designer-level brand that embraces timelessness with a more fluid and experimental approach. We put an emphasis on quality and craftsmanship while trying take on the responsibilities of both designers and image makers, expanding across a wide spectrum of mediums to express our brand heritage, values, and visuals. 

What is the biggest issue facing small/emerging brands like yours and what are you doing to tackle this issue?
We think for us, it's about cracking the code of manufacturing. Often times, for young and smaller brands who want to achieve exceptional qualities in order to match to other high-end and long-standing luxury brands, it requires a much higher volume which is almost impossible in the beginning. Many good factories and manufacturing facilities with a legacy seem more reluctant to take on smaller brands, which can be understandable from a business and risk-taking perspective, given that trust takes a long time to build. Our way to working around this is trying our best to find and source through New York for the best but also smaller factories, who are willing to take on a young brand like us and build a long-lasting and close-knit relationship so it can be within our best capacity to control and monitor the quality of our products.\
Who would you love to collaborate with?
Our next goal is to venture into the footwear business. We would love an opportunity to collaborate with Jimmy Choo. We really appreciate the feminine code as well as the craftsmanship in Jimmy Choo's shoes and have loved many of their classic shapes since the 1990s.
Subscribe to our newsletter and follow us on Facebook  and Instagram to stay up to date on all the latest fashion news and juicy industry gossip.