Model/designer/writer/DJ/advocate Atlanta de Cadenet Taylor is a busy woman. But somehow, she still managed to find the time to team up with Fame and Partners — the online retailer that allows customers to customize their clothes — on a capsule collection. De Cadenet Taylor took a moment out of her vacation in Italy to speak to The Daily about all of her projects.
You're a true multi-hyphenate! How do you manage your busy schedule? 
It's definitely getting harder to juggle everything at this point. I left my agency and management so I'm doing everything by myself and I'm finding that when you work for yourself there is always something to be done! But I'm pretty good at walking away from my phone or putting it down for a while. Sometimes I leave it at home when I go to dinner, or log out of Instagram at a certain hour so I'm not on it late at night. I see my friends in the evening a lot. Most of the time I try to oblige to a schedule where I work all day and then have the evenings to do as I please.
You also run the I'm Over It podcast — tell me about it!
I'm Over It is kind of my baby. It started as a passion project and just snowballed into what it is today. Currently I'm working on building it out so it isn't just the podcast, but a brand in itself. I'm making merch, developing its Instagram — which is not just going to be focused on the podcast — and trying to work on creating different live events. I've gotten really incredible feedback from my audience. If I didn't I don't know if I'd still be doing it.
What kind of feedback?
I've had girls come up to me in tears telling me how my podcast got them through incredibly tough times. I've had girls come up to me in the street and say how much they love it. And I've gotten the most amazing DMs from girls all over the world. Its amazing, knowing that it has such a positive affect on people. That's really all I wanted when I started: to make people feel less alone.
Can we expect a third season? If so, what will it be about?
I'm sure there will be a season three. I don't see why not. I also don't particularly focus on specific issues, it's more about the people and the guests. I find them so inspiring and the subjects that we cover just comes from a natural place, I really never know what's gonna come out or be said. Which is why it probably sounds like a conversation — because it is. I've been incredibly lucky to have the guests I've had so far.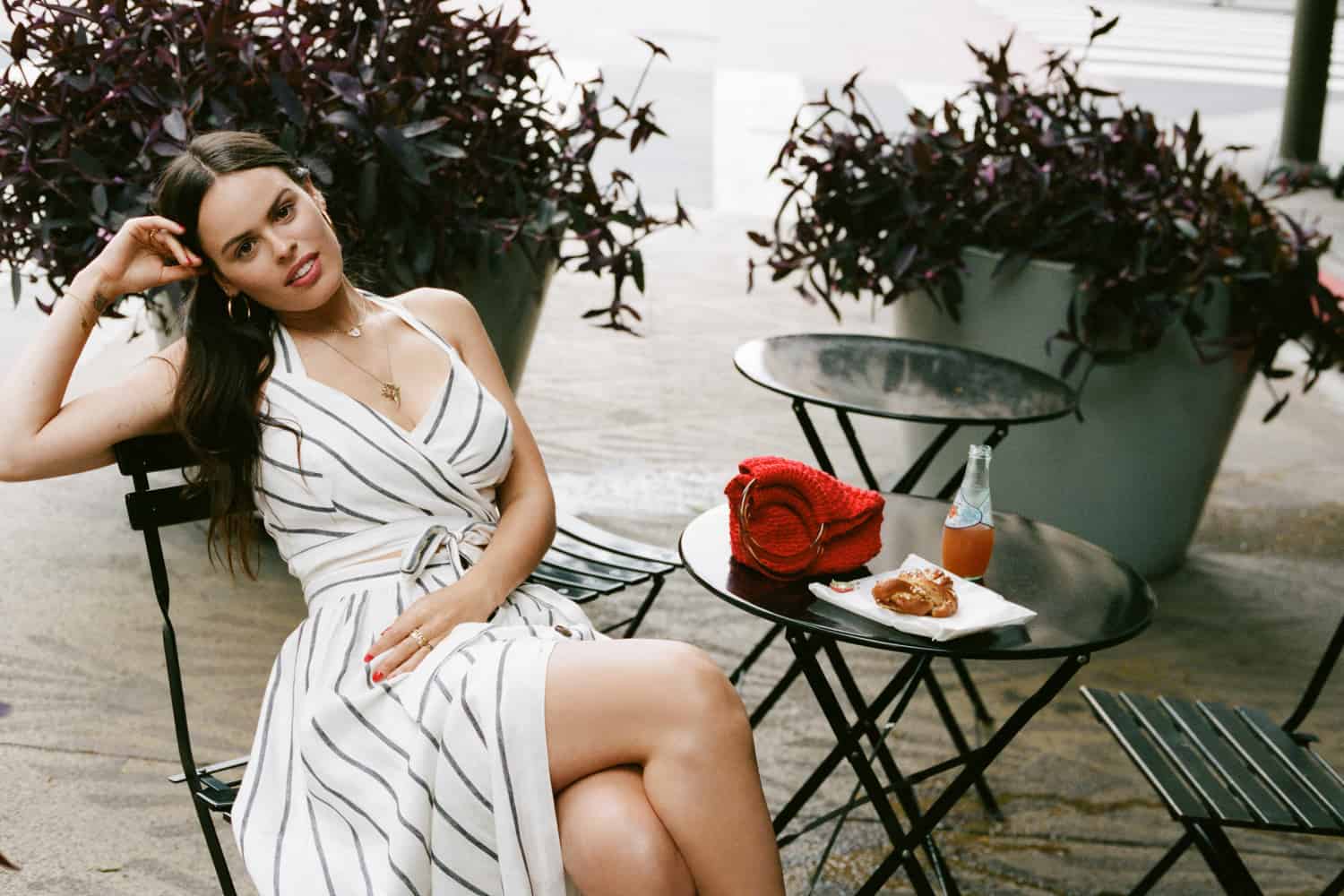 Are there any other projects that you are eager to get off the ground?
Well, I am definitely in the process of turning my ambitions into reality. A book is happening, which has been a dream considering I don't even have a high school diploma. I never thought I was capable of being able to do such a thing. But it's happening! I also really want to do live I'm Over It events. Having panels, tarot card readers, photo booths, discussions about mental health, etc.
What about fashion projects?
I definitely want to keep designing but I'm not sure I could handle my own line. I am making some merchandise though which is super cute and fun! And hopefully will get to do more collaborations — I do have another one coming out in the next year or so too.
Tell me about your capsule collection with Fame and Partners! How did it come about?
One of my friends recently started working with F&P. One day we were having coffee and she mentioned them to me. I hadn't heard of them before but when I looked them up and saw all their customizable options and how low impact their clothes were [on the environment] I was immediately excited at the opportunity.
What vibe did you want the clothes to have? Who or what do you look to for creative energy?
The difference between F&P and my previous swimsuit collaboration with Revolve was that they actually already had general mood boards and concepts. It was definitely a true collaboration. I essentially took the inspiration I was shown (which was a lot of safari vibes) and developed shapes and cuts that I would want to wear. I imagined it being a collection of perfect summer basics — super easy to wear but still cute and chic.
Honestly when it comes to creative energy I kind of just go with how I feel or what I'm drawn to. It's funny, I can imagine an entire outfit in my head, or look at something and immediately see how it needs to be changed to fit a woman's body. In this case I just took my favorite shapes and also made things I wish were on the market, things I had a hard time finding. It was cool because it was almost like they gave me the blue print and then I went in and did the interior design.
How did you ensure that the clothes flattered multiple body types?
Well one of the things I was really into about F&P was their ability to customize. As someone who has an abnormal body type I really struggle trying to find modern clothes that fit me. I honestly wear 85% vintage, and they're pieces I've had for years because they fit me. There's always something wrong with modern clothes. I usually have to give up something, whether it's comfort or cuteness. It's incredibly rare I find pieces that fit me perfectly and also look how I want them to look, aesthetically.
While I wish I could ensure that they're flattering on all body types, I can only say that I hope they are. Having pinned, belted, and tailored things my entire life I knew certain cuts that worked well for "curves" for lack of a better term. I've spoken to so many girls at shops about the problem and I pretty much just tried to create what was lacking. I'm pretty sure a cinched waist looks good on everyone! And if you're not a mini skirt girl, customize it to a midi or a maxi. Same goes for the pants! I love that.
What have you been up to this summer? How are you gearing up for fall?
I'm currently enjoying a much needed vacation in Italy. So far the summer has been pretty crazy — the launch of the second season of I'm Over It, working on the book, launching the collaboration, creating merch, finishing up another capsule collection with Morgan Lane (which will be launching next year), and trying to develop these live events! I'm hoping this vacation will help me gear up from fall. I need to completely reset. I finally understand and realize why vacations are so important.
Fame & Partners X Atlanta de Cadenet Taylor is available online now.
Subscribe to our newsletter and follow us on Facebook and Instagram to stay up to date on all the latest fashion news and juicy industry gossip.