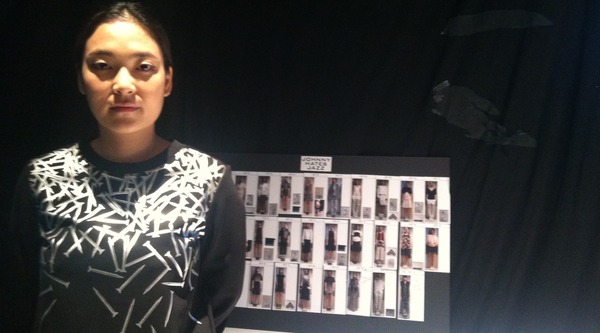 A Moment With…Designer Ji Hyung Choi of Johnny Hates Jazz
|
More from Seoul Fashion Week! There's a Brit band called Johnny Hates Jazz that had its big hit 25 years ago, but it's not exactly where this Seoul-based label got its name from. Kinda confused? No matter: the looks were chic at today's Johnny Hates Jazz show, and Charlie Chaplin provided inspiration. Designer Ji Hyung Choi filled us in backstage.
What's the backstory of the nail motif?
It's based on the movie Modern Times. The print is designed by all the tools featured in the movie's factory scenes.
Gotcha. Have your designs made it to the U.S. yet?
I've been in several trade shows, and the line is stocked by Oak. I'm planning on expanding more in the U.S. after this collection.
What kind of gal wears your line?
A confident career woman with an office-ready look.
The proverbial Johnny hates jazz question—how do you feel about the music genre?
Oh, yes! I like old jazz music from the Thirties.