In the past few years, the industry has been rocked, and some of our favorite editors and designers have moved on to different pastures. So we tracked down the heavyweights and scored the scoops on their latest endeavors. Yes, chéris—there is indeed life after making it big in media and fashion!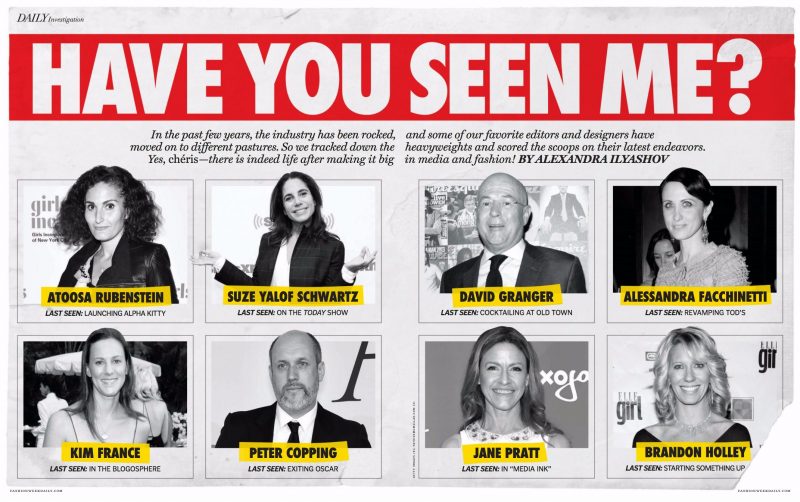 ATOOSA RUBENSTEIN
The wunderkind editrix was Hearst's youngest-ever EIC when she founded CosmoGIRL! at just 26 years old in 1998. After three successful years helming Seventeen, Rubenstein quit the glossy grind entirely, and yet we're still obsessed!
What's new, Atoosa?
I'm a stay-at-home parent, and while I'm busy taking the kids to school and gymnastics, the biggest thing is that I'm learning a lot about myself.
Such as?
In my adult life, I was a little bit of a hot mess. So I've been focusing on my family, on slowing things down, and not being so externally focused. The past 10 years have been a period of tremendous personal growth. Before, I was very focused on me and my journey. In retrospect, I really lacked compassion and empathy.
Have you considered writing a self-help book?
Ha! I've been writing some things, but I'm no guru. Right now, a lot of media that people consume is random negative chatter. I'm not a big fan of that. It hurt me personally—a lot—and that was a big reason I stopped working. I felt bullied; it was affecting me. If there was an opportunity for me through writing or otherwise to be positive and supportive, though…
What happened to atoosa.com and Big Momma Productions?
When I stopped working, I felt done. I was successful at a young age; I didn't feel permission to stop. So when I told my company I was leaving, I had an LLC, my website, an agent all ready to go. But I just wouldn't pull the trigger on anything, so they got frustrated. Life is messy, and I've been in the messy part. This might be TMI, but for many, many years in my childhood, I was sexually abused. In my career, I didn't feel empowered to talk about it. I felt like I didn't have permission from my family, even though I was a thirtysomething-year-old woman, and I didn't feel like my company would support me if I talked about it. As I got racier with the coverage in the magazine, they'd get scared about advertisers. Once I felt there was a truth I couldn't share, I felt I needed to stop within the corporate arena.
Do your kids know about your life in media?
My twins know nothing. My big one is 9 years old. She's noticed that, on a couple of occasions, people have had my picture in their wallet, and I think that makes her feel proud. But she wishes I'd dress fancy again; I only wear workout clothes now. I'm like, "Yeah, that's because you guys basically vomit on me all the time!"
KIM FRANCE
The founding Lucky editrix successfully reinvented herself a couple of years ago, and now she's graduated from glossies to something more personal and lengthier.
What's new?
I'm writing a memoir for Algonquin Books that will come out in fall 2019; I got the book deal in the winter. I'd been thinking about writing a memoir off and on since leaving Lucky, and a few years ago, the [New York Times] Styles section ran a story about me, and a bunch of agents got in touch. I wrote a few essays earlier this year on Medium that got an overwhelming response, so I thought that was a sign that people maybe wanted to hear from me. It's about my life in magazines, and things that happened to me in my personal life while I was at the top of my career. I may go into my youth in Texas a little bit. I want the title to be Typical Me, but my editor and I disagree on that.
How's it going?
I've been interviewing people I worked with at Sassy and Lucky. Condé Nast treated me very well, and I'm certainly not going to trash them, but I have fun details about what it was like to work there, plus personal details about my life that will surprise and interest people. I work at home and at Ludlow House, Soho House's Lower East Side outpost.
How's your blog, Girls of a Certain Age?
It's grown nicely. It's small, but it has a really vibrant community, and I'm proud of that. The readers are really engaged, and there's never any negativity in the comments, which I love.
Thoughts on glossies?
Magazines have really suffered because nobody's putting resources into them. It's the end of magazines, which is really sad.
Will you ever return?
Not really. I think I closed that chapter.
PETER COPPING
The ex–Nina Ricci designer spent a brief but critically acclaimed period as creative director at Oscar de la Renta. Copping's stint then led him to an unexpected new chapter—magazines!
How did you end up as a contributing editor at Architectural Digest?
I attended the wedding of Colby Jordan, a fellow AD contributor, last year in the South of France and got talking with Jane Keltner de Valle, AD's style director. She knew I was passionate about homes and interiors, and she set up a meeting between myself and Amy Astley. Amy asked if I would like to contribute, and I jumped at the chance.
How do you look back on your time at Oscar de la Renta?
Unfortunately, I never got the chance to work alongside Oscar as was planned. I found it a challenge to arrive in a house that was in mourning, and with a family that wasn't ready, at that point, for change. Another challenge was working with the in-house atelier; it lacked the savoir faire I had experienced in Paris. The highlight was designing a custom evening gown for Lynn Wyatt to wear to her 80th birthday ball. I do not regret my time at Oscar de la Renta at all, and am very proud of the legacy I left, especially the Spring/Summer 2016 collection. It was selected by Vogue as one of the best collections of the season, and for me, it captured the spirit of the house in a fresh and modern way.
Have you stayed in New York?
No, I have spent most of the time at the home in France I share with my husband, Rambert Rigaud. It has been quite a contrast to my life in New York. We were renovating the last part of our house in Normandy, so being there enabled me to oversee the final stages of the work.
JANE PRATT
The brilliant founder of Sassy and Jane parted ways with Time Inc. and her xoJane and xoVain sites in December, but don't fret—Pratt already has an intriguing next act in the works.
What's new?
I'm working on a new project, which at this stage means spending a lot of time with my lawyers and business manager.
You've been a free agent since December. What's that been like?
I've been able to see some great documentaries in theaters, and I've been able to go to my daughter's eighth-grade science fair. I've gone on fun trips with my best friends—and have been able to extend those extra days, and more extra days, because why not? And I've been working, of course.
If you were to launch a magazine in 2017…
If you had asked me this a while ago, I would've said that it would be called Elizabeth and it would be a magazine for women 34 and older. I've also been interested in doing a preteen girls magazine. But because of everything that has happened in the world more recently, my priorities have shifted, and that's the focus of the project I'm working on now.
Does your teenage daughter read vintage Sassy?
I'm going to let Charlotte answer this question: "I have never seen a Sassy magazine and am not really allowed to touch her old magazines, because she wants to keep them nice!" I just want to say that I had no idea that Charlotte thought that she wasn't allowed to touch my old magazines—I just thought that she wasn't interested in them. So thanks for opening up that discussion!
DAVID GRANGER
After nearly two decades of rocking our world at Esquire, editor-in-chief David Granger was "s**tcanned" (his words, not ours) in March 2016. His next act—literary agent at Aevitas Creative Management—is well under way.
What's new, sir?
I just got back from Charleston, North Carolina, and celebrating the birthday of my daughters. One of them has a cheese business down there. Along with a little knee surgery that compromised the enjoyment of summer a bit, the
first book I agented was published on August 1: Senator Jeff Flake's Conscience of a Conservative, which The Washington Post called "the single biggest act of political bravery of the Trump era." Everybody reading this should buy a few copies.
What else?
One project under way is a big piece of investigative journalism related to our president. I've sold a coming-of-age memoir by a well-known film director that will be unique because it's extremely funny. I've got a social history of eating in 21st-century America that'll be the Kitchen Confidential of its time. I'm working with an extremely famous and controversial athlete and a couple of extremely talented young novelists. Still waiting for Lee Child to send me the next Lee Child, which he said he would do last year.
How does the new gig compare to the old one?
Well, there's less drinking in my new office. And it's strange not having an assistant, after having had one for 25 years. It's the paperwork that kills you.
ALESSANDRA FACCHINETTI
The Gucci, Valentino, and Miu Miu alum spent three years as the inaugural creative director at Tod's until that came to an end in 2016. Since then, Facchinetti has been basically living la dolce vita!
How is life after Tod's?
I wanted to take a break and dedicate myself to my personal life. I traveled a lot throughout the world. At this moment, I'm working on different ideas, not only in the fashion world. I think it's a perfect moment to be involved in new, challenging projects—interiors, theater, and new fashion ideas, but I'm not able to talk about any of it yet. Honestly, I've been incredibly lucky to be part of the fashion industry during the golden years, but now something has changed. I think we have lost the poetry in the fashion world. I'm open to it, but done in a different way.
What did you take away from your three years at Tod's?
My Tod's experience was fantastic for many reasons. The challenge was to create a ready-to-wear collection for a brand that was focused mainly on accessories. For me, that was like building a home from the ground up.
Why did you move on?
I felt in the air a new wave coming toward me, so I decided that it was time for a change. In the past 15 years, the world has changed so much, and also, creativity has evolved. We must embrace that change and react.
Did you work with Alessandro Michele at Gucci?
Yes, I have very good memories. I'm truly happy for him—his freedom and creativity created a wonderland that is very rare today.
Where are you living?
I spent six months in New York, and now I'm back in Milan. I've traveled a lot, and the suitcase is always ready. I just came back from a yoga retreat in Puglia, and soon, I'm headed to Marrakech, seeking life and colors.
SUZE YALOF SCHWARTZ
After 15 years with Glamour, Schwartz moved to California and positioned herself at the center of the wellness trend that just won't quit.
How did you transition from fashion editor to meditation guru?
I left Glamour to move to Los Angeles for my husband's job, and I was so stressed out, my mother-in-law said, "Close your eyes, imagine you're in Jamaica, and take a deep breath." I opened my eyes and said, "Woah, that was incredible. What was that?!" and she said, "Meditation." So I decided that I would meditate in L.A., but there were not attractive options.
I wanted a place like a Drybar for meditation, where you could walk in feeling icky and leave feeling great. I knew it would hit.
So you launched Unplug Meditation.
I wanted it to feel like a New York City gallery, where everything's really clean, white, minimalistic, and simple. I started hiring teachers that blew my mind. It started off as mindfulness, but I quickly realized people wanted more—guided imagery, crystal healing, chakras—but modern, chic, cool, easy, and accessible. I wanted it to appeal to people like Anna Wintour, people who would otherwise never do anything like this.
Are you generally crunchier as an Angeleno?
I'm open to things I never would've been open to before. I'm able to handle stress better. I can be focused, instead of wondering where the party is. So often, our bodies and our brains are not even in the same ZIP code!
ANDREA LINETT
Lucky's founding creative director hopped from editorial to the brand side at the likes of eBay and Michael Kors before it was a well-tread, cushy path.
What's new?
I had a baby last year. I was going to take some time off, but that didn't happen — I was blogging from
the hospital bed. Right after that, I produced a couple of fashion issues for The Village Voice. I love working for brands, but it's not that free. There is life after editorial, but editorial is fun. If anyone's reading this, I'm available!
What else?
I'm super passionate about jewelry and I have a crazy collection, so I've worked with Sydney Evan and Ten Thousand Things, and I helped found Iconery, an online fine jewelry start-up. I've also done some work with Love Adorned. I'm working on my fifth book, and it's not about fashion, but I can't really talk about it. Oh, and there's my blog [I Want to Be Her!], which was always a side project I did for fun. Now, I'm concentrating on building it up to a much bigger, multifaceted experience, with lots of vintage, more shopping, and collaborations with designers.
BRANDON HOLLEY
The ex-Jane and Lucky EIC has spent the past three years launching a shopping-centric start-up—and, yes, it definitely pulls some inspo from Lucky. She's gotten an eye-opening education about the tech space in the process.
How's Everywear shaping up?
We joined an accelerator, Entrepreneurs Roundtable Accelerator, and it's been amazing. We did a pilot with a major retailer and had great results, and we're rolling out with a bunch of retailers this fall, throughout September.
What's the concept, exactly?
We're a B2B software service that enables our partners to create customized results at scale. The e-commerce sales conversion rate is ridiculously low, 3 percent, compared to 20 percent in stores. If I want to buy an HDMI cord online, that's easy, but buying a new skirt is not searchable. We've created an algorithm and tagging system that works against thousands of pieces of inventory to create one-to-one recommendations. It's a little like Lucky, and what women loved about the magazine—demystifying style.
How does tech differ from publishing?
In tech, it's about finding the breakable stuff, and fixing it as fast as possible to get to the most efficient, effective product. In magazines, it's about perfection and refining. We're hoping we're ahead of the pack because we have some first-mover advantage. I come from such a long background of listening to the problems women have shopping, buying stuff, and looking good. Women have less time to shop but more money to spend than ever before, so our service is a great consumer solution.
Do you miss mag life?
I miss a crazy creative environment and working with stylists and photographers, but I don't miss magazines. I love the tech entrepreneurial scene, where a lot of people think they can change the world in a very tight social network. I'm a super-competitive person, so it's a good fit.