For Levi Dylan, music is in his blood. But these days, the native Angeleno is preparing for a very big future in modeling and acting. Can someone please book this guy a Saint Laurent campaign already
Photography: William Laird
Where are you living these days?
I moved to New York in 2015, and then went back to L.A. in the beginning of 2016 because I realized that New York is a really expensive place to live. But I might have made a mistake—I didn't really love being in L.A. as much as I enjoy being here. So now I'm a transient figure going between the two places, but I'm never in between!
How often do you go back and forth?
Every couple of weeks. As soon as I run out of money here, I go back to L.A. There's a lot of opportunity in both places, and a lot of great people who want to help me. I can use all the help I
can get!
What are you working on now?
Some acting stuff. It's a very foreign world to me, but I enjoy it. I feel like I put on a show, and it makes me happy. I'm going on auditions mainly for short films. I like taking baby steps—I don't want to step into anything I can't handle right now.
What triggered your interest in acting?
Movies. Watching them makes me want to play characters.
L.A. is an actors' playground. Why did you move to New York?
I needed to get out of Los Angeles. After a while, it's so stagnant. When you live there year-round, you can get a little frustrated, so I came here to find a quicker pace. I'm very lethargic and tired when I'm in L.A. I think it's a good place to go when you've "done it." New York wakes me up! It's called the concrete jungle, and that's what you get.
You're on the Wilhelmina board and have been photographed for magazines like Teen Vogue and Wonderland. Is modeling still in the cards?
Those guys are really tall! I'm not as tall as most models, and that's fine, but I might not fit into the criteria as well as they do, so I don't make it a huge part of my life. But when the opportunity presents itself, I find it interesting, and I like to do it.
Have you walked in a Fashion Week show?
Once, for Billy Reid. I don't think I'll ever do it again, but it was nice. That walk is intense! You'd be surprised; it's a skill. Those guys are good at it—I was a little wobbly! But I do what feels right for me. A lot of it doesn't, and I don't have to do those things.
Who's your posse in New York?
My girlfriend. I don't need anybody else. We're both from L.A. I don't like going out with [New Yorkers] trying to tell me what and where everything is. I'd rather just find it myself, so we explore. But in L.A., I'll hang out with all my friends from high school [New Roads School, in Santa Monica].
What's your favorite neighborhood in New York?
I mostly stay downtown. Architecturally, I really like Soho, but most recently I've been spending time in the East Village, which I didn't do much of before. It's upbeat and close to Brooklyn, which I don't love, but I can get there quickly!
You came to our Luxury Is Love party in the Hamptons. Was that your first time?
Yeah, and it was a nice place to be! Everything is green, which was nice to see, because everything's dead in L.A. And it was nice to see that people were happy out there! I'd maybe go crazy if I were out there longer than a weekend—it seems a little bit out of touch and unrealistic—but it seemed nice. I'd love to go back.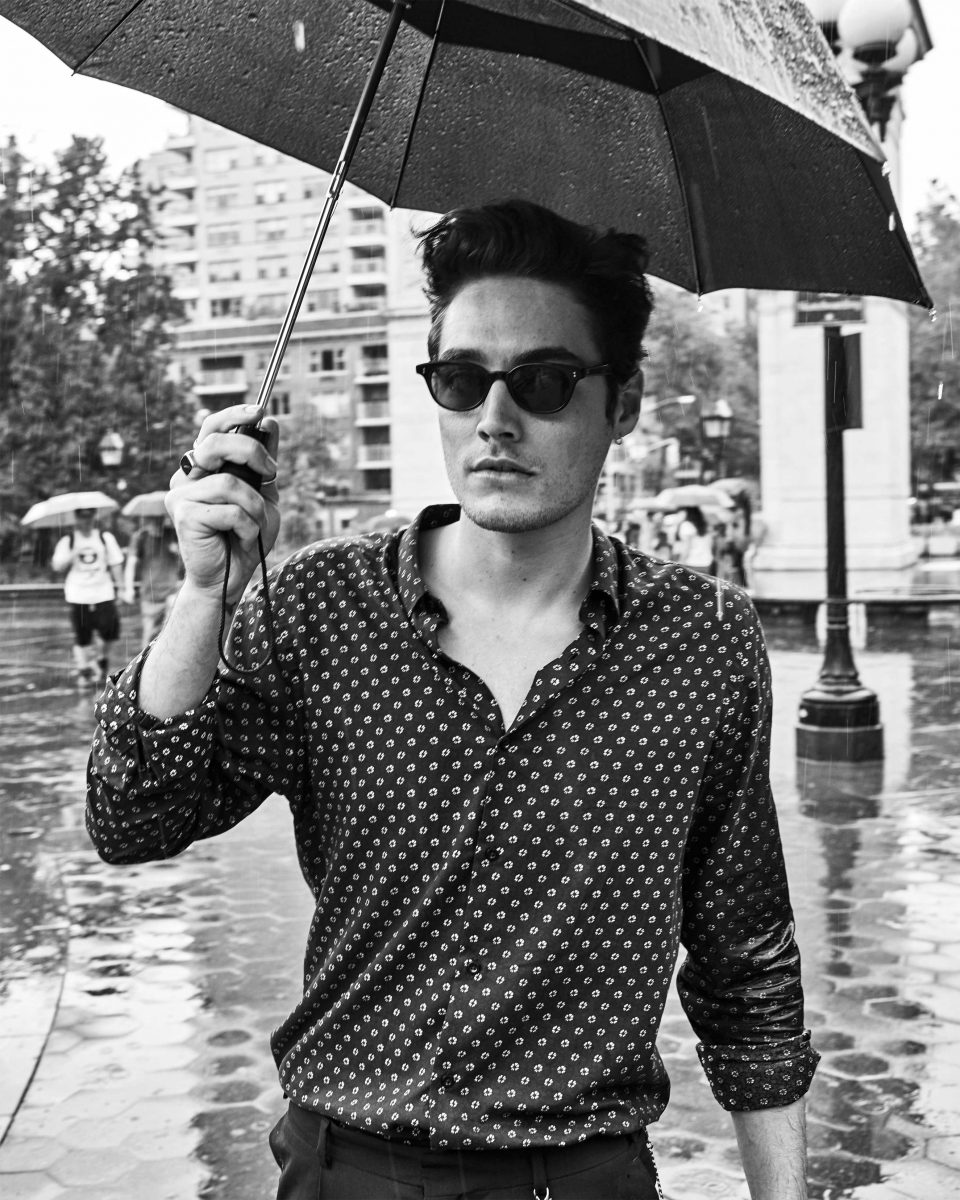 How do you describe your personal style?
I wear a lot of black clothing. I like boots—I don't wear a lot of tennis shoes—and I like to go to thrift stores to find cool stuff that nobody else has. I don't know what people did in the clothing before I wore it though—sometimes I think about that. Everything else is too expensive. But I love the way The Clash dressed, so maybe it's a mix of my personal taste and theirs. I'm somewhere in
the middle.
Go-to thrift stores?
Jet Rag in L.A.; here, Beacon's Closet and Search and Destroy (on St. Marks Place).
Who are your favorite designers?
Saint Laurent.
You have some cool tattoos.
They're awful! I have five or six, but I can't wait to get them off. I'm hoping that at some point in the future I'll be able to walk into CVS and get tattoo removal cream. I think that's coming up, I really do, so I'm waiting for that.
What are you career goals?
I just want to make work that I can look back and reflect on, and be proud of. For me, New York City is very inspiring. It's vibrant and there's a lot of artistry.
How about your passions?
I like going to art galleries. I'm young and my friends are young, but they have somehow figured out a way to have art galleries. People like Jackson Pollock and Damien Hirst are good, but I don't have a favorite artist. I have white walls at home, which are very boring, so I bought a bunch of paint and started painting things on them.
Any music aspirations?
I love music, but as far as a career goes, no. But I do love to listen to music. I've been listening to a lot of Allen Toussaint. He passed away last year; he was legendary.
Did you ever dabble in it?
I did. I was in a band called Dreamers Dose; I played bass. We were really good. You guys would've loved it! But then I stopped because I wasn't as interested as people thought I would be. I just grew out of it. The guys who I played with musically surpassed me and I stopped trying. We finished off with a big show in around 2013 with like 2,500 people, which was cool. I got a lot out of it, and I keep it with me.
Do people ever say you resemble your grandfather, Bob Dylan?
No, but they say I look like my dad [Jakob Dylan].
What does your grandfather think about your career?
We don't talk about that kind of stuff. We prefer to talk about things that aren't that. He'd definitely be pretty supportive.
Any secrets?
I'm a really good basketball player; I take it to the streets! I was on the Little Lakers—not the Lakers you guys know about—and played everywhere. I like playing at the Venice boardwalk.
Read the issue HERE.