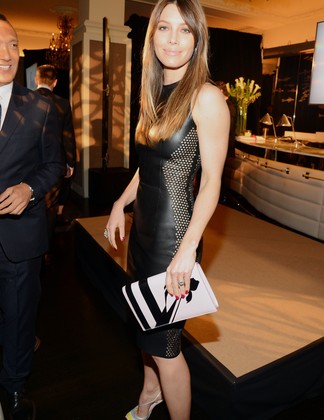 Zee Best: More on FMA Winner Joe From His Haute Fanclub!
|
Watch the Fashion Media Awards in full, with winners Stephen Gan, Joe Zee, Jane Bruton, Heidi Klum, Ingrid Sischy, Karlie Kloss, Carol Smith Emily Weiss; presenters Lady Gaga, Jessica Biel, Marc Jacobs, Tim Gunn, Bruce Weber, Carlyne Cerf de Dudzeele, Stefani Greenfield, Maybelline New York's David Greenberg, and many more!
A duo of Hollywood's leading ladies, a megastylist, his boss, and a supermod weigh in on FMA winner Joe Zee, this year's Creative Director Of The Year. Take it away, Jess!
"Joe would be unstoppable if only he had excellent taste, a charmingly sadistic personality, infectious energy, and endless ideas. Wait…"-Jessica Biel
"Joe is effervescent with a personality like sunshine. Whenever I get the opportunity to work with him on an ELLE shoot, not only does he have the best attitude, he loves his job, is endlessly creative, and it's always so great to collaborate with someone who has such great taste. And….he happens to be one hell of a hip-hop dancer as well."-Reese Witherspoon
"He is so inspired. He loves what he does and it's infectious. I love his energy. We had a blast on my cover shoot!"-Kate Upton
"Joe is one of the best storytellers ever—hilarious, and he doesn't forget a thing. Have him tell you stories about his early days in the industry. He's an encyclopedia. I interviewed him when he'd just come to New York from Toronto—when he left my office, I told the editor in chief, 'He is the most energetic person I've ever met. And smart. He will get whatever he wants in this business.' I'm thrilled he was named The Daily's creative director of the year. He has injected ELLE with so much verve and talent—things he himself has in abundance."-Robbie Myers
"Joe was my assistant at Allure, and that was in the days when we were traveling the world and shooting whatever we wanted. He made sure I got whatever I needed. I learned as much from him as he learned from me. He made W a must read incredible fashion bible…started his own magazine…and changed the face of Elle to become a relevant voice in today's world of blending fashion and culture."-Lori Goldstein