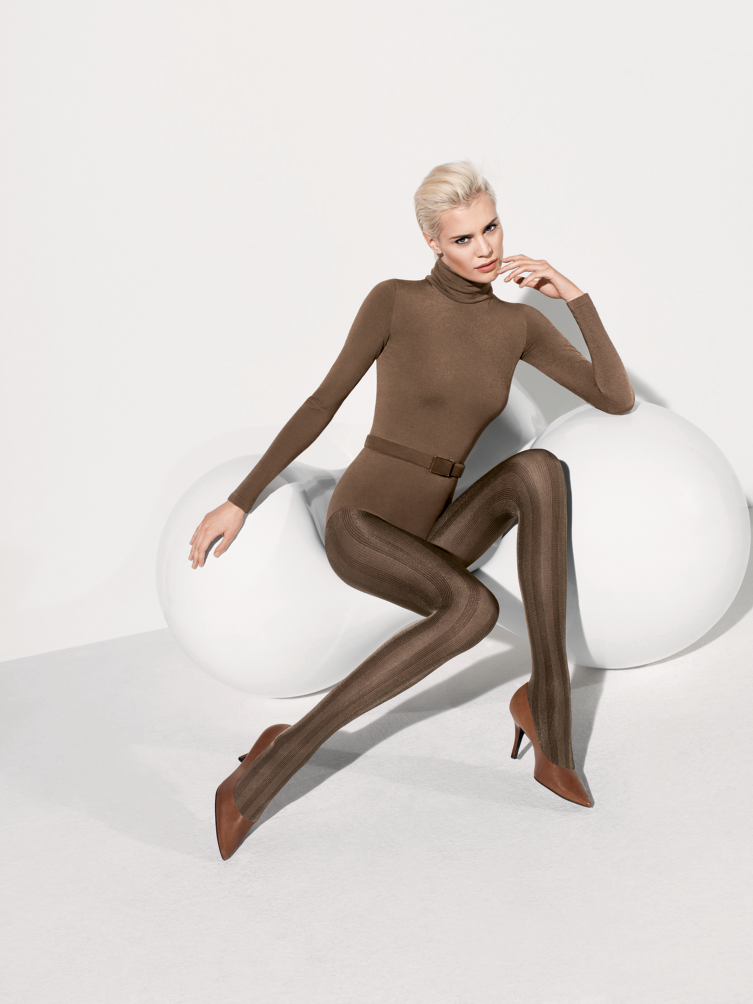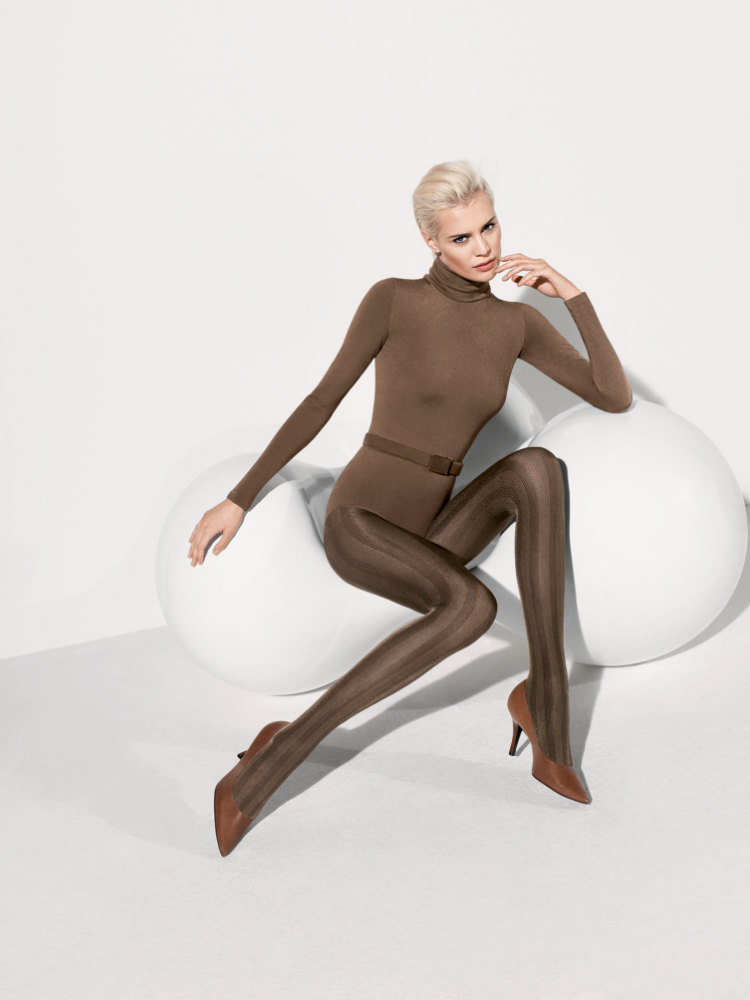 As Wolford prepares to celebrate 65 years of creating the world's hautest hosiery, marketing maestra Martina Brown explains how the Austrian megabrand stays so many steps ahead, season after season.
BY PAIGE REDDINGER
What's the history behind Wolford?
We are celebrating our 65th anniversary next year, and we were founded in 1950 on Lake Constance in Austria. We started as a tight producer, which we still are, so we are a leading manufacturer globally of luxury tights. We also offer high-quality lingerie and luxury bodywear. We were a private company, but in 1996 we went public.
How has Wolford maintained its rep as the ultimate luxury hosier?
When it comes to luxury hosiery, I will be bold enough to say that we do not have a competitor, and I can also tell you why—because we have very innovative and strong product development in-house. We are very conscious of quality. We work ourselves to modify our machines our way, and that's why we know there's no real competition out there. There's innovation and craftsmanship combined in a very specific way. It also comes down to our yarns, because our research development department is sourcing the most innovative yarns. We have very good relationships with suppliers in Japan, and so we are always updated on the latest developments in yarns. We work closely with global developers of the finest yarns, and both our technology and craftsmanship, based primarily in our headquarters in Bregenz, Austria, are unique to any other manufacturers in the world.
Does Wolford hosiery rip less often than other kinds of hosiery?
What I can say is that they are of extremely high quality. The climate control in our factory ensures that quality on knitting and coloring. Our legwear is less prone to run, because of our proprietary secrets throughout the manufacturing process from yarn selection to knitting and finishing. But you have to know when it comes to hose, they are fragile and there is a limit to their durability the finer the fabric. But compared to other brands, our hosiery usually lasts longer. Our customers always come back to us, because in the end they say it's worth the price, because the quality and the look, of course, is very luxurious.
What type of woman is buying Wolford?
When it comes to hosiery it can basically be everyone, because lingerie is an accessory that you add to your outfit, so you can cover every price level. As long as you pay attention to the legs and you want them to look sophisticated, then you will come to Wolford, and since we price the tights at $20 or in some cases $25, in the end everyone can afford it. It's just a question of whether it works for you. The core part of our business is the basic tights, and they go with every outfit. It's mostly professional women and usually they have a high academic degree, but we also know from online that we have other younger customers. Overall, the classic Wolford customer is confident, empowered, and not afraid to express subtle sexuality.
Tell us about some of your recent collaborations.
We also develop product with some fashion houses. In the past, we have done Gucci, Missoni, Zac Posen, Kenzo, Valentino, Emilio Pucci, Vivienne Westwood, and Lagerfeld Gallery.
What's your biggest seller?
The best-selling items are the opaques in winter and the sheers in summer, as well as our pieces with shaping and contouring and our popular bodysuits.
Do you see a lot of ups and downs as trends come and go?
We do feel a certain fashion dependence. Sometimes they're in fashion and sometimes they're not. Sometimes it's about the opaque ones and sometimes it's about the shiny ones. And there are still some circumstances where you wouldn't go somewhere with bare legs. There's a certain continuity of women who wear tights. But when there are trends like leggings, then business really climbs.
How many stores do you have worldwide?
We now have 121 boutiques, 32 shop-in-shops, and 26 factory outlets.
How do you envision the future of Wolford?
We would like to focus on our strengths, which is not only legwear but lingerie and bodywear. At the moment we want to come up with innovative, functional, second-skin products that give you what you need to kind of shape your silhouette. We have developed shape-control lingerie, which has sold very well. The plan is definitely to grow, but by keeping our core values.
How often do women buy tights with patterns?
The market for patterns is limited. The market is up to 5 percent, but that's the maximum value. But for us, we stand for something more special, and we have cool, exotic styles in patterns. They're very high-priced fashion pieces. If you wear them, people's eyes gravitate to your legs and stay there. But it's still the opaques that drive the business.
And lastly, what's your highest price point?
The highest is $490, and they are available only through a wait list. The design is what makes them so expensive, because they are hand-sewn with small metal pieces on the tights. You are paying not only for the design and the craftsmanship, but for the production. Each pair is sewn by hand in limited quantities, and they sell very, very fast.