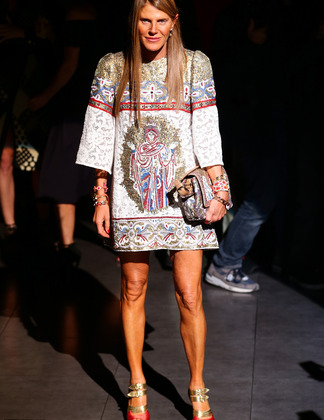 Where Does Anna Dello Russo Change Between Shows?
|
Your Daily spotted Anna Dello Russo getting snapped all over the streets of Milan for the past week. Per usual, ADR looked like she was having a grand time. As for her haute highlights of the week? Read on for the full scoop…including the big reveal on where, exactly, ADR does all those outfit changes.
What were the highlights of Milan for you?
Listen, there were lots of good moments! I loved the after-party at amfAR with 2 Many DJ's, where we danced like crazy. They are so good. They're very popular. All the young people love that Dutch music. It sounds like "bah, bah, bah, bah!"
How about the shows?
There are a lot of good new designers, like Fausto Puglisi, MSGM, Stella Jean, and Marco De Vincenzo. This has made [Milan's] calendar even more interesting.
And on the retail front?
There were so many new store openings on Via Montenapoleone, which is very expensive and beautiful: Two shops for Prada, one for Ferragamo, one for Bottega Veneta, one for Fendi, who else? There were many more, but this makes for pretty good shopping. I'm addicted to fashion!
We see you've changed outfits already today. How many times do you change?
Oh, too many! Too many outfits!
Where do you change?
The car, of course! The car is like a caravan. It's like a gypsy car. I have everything in the back: shoes, bags, and clothes.

You should Instagram a photo of it!
I will, I will, I will. But after that people will know my secret and then they will wait for the moment when I'm naked in the car!