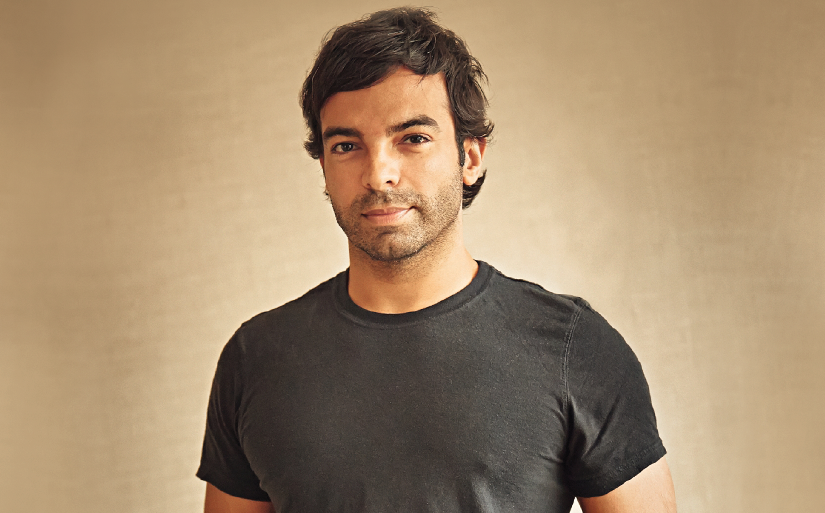 One of the beauty world's most fortuitous marriages—between hair-care titan John Frieda and haute editorial and celeb stylist Harry Josh—has given birth to the latest Daily Summer cover shoot. Get the scoop, and get the look!
BY PAIGE REDDINGER
First things first: How did you become involved with the brand?
As a brand with more than 25 years of history, it has always been important to John Frieda Hair Care to make products that a professional would want and need and then give the consumers access to those tools. But you need someone to explain to consumers how they work in a clear way. You really need a bridge with a professional stylist who can bring the products and transformations to life. Thankfully, they chose me.
What's your background?
I first worked for a salon in Vancouver, Canada, called Axis. After that, I went to America and started at the bottom all over again. I struggled for 10 years and I was sleeping on a sofa for six of them. I lived off of Kraft Mac n' Cheese and Mr. Noodles.
What changed?
In 2002, I had a big break and was lucky enough to be featured in Vogue as an up-and-coming hairdresser. It changed everything for me. After that, my career grew. I've been a hair expert on the Today show, CBS's The Early Show, and Oprah.
What's your favorite summer product?
Frizz Ease is my favorite line and a must in my kit. Everyone has frizz—women with fine hair, straight hair—it's not just for thick, curly hair. That's a common misconception. I've used the Frizz Ease serums on so many of my A-list clients because for them, frizz is not an option and their styles need to last.
What celebs have you worked with?
Hilary Swank, Cameron Diaz, Rose Byrne, Ellen Pompeo, and Kate Bosworth, and supermodels like Helena Christensen, Gisele Bündchen, and Christy Turlington Burns. Gisele's hair is pretty amazing! Rose Byrne, too.
What look did you create for our cover shoot?
We styled both models the same way. We washed the blonde's hair with Luxurious Volume, because I wanted to get some body in there. Next, I used Frizz Ease Curl Reviver Mousse, applied it from root to tip on wet hair, and I dried her hair using my blow-dryer and my fingertips. I put rollers over the top and then I used a product called Frizz Ease Go Curlier Heat-Activated Spray. You spray the hair, blow it dry, and then wrap each section of hair with the curling iron. The product helps hair hold the shape so that when you brush it, kind of like a TV commercial, it springs up. We shot six pictures and it was still holding!
Is it better than hairspray?
They're different. The hold looks a little softer but still keeps the style. Many women will need to continuously reset their hair with hairspray, which is time-consuming, so this product might be a preferable option for some women. There's a certain polymer and technology that's exclusive to us that responds to heat. It's often imitated, never duplicated.
We hear you have a luxury tool line.
Yes! I can re-create any red carpet look with John Frieda drugstore products, but I definitely require a specific set of tools, too!
How fast is your dryer?
It's twice as fast as a normal dryer, and it's still faster than most professional dryers on the market. People say their drying time is cut in half.
What are your secrets to great summer hair?
When you come out of the shower, work in some Frizz Ease Daily Nourishment Leave-In Conditioner and wrap your hair into a bun. That way, your hair will be conditioned when you're under the sun. After the water, our Frizz Ease Nourishing Oil Elixir is a must-have. When your hair is wet, just put three pumps into your hands and press it through your ends. You don't have to blow-dry it. It smooths the hair, gives it a little bit of sheen, and allows you to have frizz-free curls wherever you are.
Any other tips?
Frizzy-haired girls have to manipulate the hair while it's in soaking-wet form. Blot the soaking-wet hair then immediately put in your serum, mousse, or other stylers so that when the air hits that frizz, there's weight on it and it doesn't unravel.
How do you achieve the dreamiest beach look?
If you have fine, straight hair and crave voluminous, beachy waves, the John Frieda Luxurious Volume line will be good for you—shampoo, conditioner, root booster, all of the above—then apply a thin, tiny curling iron to dry hair all over. You'll look like Shirley Temple with ringlets for a good 15 minutes, but your curls will relax and stretch out into waves very quickly in the heat.
Any tips for chlorine removal?
A natural remedy is coconut oil, which removes a lot of debris from the hair.
Where can we find you in the city?
At the Serge Normant for John Frieda Salon!
EXTRA, EXTRA: ESSENTIAL SUMMER STYLING SECRETS!
The top talents from the Serge Normant for John Frieda Salon share their ultimate warm-weather tips…

Gina Gilbert, colorist: "Mix John Frieda Frizz Ease Rehydrate Deep Conditioner with any sunscreen with SPF 15 or higher. Comb the product through your hair at the beach or the pool—it will help protect color and condition at the same time."
Ashley Ferrett, colorist: "I love my Wet Brush and will not leave home without it, especially for a beach vacation.  The saltwater and chlorine dry out my hair and make it harder to brush, but this unique brush removes tangles in seconds, without tears or any snags. They even have a travel-size style to throw in your beach bag."
Eugene Smith, stylist: "Frizz is never an option. John Frieda Frizz Ease Original Six Effects Serum is a must, whether you have naturally curly hair, beachy waves, or are going for a sleek, straight style. This product is going to protect your style from those humid summer days and add great shine."
Sebastian Scolarici, stylist: "I love Oribe Après Beach Spray. It's one of the best products to achieve that perfect beach texture."
Corinne Adams, colorist: "John Frieda Colour Refreshing Gloss is amazing for touching up your color in the summer. It brings new life to your color and is available in every shade and tone."