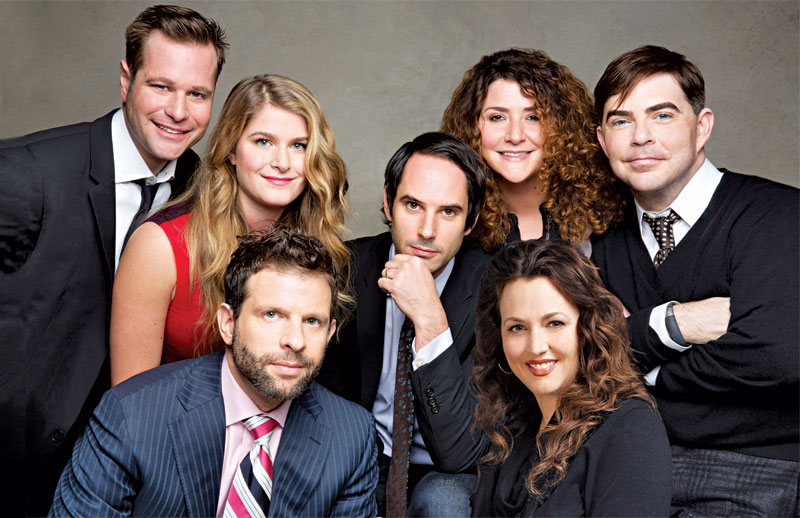 Don't underestimate the team at Watch!, who have traversed the globe to shoot the best and brightest CBS stars. (A little friend named Patrick Demarchelier occasionally comes along for the ride.) Editor Jeremy Murphy and his illustrious colleagues Peter Jablonski, Chris Ross, and Meagan McLaughlin explain why you should tune in.

When do the stars have time to join you on your far-flung adventures?
Jeremy Murphy: Every year, the actors go on break for the summer, and that's our time to get them out of the country. We package several photo shoots for a year, sometimes more. We put together a crazy itinerary of actors who are free, which gives us content, and it's some of our best work ever.
Where have you gone in 2015?
Jeremy: We started off in the South of France at the Hôtel du Cap in Antibes, and then we went to Ischia, an island off of Naples, before heading to Cambodia, Vietnam, Jerusalem, Tel Aviv, London, and Scotland. The key to doing something like this is partnerships—getting the right airlines, tourism agencies, and hotels to work with us. We don't have a lot of money to spend, but we want to do a lot of grand stuff, so how do we do it? We found the right partners.
Who joined you?
Jeremy: We shot Julianna Margulies at the Hôtel du Cap, [NCIS actress] Emily Wickersham at the Mandarin Oriental in London, Jake McDorman in Ischia, Alan Cumming in Scotland, and Mayim Bialik in Israel.
What was the hardest part of putting all this together?
Chris Ross: There were so many moving parts. It was a production nightmare. It still went on—basically without a hitch—but all hands were on deck. We didn't have a lot of time between the shoots. It was intense.
Meagan McLaughlin: Everyone was in a different time zone.
Peter Jablonski: It's a nonstop collaboration.
Meagan: We also gave birth on a shoot! When we were in Scotland, our stylist Sarah Nash went into labor.
Jeremy: We called an ambulance, and she gave birth that night.
Chris: We knew she was pregnant when we booked her, but she told us she was comfortable with the shoot and we said we were comfortable with it as long as she was. Nobody anticipated it, but it all worked out wonderfully.
Which of your stars encountered the most crazed fans on location?
Chris: Alan Cumming.
Jeremy: He's beloved in Scotland. He is such a charming and sweet man. I can't say enough good things about him. There was such a profound level of respect for him.
Peter: We had two excursions with Katharine McPhee in Vietnam, and she ended up getting swarmed by the locals. Whenever we shoot, people tend to get excited.
Who photographed Julianna at Hôtel du Cap?
Jeremy: Patrick Demarchelier. He's shot her many times in the past. Patrick connects with his subjects, and who doesn't want to be shot by him.
It's impressive that Watch! has the same photographer as Vogue!
Peter: That's a credit to Jeremy.
Jeremy: I stalked Patrick for a year, and Meagan and I went to his studio a few years ago. We bonded, and Patrick agreed to work with us. Afterward, we said to each other, "Where do we go from here?" The world's best photographer has agreed to shoot for us. Working with him is a surreal experience. We give him complete artistic freedom. We give him an idea, and he does whatever it is he needs to do. He thinks we're a crazy band of misfits, so he comes up with these crazy ideas.
How do you decide where to shoot?
Jeremy: Our magazine is all about lights, glamour, and action, and we want to create a different experience for the reader. This year, we were very lucky—we had five distinct destinations for our shoots.
Peter: To the credit of everyone, we planned out as much as possible and came back with as much art as possible.
Where do you want to go to next?
Jeremy: The French Alps! We always want to take our readers to new places.
Meagan: We've been talking about a nautical shoot for a while.
Chris: We don't always go to the most popular locations—we also go to quiet and subtle ones. That's what Watch! does—we find not just the best of the best, but places that are off the beaten path.
Were any of the celebrities overwhelmed by the experience?
Jeremy: After we wrapped our shoot with Julianna, she said, "This was like a Vogue shoot. I had no idea!" It was one of the proudest moments of my life.