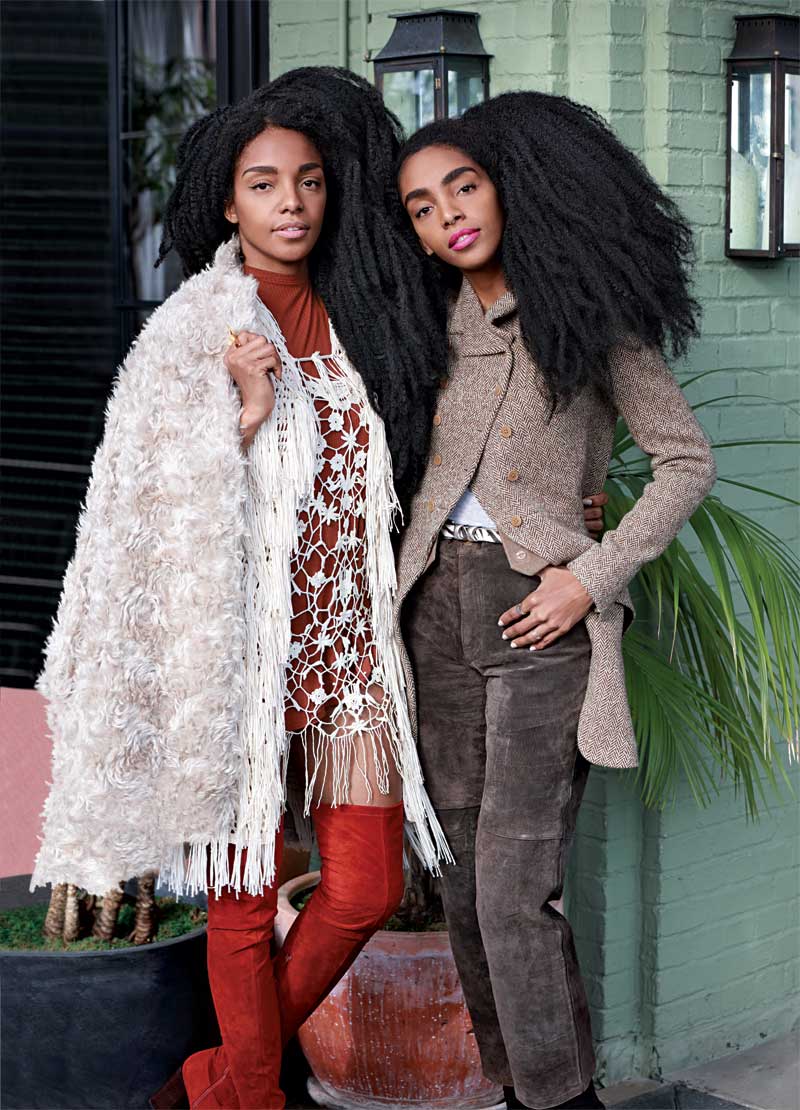 Street style stars TK Wonder and Cipriana Quann have become regulars on the fashion circuit. The identical twins, now represented by IMG Models, explain their ascent.
What's your background?
Cipriana Quann: We grew up in Baltimore. Our mom really influenced us, because she was in the workforce and going to school full-time. Our father was the stay-at-home dad. It was a very strict upbringing. We didn't go out during the summer—we had to stay in and read, write, and draw, which I appreciate now. TK and I are very close. Our parents were always saying, "You were born with a best friend. Never take that for granted."
TK Wonder: Our mother is such a beautiful woman—she's the one who inspired us in fashion. Her look was so effortless. She knew what made her feel comfortable, and she wasn't afraid to try new things.
Cipriana: Our dad was also very fashionable. He took us to vintage shops and Goodwill, and taught us how to shop: "Dig deep in the bottom of the barrel." Our mother would wear men's suits with a blouse.
What are your similarities and differences?
Cipriana: We're very similar in the way that we think, the way our personalities are, but TK is more extroverted, because she's a performer. Basically, we're one person split into two, so it's hard to say what's different, because we're so much alike.
TK: We have a slightly different dynamic when it comes to social settings, but we are very much the same. We have the same disposition. It's great being business partners, because we rarely argue.

How can people tell you apart?
Cipriana: I'm the oldest by 15 minutes, and I had to make my way through the birth canal, so it elongated my facial structure. I made room for her!
How did you end up in New York?
Cipriana: I came here first to go to Parsons for set design and interior design, and then she came after for music and performance.
TK: I went to the New School for a bit and majored in creative writing, and then I ventured into spoken word; after that I got involved with music and started touring.
Cipriana: Our paths were very different, because I was modeling for about nine years. I did not enjoy it at all. I think it's an amazing career path for some, but I liked having some sort of creative say. Times are changing now, but when I was doing it, it was like I was a mannequin. I also had problems with the texture of my hair. That was a conflict for most of my jobs. I was always manipulating it to make it look like something it totally wasn't, or straightening it. That was a big problem for me. It started to change the way that I saw beauty, and I didn't like it.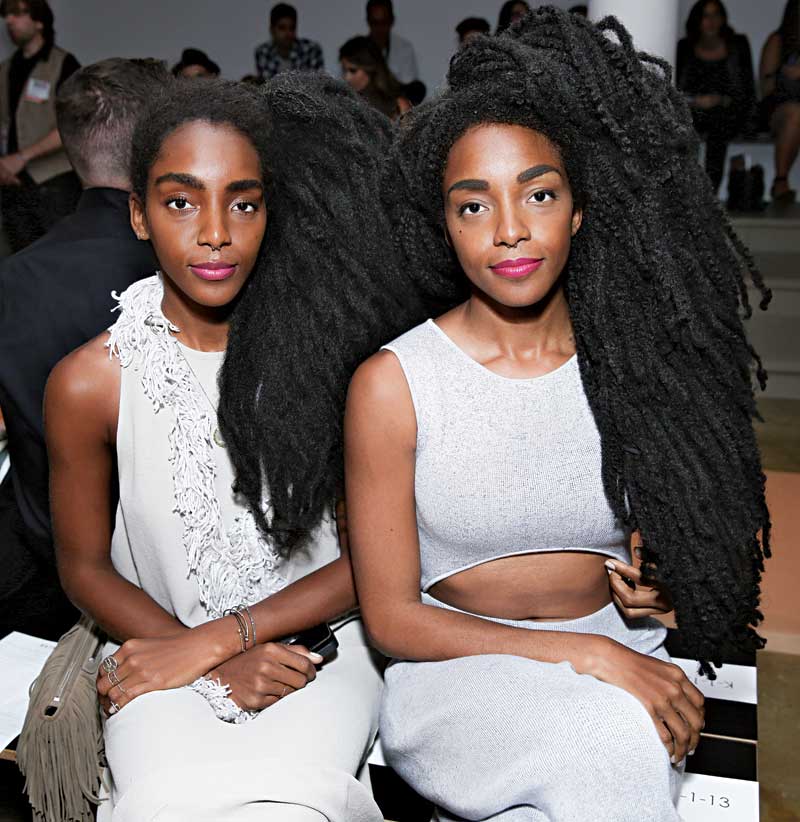 How did you end up signing with IMG Models?
TK: They asked us what we would like to do and what we wanted, and how we could see ourselves fitting in at the agency.
Cipriana: They also said that they appreciated what we stood for, and that the industry really needed that type of diversity. That was really great to hear.
Do you tire of talking about your hair?
Cipriana: I don't mind talking about hair, because I feel like a lot of people are not very knowledgeable about it. They will say certain things that they realize might come from a very stereotypical place or a place of ignorance, and they don't even know or realize they are saying it. The only time I do get a little annoyed is when people want to grab your hair and then get offended when you say you have to ask if you can touch it.
TK: One of the common questions we also get is, "Is that all your hair?" I know we have a lot of hair, but it's coming from a stereotype that black women can't grow long, natural hair without the weave or extensions.
Tell us about your site, Urban Bush Babes.
Cipriana: I co-founded the site with Nikisha Brunson in 2011, and my sister joined in 2013. The site is for women of color to feel comfortable expressing themselves—we show what mainstream media doesn't show, like women of color who are lawyers, chefs… We're also breaking those lines and barriers of what people see as beautiful, and realizing beauty is almost everywhere. Beauty is diversity, and that comes from within.
How did you end up on the fashion radar?
TK: It started when we began to photograph our vintage finds. We worked with a photographer and we did a lot of street style on our own—just because we love fashion; we weren't trying to really go anywhere with it.
Cipriana: I was featured in a video series for Vogue, "My Life at Vogue." They followed me around for the day and I talked about Urban Bush Babes. It was incredibly flattering, and we got a lot of exposure for that. Vogue featured us in a siblings story, and we started getting invites to shows. Photographers wondered who we were, and it spiraled from there.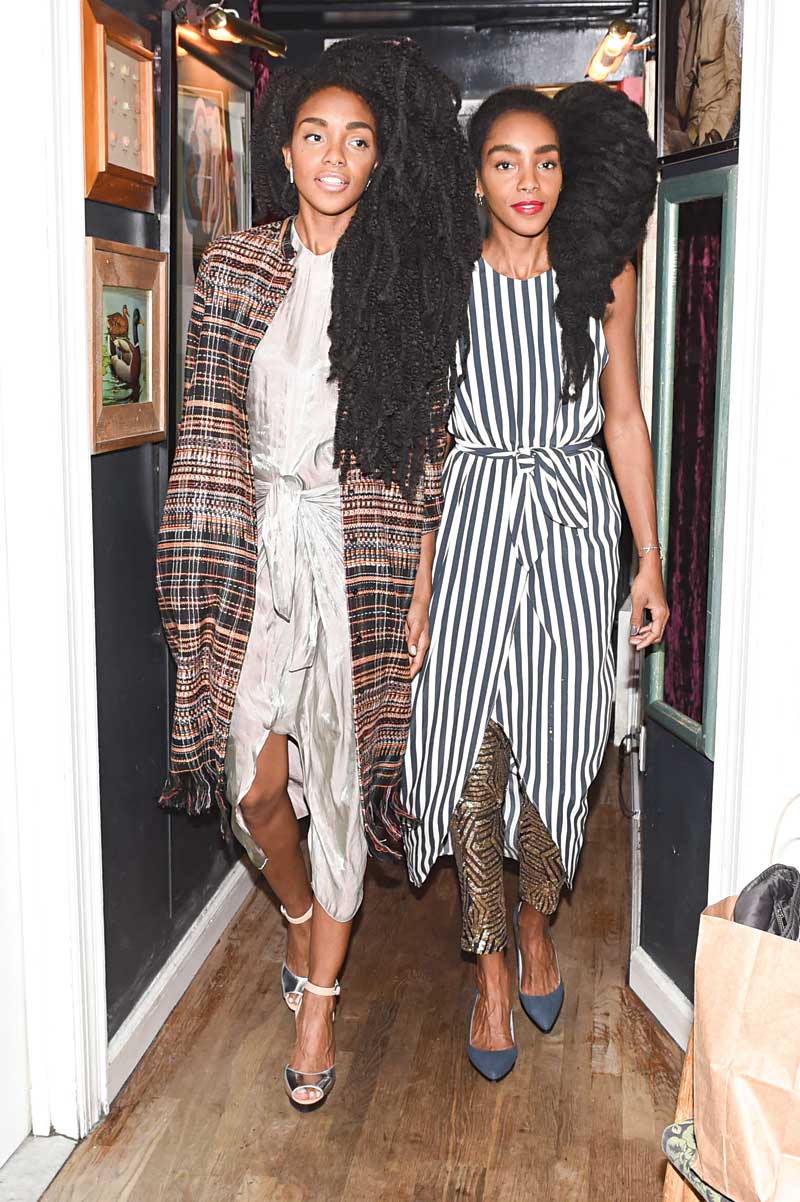 Do you have moments of regret when viewing the street style photos?
Cipriana: For the most part, I own what I wear.
TK: I come from an era where I used to dress crazy, so there's nothing I could wear now that would be like, "I should've changed that." You should see what I wore when I was 18. [Laughs]
Cipriana: Pink fishnet stockings with pink highlights in her hair, a netted top…
TK: A sparkly sprinkled skull piece, and really Goth over-the-knee boots and zebra prints…
What are your long-term goals?
TK: I've always been a firm believer in being open to possibilities. I always keep my options open, because maybe there's something in the future that I had never considered.
Cipriana: Sometimes we get so caught up in focusing so much on the future that we don't enjoy life or live in the now. You could possibly be cutting off different opportunities just because you have such a straightforward path. I love the element of surprise.
Who are your designer friends?
TK: Studio 189, which is a line with Rosario Dawson and her friend Abrima Erwiah, Tome, Mara Hoffman, Rebecca Minkoff, Marimekko, Baja East, Monse, LaQuan Smith, Citizens of Humanity, Tracy Reese…
What's your go-to vintage shop?
Cipriana: The Mobile Vintage Shop. It's amazing—the owner has two trucks and a store at 28 Scott Avenue in Brooklyn. Everything is $10 or less!
What's the best part of having a twin?
TK: Having a best friend 24 hours a day.
Cipriana: Having someone you know will never judge you, no matter what you do.
You both laugh a lot.
TK: When we go out to events sometimes, Billy Farrell will say, "I always see you two laughing! What else do you have to talk about after all these years?" There's everything to talk about!