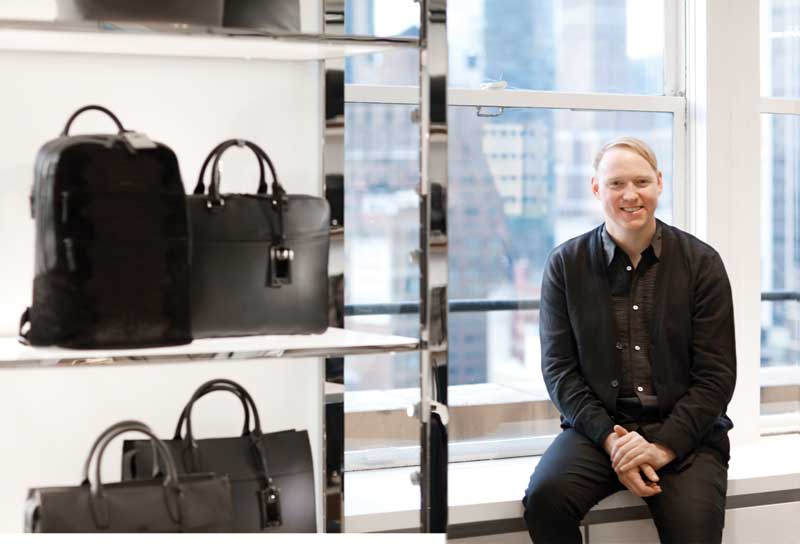 Michael Petry, Tumi's creative director, started out as a pro soccer player before turning his talents to design. After working everywhere from Adidas to Prada and most recently, Frye, Petry has turned his eye from boots to bags. Now, he plans to make it known that Tumi is about more than high-end luggage for the suit-wearing set.
You've had quite an interesting career.
It's been a charmed life. I'm proud of every place I've worked, and I'm a super brand loyalist to every one of them to this day. I want to work at places where when you see it out in the street, you say, "Yeah, I had something to do with that. I'm proud that someone spent a great deal of money on something that I put blood, sweat, and tears into."
How did you get into design?
I went to the design school at Philadelphia Textile, and then I dropped out to play professional soccer, and then I got a job at Adidas through a friend who remembered I went to design school.
Where were you playing professional soccer?
I was in England, playing for the Tranmere Rovers. People are always surprised when they hear I was inducted into my high school hall of fame for soccer. I played soccer up until last year—I just got old, I guess. I have a wife, a kid, a job—I can't seem to squeeze it all into 24 hours.
Who do you root for?
I'm a huge Liverpool fan. When I go to Europe I always catch a match. It's nice to park your brain out of design for 90 minutes. My daughter watches it with me occasionally, but she picks colors, not teams.
How old is your daughter?
She's 5, but she's a New Yorker, so she's like 25.
Did you own any Tumi before coming here?
I did, but I also had a lot of Prada luggage, truth be told. But I've always been a fan of the brand, and that's one of the things that really drew me here.
You have traveled quite a bit for work. What knowledge do you want to impart to the brand?
Travel has changed, and I've learned a lot about how it's changed from my experiences. It used to be you would pack for a two-week trip to Asia, but now, people are flying 3,000 miles for a one-hour meeting and flying back within the same day. The more wired we become, the more things we need to pack, and the more organized we must become.
What is your biggest growth category?
Women's has been big for us, but when we drill it down into silhouettes, backpacks, for sure. Premium has also been a really nice moment for the brand. We're considered a premium. We're considered the pinnacle of what rolls off the carousel. Our clients trust us for the functionality, and know the product is going to stand the test of time.
What does your premium brand entail?
It's more expensive, because of the raw materials and ingredients, but it all combines the same DNA as everything else we make. We are also turning six collections a year now. We are in the same calendar as every other fashion house or fashion brand. The consumer is asking for newness from us. In the past, we were just considered a luggage company. Now, only 40 percent of the brand is luggage—60 percent of our business is done from day bags, electronics, and outerwear.
What's new in women's for Fall?
Our premium CEO collection. Many CEOs are women—a few months ago, I looked at a newsstand in an airport and saw eight female CEOs on the cover of magazines. People often talk about CEOs in a very one-dimensional context, but it could be someone like [music producer and DJ] Skrillex.
Does Skrillex actually use your bags?
Yes. He travels something like 250 days out of the year. What we've come to realize is almost every DJ carries Tumi, because they have headphones, more than one laptop, power cords, chargers, and more. A lot of stylists and makeup artists also use Tumi. They know their year is basically planned out in a six-month span. They have to be in various countries, carrying garments, and their phone battery is always running low. I even bumped into a major designer in Paris who is a big Tumi carrier. It's validating that a designer who works for a major brand that makes luggage carries Tumi. That speaks to the kind of products we're making.
Tumi has collaborated with brands like Public School. Do you have any others in the pipeline?
Going into 2016, we have two more, but we can't announce them yet. We just did an Instagram project with photographer Kat Irlin. She shot influencers in our Fall '16 collection, which she'll be rolling out on her Instagram [@kat_in_nyc] throughout Fashion Week.
Anything else in the pipeline?
We are making super products, but how do we evolve into becoming a part of someone's everyday life? How do we change the perception that we are not just a luggage company but a lifestyle brand? I don't think anyone needs more products in their lives, but they do need better products.