Designer Monique Lhuillier documented her recent trip to Madrid to celebrate her 21st wedding anniversary, and shared it with us. 
How long were you in Madrid?
My husband Tom and I were celebrating our 21st wedding anniversary. We visited for four days and stayed at the Hotel Villa Magna. I first visited Spain with my family when I was a child and have been back several times over the years.
What's the culture like?
Madrid is a vibrant city with intense culture, art, and intellectualism. Being the capital of Spain, it's buzzing with activity and is very family-oriented, which you can see while walking through the squares, parks, and cobblestone streets. It also has a laid-back feel to it and you can catch someone daydreaming at a café or lounging with a cocktail in a classy bar.
What do you always do before traveling internationally?
I try to pack strategically. I like to stay organized by coordinating looks and making sure that I have everything I need before my trip. I think I always pack the perfect amount, but do like to have options, especially for black tie functions. I always have at least two dress and accessories options.
How do you manage long flights?
It's so important to stay hydrated and to keep your skin moisturized. I'm currently crazy over Goop and Sonya Dakar products. My favorites are Goop's Revitalizing Day Moisturizer and Luminous Melting Cleanser, and Sonya Dakar's Daily Body Shield SPF 30 and Organic Omega Booster. I also try to relax by reading the latest magazines and watching the latest movies. Wearing comfortable clothes is key!
Your travel style is…
I typically wear jeans, a button-down shirt, and sweater with a pair of comfortable boots for an effortless, comfortable style.
We hear you're a big runner.
I'm a very active person and love being outdoors. It allows for you to start your day invigorated and to take in the moment and your surroundings. For instance, on my morning run in Madrid I was able to take in the beautiful outdoor sculpture by Alexander Calder at the Reina Sofia Museum as well as the beautiful Buen Retiro Park. I also enjoy changing my workout routine to include yoga, dancing, and hiking. I try to maintain a healthy lifestyle.
What was the architecture like in Madrid?
What's so beautiful about the architecture in Madrid is that it has preserved the look and feel of many of its historic neighborhoods and streets, even though it possesses a modern infrastructure. It has a romantic, traditional, and classic feel but with a modern sensibility.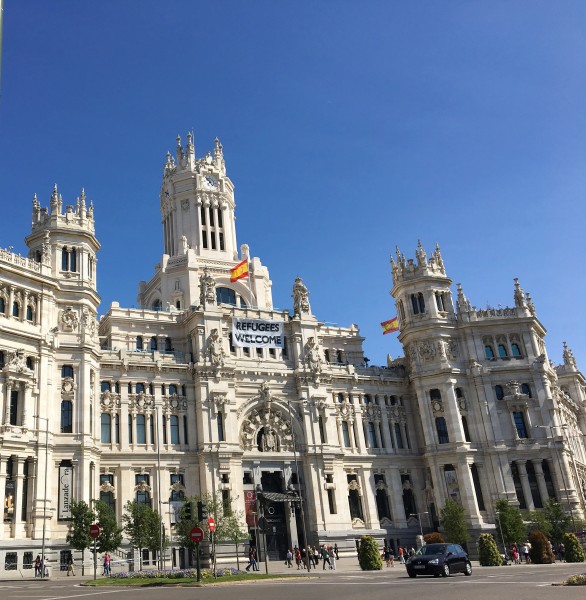 Favorite sights you visited?
I'm often inspired by my travels and modern art and I truly enjoyed the Reina Sofia Museum. It has an extensive and amazing art collection. I also loved the City Hall of Madrid, Cybele Palace, which is an iconic monument. The Buen Retiro Park is simply stunning and a must-see. It's filled with beautiful sculptures and monuments, lush gardens, and a breathtaking lake, and I was happily surprised when I saw a recently married bride wearing one of my designs!
Tell us about the food!
My favorite Spanish dish is paella, but I also had a wonderful fish dish at El Paraguas, a great steak at Caray, and a delicious dinner at the U.S. Embassy.
What were you doing there?
We went to the U.S. Embassy to visit our dear friends Michael Smith and U.S. Ambassador James Costos. We had a great time celebrating Michael's special birthday.
What's the shopping like in Madrid?
Madrid is a very interesting city for shopping, as it's a mix of international brands and local shops where you can find almost everything: clothing, shoes, food, wines, and souvenirs. I loved strolling through the quaint cobblestone streets of Calle Jorge Juan, a destination for luxury fashion boutiques. I also enjoyed stopping into El Corte Ingles. It's an iconic department store in Madrid. I purchased clothes for my kids!
What was your favorite part of the trip?
There are so many favorites, from the moment we landed and had a romantic dinner to celebrate our anniversary to spending time with friends at an uber-chic birthday celebration and strolling through the tranquil streets of Madrid. It was all fantastic! We just enjoyed every part of it.
Are you traveling anywhere else this summer?
I'm looking forward to traveling to the Amalfi Coast, London, Paris, Amsterdam, and the Hamptons.