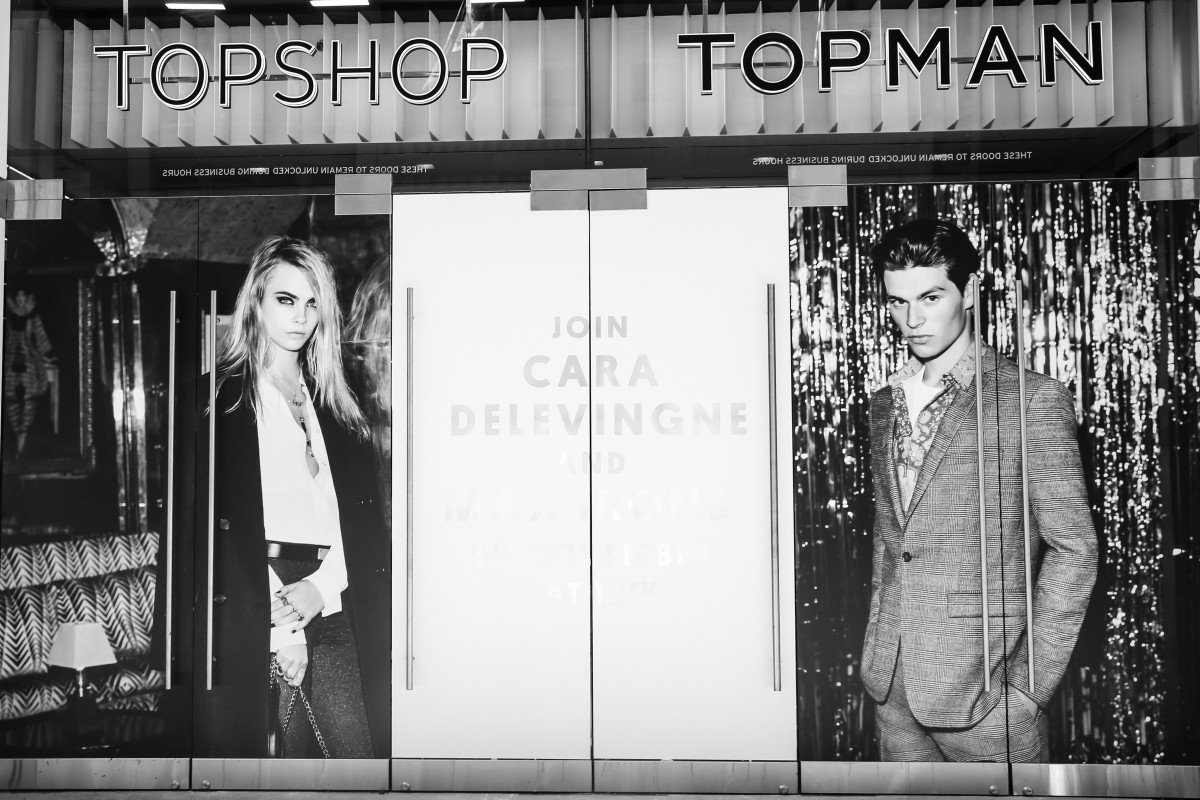 Yesterday, Topshop unveiled its second largest store in the world to editors and bloggers at an exclusive preview. The 40,000-square-foot space at 608 Fifth Avenue will officially open tomorrow and will be the fast fashion brand's second New York City location. The first location in the Big Apple opened in 2009 at 478 Broadway and is regularly packed with tourists and locals alike. The new uptown digs include four floors, with Topshop occupying the first three floors and Topman located on the basement level.
The first floor will be home to specialized products like the Topshop Unique and Boutique lines, as wells as Fifth Avenue exclusives and Topshop Beauty. The second floor will house denim, casual pieces, petite sizes, knitwear, and outerwear (we saw a fabulous nude suede and shearling moto jacket on this floor, just FYI). The retailer's personal shopping services will also occupy 1,108 square feet of space on this floor. Brand ambassadors Kate Foley, Hailey Baldwin, and Julia Restoin Roitfeld were holed up in the dressing rooms after multiple trips to the floor to try on clothing in the personal shopping space. "I could spend all my salary here!" we overheard Restoin Roitfeld telling a fellow shopper. And that's coming from a woman who's already got quite a wardrobe. The third floor will have all of the shoes your heart desires, plus tailoring and work wear pieces.
As for Topman, 80 exclusive pieces have been created solely for the Fifth Avenue store, as well as a new denim collaboration with American denim mill Cone. Also on hand? Topman Design from the runway, Lux, LTD, and designer collaborations. Of course, the brand's popular suiting, formal wear, and shirt ranges will also be on offer.
For those of you who might avoid Topshop because you can never find a fitting room, there is some very good news. The store offers multiple fitting rooms on every floor, with over 50 in total, and there are call buttons installed in case you need to ring a sales associate for a size instead of yelling for them or having to step out of the fitting room to find one. And there is more good news for the rest of America: been waiting eagerly for a Topshop outpost on your home turf? The brand is planning to open a total of nine stores across the U.S. by April 2015. Just in the past month, the retailer has opened a joint Topshop and Topman at Fashion Valley San Diego, and a stand alone Topshop at Springfield Town Center in Washington. Next up? The Galleria Mall in Houston and Lennox Square Mall in Atlanta.