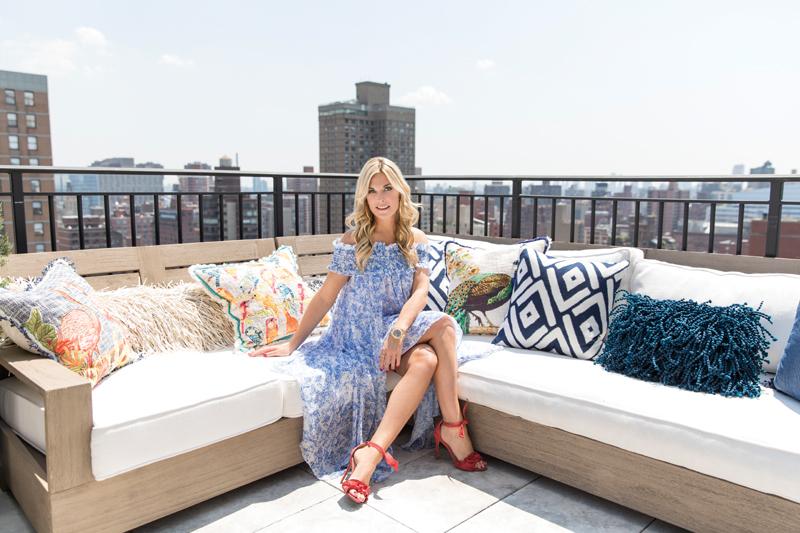 She's back! After a stint in Palm Beach, Tinsley Mortimer packed her bags and returned to New York to become the newest cast member of The Real Housewives of New York. The Daily Summer caught up with one of our all-time favorite socialites to get the scoop on her new man and how she's bounced back to life!

How have you been enjoying your summer?
We stopped filming [The Real Housewives of New York] in March, and I've since been traveling to Mexico, the Dominican Republic, Spain, the Florida Keys, and Chicago a lot to see my new boyfriend.
We'll get to that shortly! We last saw you at Jill Zarin's party this summer.
I haven't been heading out East as much as I'd like to. Jill's 5th annual Luxury Luncheon benefit and Super Saturday was the first time I was out there all summer, but I'm hoping to head back soon. I was there in the fall and winter to shoot the show. It's so cozy that time of year. I've been going out East for 20 years now.
How's life since you've returned to New York?
It's been great! I am so grateful for [castmate] Sonia [Morgan]. The limelight comes along with being back in New York. I wanted to step away from it for a while, and that's the reason I went to Palm Beach for four years and, you know…it was a bit of a rough time. It's incredible how much can change in a year. I'm so grateful to be back in New York and a part of this great show.
Why did you want to join RHONY?
I had done reality TV before, but my life has changed a lot. I was lost and in a low place. When the show approached me, I felt like my life had taken such a turn. I thought, "What else could go wrong?" It forced me to kick my butt into gear. That was the whole goal: to move back to New York and be myself again.
Did you have any trepidations about the show?
Not at all…absolutely none. I knew it was a great opportunity that would force me to be where I should have been all along. I shouldn't have left New York.
Do you regret moving to Palm Beach?
I don't regret anything in my life, because everything happens for a reason. I cherish every moment that can teach you something. Without living in Palm Beach I wouldn't be where I am today, and where I am is a very, very good place. I love Palm Beach—I've been going since I was 15 and was there this Christmas! I just happened to be in a bad relationship there.
What did you do to get better?
In general, I'm a positive person. The things that happened in my former relationship clearly broke me. Now I'm in counseling and I'm more confident. I feel stronger.
Did you read any books that were helpful?
No, I can't say that. A lot of people use therapy to deal with emotional stress. I was in group sessions with other domestic violence victims, and it was helpful to hear their stories and to see them be open. A lot of people, if they've never been through it, don't understand how someone could allow themselves to be treated like that, to walk back into that situation every day knowing that something really harmful will happen. Talking about it was my best therapy.
You're so honest on the show! Have you always been that way?
Yes, I'm definitely an oversharer. I trust people a lot. I don't feel I have anything to hide. I like friends who are open and honest, and not holding back.
What do you overshare?
I'm not going to break it down, but…everything.
Can you watch yourself on the show?
Definitely. We see the episodes a few days before they air. It's a little scary! You remember what you said and what you did, and you don't know what [the producers] are going to choose to show. I'm a girl, too, so I'm looking at my hair or what I was wearing. It's fun to see your life documented. The first time I met my boyfriend was on camera. Our first kiss was filmed, too!
Let's talk about this man!
His name is Scott Kluth and he's from Chicago. He's a good friend of Carole Radziwill, and she set us up. It was toward the end of filming the season and we went on a blind date. I didn't really know many details, but I took Carole's word that he was a good guy. I had so much fun on the date and it went a lot longer than we expected. Then we went down to Miami for a couple of days and we're still together now.
What's his story?
He runs a company called Coupon Cabin and he's really successful. He's not like a lot of the guys I thought I would date or would have ever met. He's just this smart, funny, generous, kind person. I'm really lucky to have him.
Is marriage on the table?
Look, I have never been afraid of falling in love! It's still new, but I would not be with him  unless I thought he was the one or in it for the long haul. So, of course I want to get married again. It's too new right now to say anything, but I'd be a lucky girl.
Are you still working at his company?
I started at [Scott's] company a few months ago as an account manager. I don't report directly to him. We work with Neiman Marcus, Saks, Bloomingdales, Intermix, Shopbop, and different stores selling advertisement space on their site. Any promotional code you're looking for is on Coupon Cabin. It's a no-brainer! I'm very lucky he gave me a job.
Did you coupon clip when you were younger?
No, I honestly never had used a coupon before. When you go onto the website, it does it for you. You search what you're looking for and you can get cash back!
So, how do you feel about turning 42?
I'm very happy with this age. Turning 40 was a lot harder. I feel so young. I'm so much better today than I was in my late thirties.
You look great!
Obviously, I get a little Botox on my forehead! Nothing that I'm embarrassed about. I haven't done anything—not to say that I won't later. I actually gained a little weight during the show. I think that I could look better, so I am trying to start working out again. I probably need to give myself a little time and focus on myself.