New York Fashion Week lost a true artist when Thom Browne decided to decamp to Paris last season. It makes sense that Brown would show there. After all, his high-concept collections with their couture-level craftsmanship (and price tags) have always felt a bit rarified for the New York Fashion Week scene. Rumor has it Browne only stayed in New York as long as he did because he was hoping to win the CFDA Fashion Award for womenswear designer of the year, having won twice for his menswear in 2006 and 2013. But that particular accolade eluded him and now he's in Paris, so we all just have to deal with it.
Luckily, with the magic of the internet, we can still appreciate the genius of Browne's designs, even from half way around the world. And thank goodness for that because his collection for fall 2018 was one of his best ever. Or should we say "breast" ever?
There was this dress which looked like a charcoal drawing of a nude woman embellished with rosettes of mink pubic hair.
Here's a close-up of that one. It really is spectacularly beautiful and detailed. Although, what else would you expect from Thom Browne?
Here, the breast itself get's the fur flower treatment — very Victor Victoria.
And here we see a bunch of breasts piled into a sculptural papier-mâché sort of a thing. Just boobs all over the place. Breasts akimbo!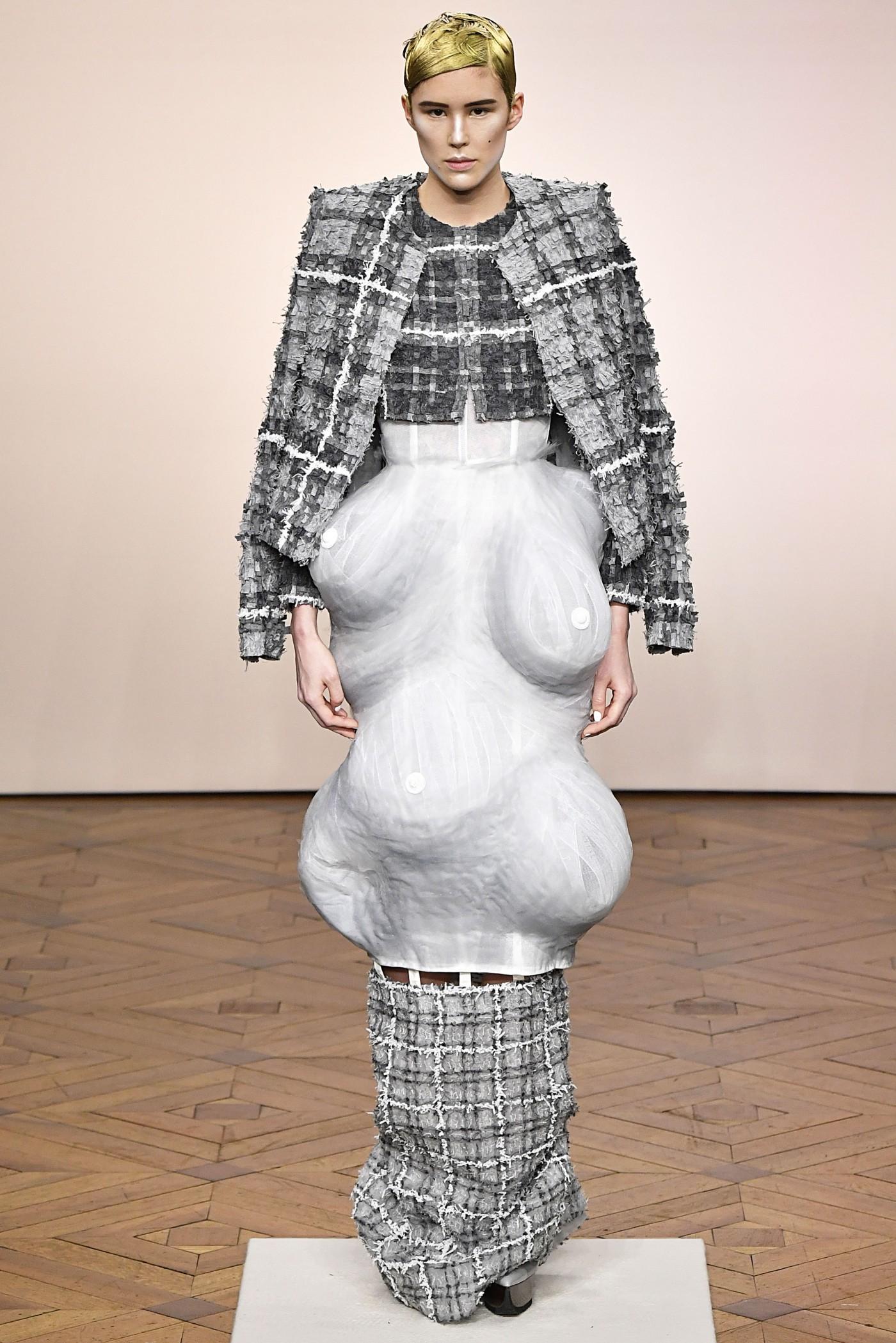 Or maybe the skirt is supposed to be a sort of abstracted sculpture of a female torso? That's definitely what it looks like in this iteration.
This look is kind of breasty.
But it is really more cheeky than anything else.
There were lots of lingerie references too.
And there were some bare breasts, of course, albeit with crystal pasties over the models otherwise exposed nipples.
This little dress came with seed pearl nipple embellishments.
And these giant hoop-skirted trousers happened. They have nothing whatsoever to do with breasts, but, like so much of what Thom Browne does, they are simply too strange and wonderful to ignore.