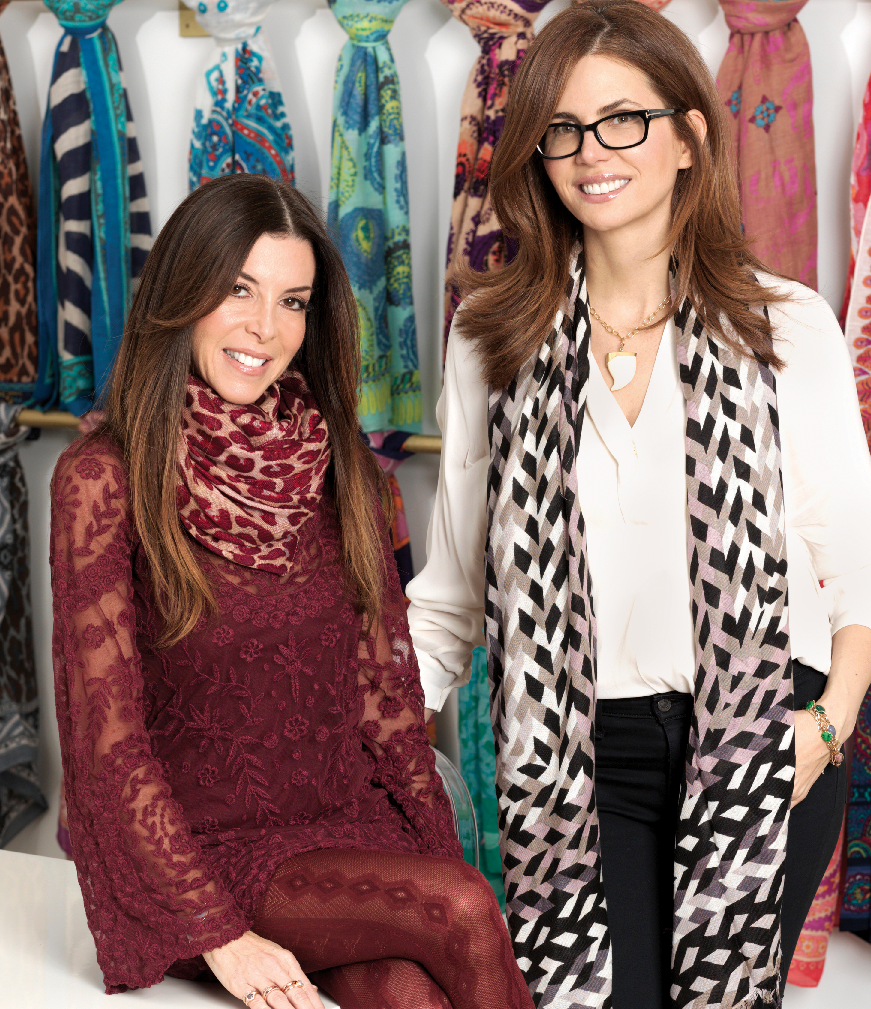 Prints perfection! Theodora & Callum, started by Full Picture's Desiree Gruber and longtime pal Stefani Greenfield, has grown beyond its signature supersoft, vibrant scarfs to include other accoutrements, more affordable offerings via the T+C line, plus some extremely adorable pint-size clothes out this spring in luxe kids' catalog Chasing Fireflies. We'll let Gruber and Greenfield, friends of nearly two decades, take it away…Plus! Are vous at Coterie today? Check out Theodora & Callum's latest creations in Booth #5031. 
What's new, ladies?
Stefani Greenfield: We're going into our fifth year of Theodora & Callum! There are very few people in life you can work with, play with, and even feel like you can live with—Desiree and I have that relationship. We both travel all over the world, so Theodora & Callum's urban gypsy accessory concept made perfect sense. Our pieces retail between $155 and $295; you can only touch so many people at that price point.
Desiree Gruber: Our line is also a platform for us. Right now we have a scarf out with Barbra Streisand to benefit heart disease, which is the No. 1 killer of women.
Stefani: Our customers buy new pieces consistently—I joke that we're like the print-of-the-month club. We're with our customers for the most fantastic moments in their lives: honeymoons, vacations in St. Bart's, fabulous barbecues.
Why did you start T+C?
Stefani: We've done Today, and Julia Roberts picked us for the last-ever Oprah's Favorite Things, and we were getting so many reactions on Instagram and Facebook saying, "Oh, I wish I could afford it!" We met Drew Pizzo at Collection XIIX, one of the largest accessory manufacturers in the massive mid-tier market. He was obsessed with what we did, so T+C came about.
How long has the line been around?
Stefani: It's our launch year. We're on our first selling season, and the end of 2015 will be the end of our first shipping season. The only difference between Theodora & Callum and T+C is price point. We have scarves, caftans, scarf dresses, scarf tops, hats, and jewelry. Now, between the lines, our prices range from $28 to $295. We didn't dumb anything down; it's an additional collection. No one is excluded from the brand!
Where is T+C sold?
Desiree: Dillard's, Lord & Taylor, Bon-Ton—stores that have more of a mass appeal. It's also available on our website.
You also make kids' clothes now, right?
Stefani: Yes, we have a licensing deal with Chasing Fireflies, a gorgeous upscale children's catalog and website. We got the cover of their April catalog. For me, that's like me being on the Sports Illustrated cover!
How did Theodora & Callum for Chasing Fireflies come about?
Desiree: I told them I was a fan; we talked about what we could do together.
Stefani: It's crazy cute, and has the same ethos as Theodora & Callum—free-spirited, colorful, internationally inspired, clever, and really pretty. We always say, start them young! There's a whole phenomenon with celebrity kids—people are obsessed now more than ever with the "mommy and me" thing. We've made some kids' designs for some celebrity friends and for our kids before—I have an 8-year-old girl, Theodora, and Desiree has an 8-year-old boy, Callum. Our kids see this as their brand; we go to work and it feels like they're always with us. Theodora was gobsmacked she didn't get to be in the catalog!
Desiree: Sarah Jessica Parker has had her kids in our designs; people love them.
The line is solely for girls currently. Any plans to make it co-ed?
Stefani: For Fall, we'll have boys' clothes as well. It'll have a surfer/mini rock star/Euro-prep look, with our prints and colors and a lot of graphics, but it'll be boy-friendly. We'll show it to Callum first—he's choosy!
What's your design process like?
Stefani: A team of four of us work on the design process. People ask where we buy our prints, but we don't—we create them. We all speak in shorthand; certain colors are on- or off-brand. Our graphic designer translates what's going on in our heads.
Like what?
Stefani: Oh, the other day Desiree showed me a hibiscus flower on her bracelet; I'll talk about the imprint a wrought-iron gate makes in the sand—it's very organic!
Have you done anything at NYFW?
Desiree: We did a Project Runway challenge, which was natural for our brand.
What's new with Project Runway, since you're an executive producer?
Desiree: Season 14 will start filming soon; we're very excited about that. I can't believe it's been 14 seasons!
You're successful businesswomen—what's the best advice you've been given?
Desiree: I think about failure a lot, and how to move through something not going your way. I like that Henry Ford quote: "If you think you can, you're right. If you think you can't, you're right." So I always think I can.
What kind of expansions can we expect in the future?
Desiree: Swimwear, which would be a very natural progression, maybe sandals, and home goods.
Stefani: Home is my personal obsession. I've made a career out of clothes, accessories, shoes, bags, and jewelry—but I really love home. When I wake up in the morning, I go to 1stdibs.com.
Remind us: How did you two meet?
Stefani: It was in late '96, at my first Scoop store, in Soho. I think we met in the dressing room. Desiree was shopping with her mom at Scoop—a mutual friend had told her to come in. Desiree just had this radiance about her.
Your friendship turns 20 next year—how will you celebrate?
Stefani: We celebrate all the time!
Desiree: We talk about going back to Morocco, where we've traveled together before.
How are you as travel companions?
Stefani: We're hard-core in business, but we're also hard-core about enjoying life. We like to have a good time!