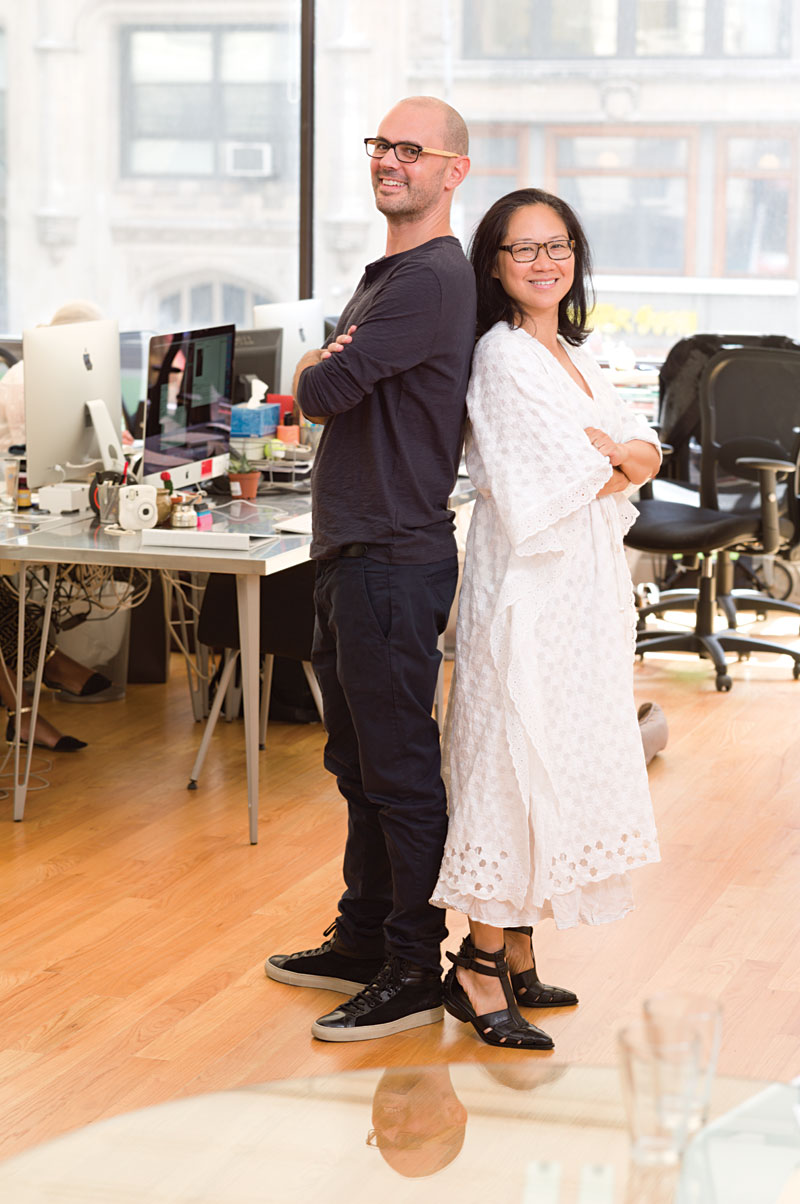 They've let the work speak for itself, but in a rare interview, Models.com's editor in chief and creative director Stephan Moskovic and managing editor Betty Sze invited The Daily into their Chelsea headquarters to unearth how they've put together the modeling industry's most trusted resource. Well, how did they do it?
Models.com feels like the Oz of fashion sites.
Stephan Moskovic: True. We've always stayed behind the scenes. We're not super active on the party scene. We're active on the creative side. We love what we do, so we're not looking to be gigantic.
Betty Sze: There are people in fashion who are famous for being famous, and we're not like that.
Have you done a lot of press in the past?
Stephan: Very rarely. Once in a while, we give a few quotes to The Wall Street Journal and The New York Times, but we turn down a lot. It takes so much time. We don't do this for the ego.
Betty: We like to lay low [starts fanning herself].
Are you okay?
Betty: It's called menopause!
Ha. How do you put the site together?
Stephan: There are now 12 of us on the team in Australia and New York. The site started as a who's who of modeling, with rankings. When we relaunched in 2008, we added a comprehensive database of the industry, which ties everything together. When you look at a campaign, you can see all the credits behind it. Many people in the industry have profiles in the database, but it's by invite only—you need to have worked with established clients before you're listed. Photographers, publicists, editors, and agents post their own content, so there's a constant flow, which we highlight with our own editorial content.
Which stories are top performers?
Stephan: We're still known for the rankings, and the cover stories/MDX section was launched a few years ago and has blown up. Our original content has become a powerful platform for creatives to showcase their talent without commercial restrictions. The database is huge, with 11,500 people listed. It's such a resource in the industry. We give credits to everyone from makeup artists to manicurists to set designers. They appreciate the visibility, and a lot of people get jobs because of their profiles.
How are the rankings determined?
Stephan: We use our database as our main resource. It's a mixture of what's in the database, because it's a great way to track across the board. In the order of importance, we weigh major magazines' covers, including Vogue's and Harper's Bazaar's top international editions, LOVE, i-D, etc., a lot more than other magazines', and campaigns from major brands as the two most important criteria, and to a lesser extent shows, overall editorial presence, and lookbooks. Editorial support from the leading magazines, stylists, and photographers is very important. Today, the market has become so diverse, so we've launched several different rankings to correspond to that. There has been a big push for diversity by Bethann Hardison and the CFDA, the advent of transgender models, the arrival of social media stars and celebrities, and the wider acceptance of various body types and the first models with disabilities.
Betty: Social media ranking is based on their numbers. Kendall Jenner has 57 million followers when you combine all her social media platforms. You can't dispute the figures.
Do you talk through all of this in meetings?
Stephan: Usually the first step is that we buy doughnuts for everyone at the office. [Laughs] We review the rankings in meetings, but rankings are voted on by a board internally, and then we always check with the agents, as we might not always be aware of something that's been shot that's about to come out. We are respectful of the impact the rankings can have on everyone involved, including the models and agents. Our goal is to help highlight the best the industry has to give.
Should agents befriend you?
Betty: It's better if they don't. Some agents call all the time, and others call when it's something really special. If someone calls me and says, "This girl is going to be huge," I listen. I'm friendly with agents, but I don't hang out with them. There's a line. People think we're in bed with them, but that's not how it is. I was an agent at Marilyn Gauthier and Company Management once, and objectivity is important.
How has the industry changed since your launch?
Stephan: There is no such thing as a typical model anymore. Social media changed everything. There are more opportunities for different types of models today.
Do successful models need big personalities?
Betty: Absolutely. They always did, but even more so now, due to social media.
Can we discuss numbers?
Stephan: It goes up and down, but we've gotten 2 million unique clicks a month. Our average is 1.5 million. It slows down in the summer, but overall, it's been growing.
How do you make money?
Stephan: It's mostly trade advertising—listings for models, makeup reps, and photo agencies. Think of it as a directory listing, but it has no influence on placement and rankings.
Why no ads?
Stephan: I hate advertisements on the site. We're in service to the industry; we're not a consumer site. We have almost consumer-level visibility and traffic, but that gives us a lot of freedom. We don't have to have a lot of banner ads all over the place. That would ruin the experience.
Betty: Integrity is really important to us. Would a tampon ad work for us? No. We tested it!
Stephan: We had an ad network and the first thing that popped up was a Cialis commercial. We've worked creatively with brands and propose something unique that can only be done on Models.com and have an impact for them. A traditional ad buy that reaches the biggest number of clicks, there's better venues for that, and I think that's perfectly fine.
Who are your favorite models of all time?
Stephan: Kate Moss, for sure. I've always loved Naomi Campbell, Helena Christensen, and Carolyn Murphy.
Betty: I'm old-school—Talisa Soto, Yasmeen Ghauri, Renee Simonsen, Lauren Hutton, Naomi Campbell, Malgosia Bela, Raquel Zimmerman, and Kristen McMenamy.
What's your impact?
Stephan: We have demystified the industry. In our geeky and organized way, we're making it more accessible.
Do you consider yourself geeks?
Stephan: Definitely. That's why we get along.
Betty: Geekdom is having a moment!