He was discovered on Instagram, and before long, became the toast of New York Fashion Week. Meet Tokyo's own Tomo Koizumi, the costume designer whose fantastic creations have charmed the fashion world and the masses with equal enthusiasm.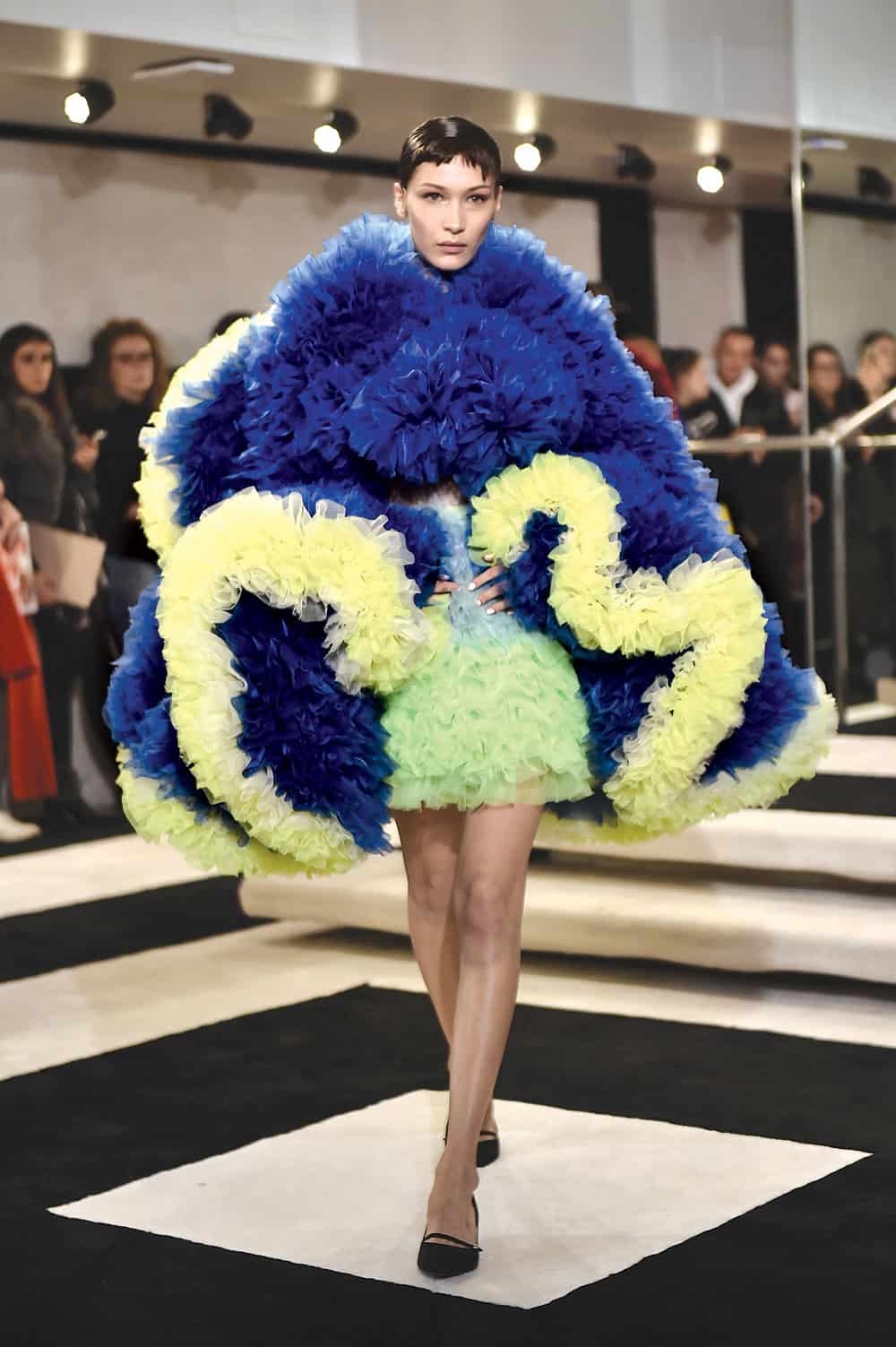 What inspired you to become a designer? 
I grew up in the countryside in Japan. As a teenager, I didn't have the Internet—we didn't have a PC—but I was always reading fashion magazines. I only looked at menswear magazines at first, but when I was 14, I saw a picture of a John Galliano Dior flamenco look from his fall 2003 couture collection and I thought, "This is fashion." It was the moment I decided to be a designer, and I've followed that kind of style ever since.
What did your parents do for work at the time? 
I only had my mother and she was working for a funeral company—preparing for the ceremonies and helping people.
Did you spend much time around the funeral home when you were growing up?
It was my uncle's company and it was close to my home, so I would always go there after school. The decorations there also influenced me—it was so colorful, a bit tacky, even.
Did your mother appreciate fashion, too? 
She loved fashion. She loved to wear designer clothes, and she was always trying to make me wear something different from the other kids—something weird. Of course, we lived in the countryside, but she was always buying clothes from Tokyo. She would order them from catalogs by phone. It was so different than it is now.
You decided against attending fashion college… 
I went to a normal university and majored in art education. In Japan, it's important to have a degree from a university if you want to get a job. When I was 18, I really wanted to be a fashion designer, but I also wanted to have options. I figured if I needed to, I could go to fashion college after I graduated from university.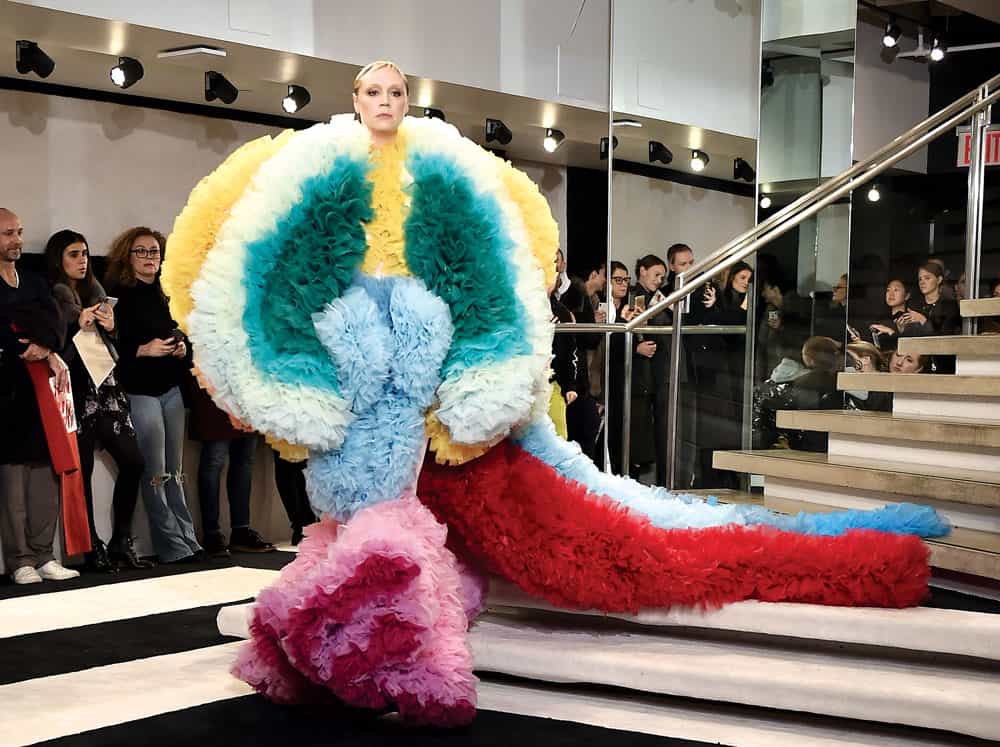 But you never made it to fashion college, did you? 
I started working as a costume designer when I was still at university. I was always making clothes for my girlfriends to wear to the clubs. One night, someone saw one of my friends wearing a dress I made and took a picture of her. Soon, buyers in Tokyo started contacting me. Then the buyers introduced me to stylists and I started working as a costume designer. I've always worked for myself, for more than eight years now. I just made a few things—body-con dresses. Very eye-catching and colorful.
How did you go from body-con club dresses to the incredible topiary pieces you showed in New York? 
Well, eight years ago, I didn't really have the knowledge and the skills to create dresses like I do today. I made dresses based on the techniques I knew. Now, I'm older and I've been working a long time, so I know more.
Where do you find your inspiration these days? 
I go to this vintage bookstore area in Tokyo, Jimbocho. It's close to Tokyo Station. I go there sometimes when I need to do research. Lately, I'm really interested in the more traditional aspects of Japanese culture, like Kabuki. I watch a lot of that on YouTube. The stories are hard to follow, but I love the costumes.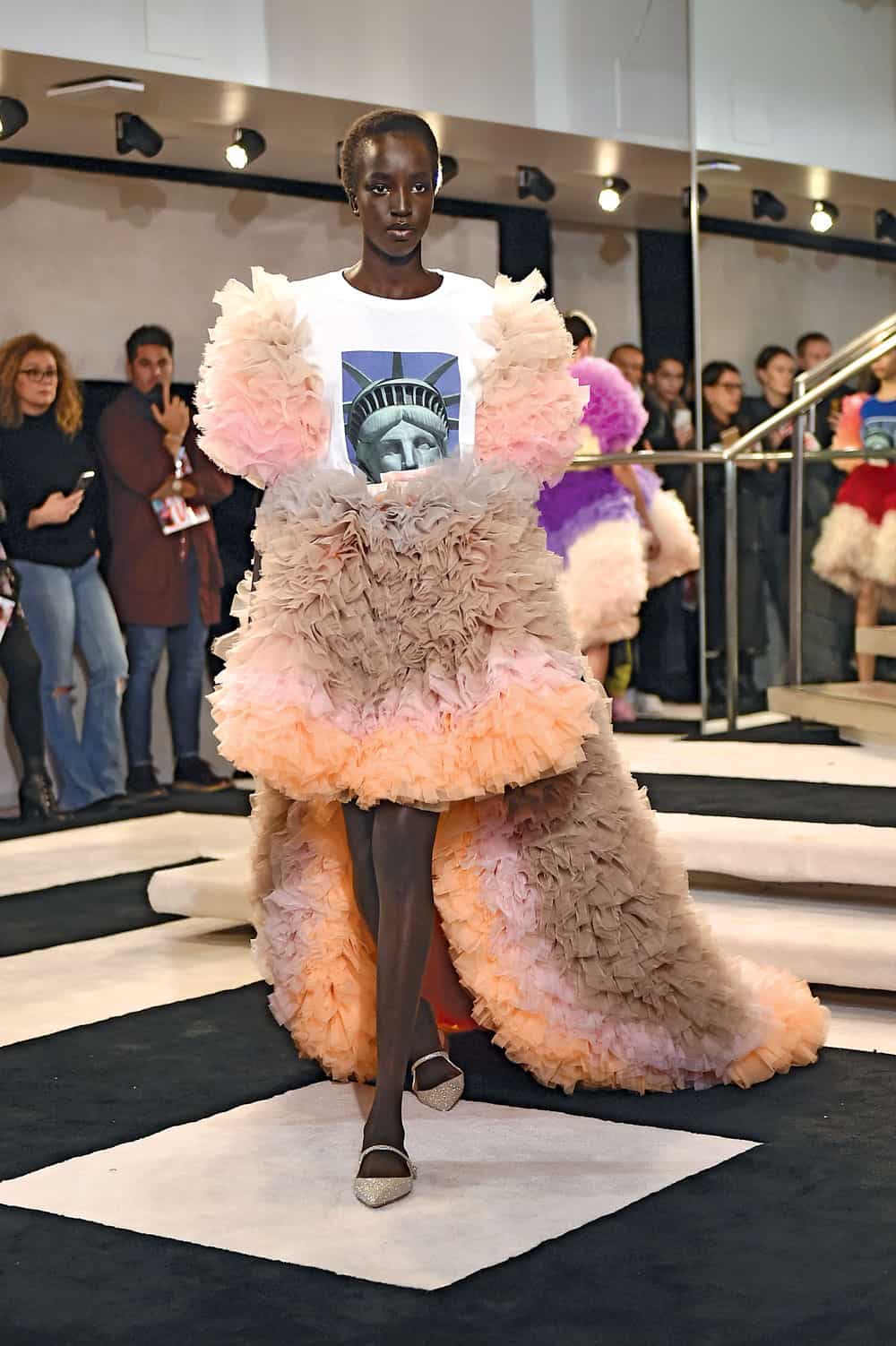 What's your work process like? 
I listen to music—mostly techno, like club music. I've also been watching Netflix. Well, sort of half watching while I'm doing something easy. I'm really into Terrace House on Netflix. It's sort of like Jersey Shore, but more conservative.
You work out of your home in Tokyo. You also have two cats. Do you ever worry about them ripping up your work? Cats and organza seem like a bad combination.
No. They just disturb my sewing sometimes, but I'm used to it. They haven't ruined any of my things…so far.
Besides your cats, do you live alone? 
I live with my sister, Yuka, right now. We've been living together for, like, three years. I like it because sometimes I feel nervous about my work and I need someone to talk to. She's also my best friend.
What does your mother think of your work? 
I don't know if she understands the things I make, but she loves my work and is happy for me and my career.
Do you talk to her a lot about your career? 
Not really, but she always supports me, especially when I am feeling nervous or maybe working too much. We don't really talk about design, though.
Who do you talk to about design? 
I don't have many designer friends, but I have Yuka, and I always talk about my work with her. She doesn't work in fashion, though. She works in IT. But she came to New York with me last time to help with the show.
What about Katie Grand? She sort of "discovered" you last season and put together your first show.
Do you talk to her about your work? 
Yeah. We talk all the time now. I actually met her five years ago, long before she texted me about my designs, at a shoot in Tokyo. She was styling the Bottega Veneta campaign. I knew who she was—I've always loved her styling work for LOVE and Pop—but I didn't talk to her at the time. I was just the alterations person.
Does she know now? 
Yeah. I told her. She remembers the shoot, but, of course, she doesn't remember me. But now, we chat all the time and I go to London for LOVE magazine sometimes. In fact, I just shot 15 pages with [photographer] Tim Walker for the new issue. It was one of my dreams come true.
How has your life changed since your show? 
I'm getting a lot more attention from people in other countries. I'm getting more jobs in Japan, too. And lending my clothes to celebrities.
Is there a downside to all this fame and success? 
It's really stressful, honestly. I'm not good at e-mailing, so I don't reply to every e-mail and I feel a bit sorry for that. I still don't have a publicist for my brand, but I should have one soon, which I think will help.
Do you have any plans to create a ready-to-wear line or build some kind of wholesale business? 
I think about that all the time, but I'm not ready yet. Maybe next year I will try something small.
Without anything to sell, how do you make money? 
I make custom pieces and clients pay me for those. I've been doing that for eight years. I don't make anything for free. I can't afford to. Sometimes I want to, but it's not possible right now.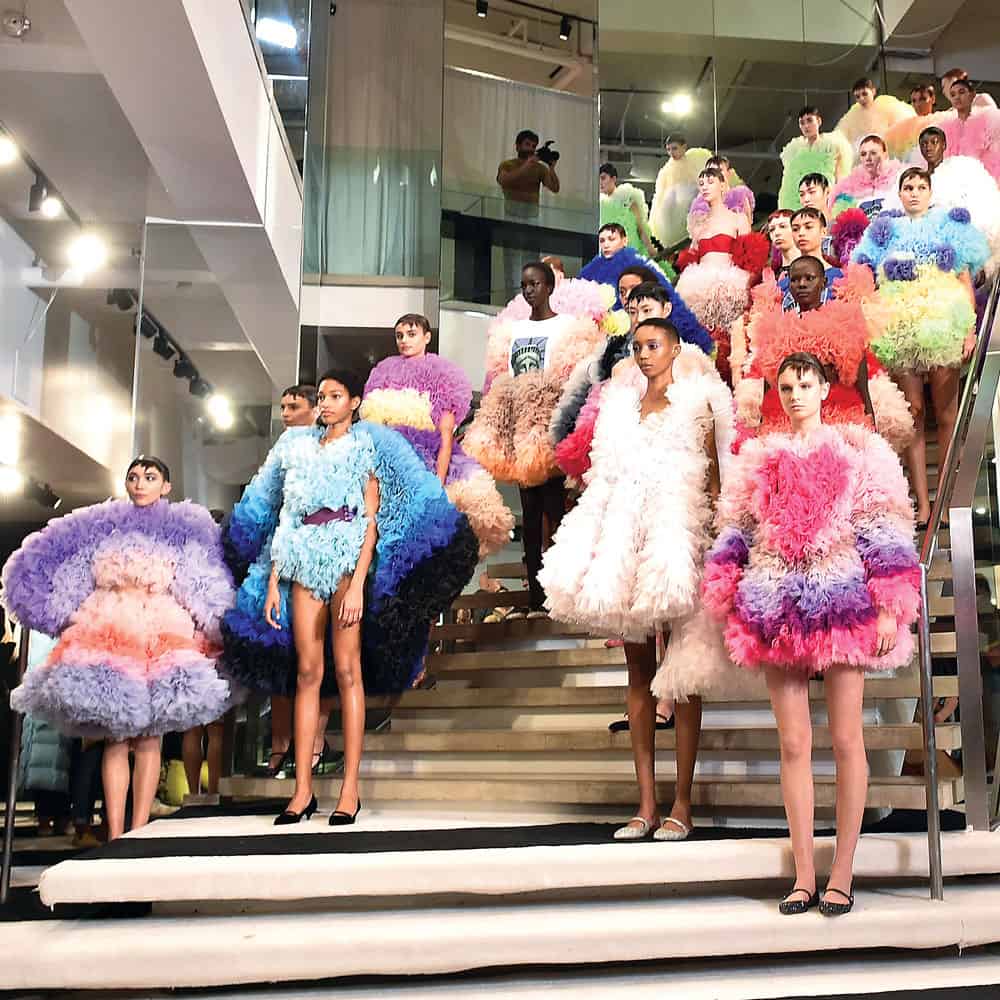 Are you looking for investors? 
I don't think I need investors right now, but I would like to work with a big commercial company—maybe a collaboration or some consulting. I'd like to be the creative director of a brand. At the same time, the commercial stuff is really difficult for me. The idea of selling really stresses me out. I'll get used to it, though.
What about your show this season? What do you have planned for that? 
I'm using the same technique but making it more theatrical. And I will have the same team as last time for the show—Katie, [hairstylist] Guido Palau, KCD [PR]. I'm so happy. They all support me for free, which is the biggest thing, because I don't have money for this. I couldn't afford it if I had to hire all of them. Because of that, it feels like we're making something together.
Read the complete new issue of The Daily Front Row below!
Subscribe to our newsletter and follow us on Facebook  and Instagram to stay up to date on all the latest fashion news and juicy industry gossip.