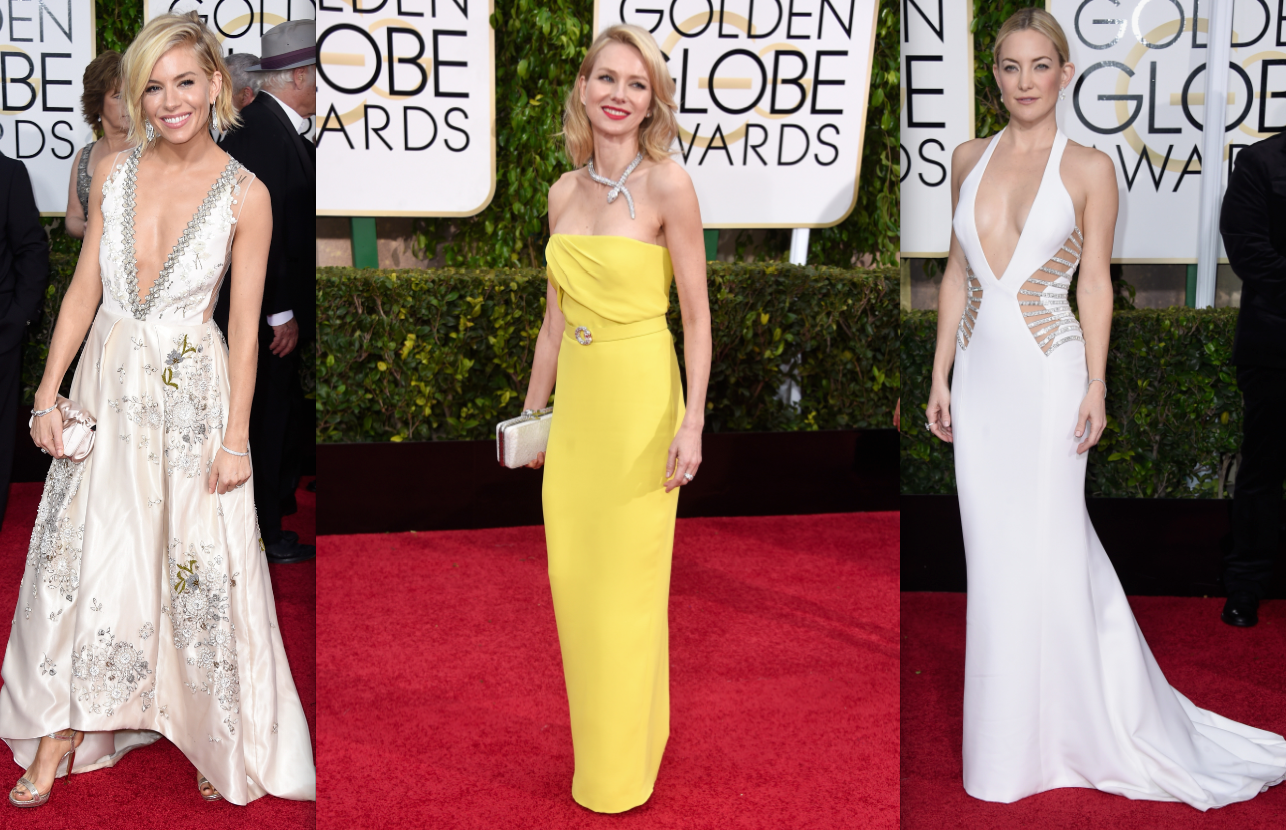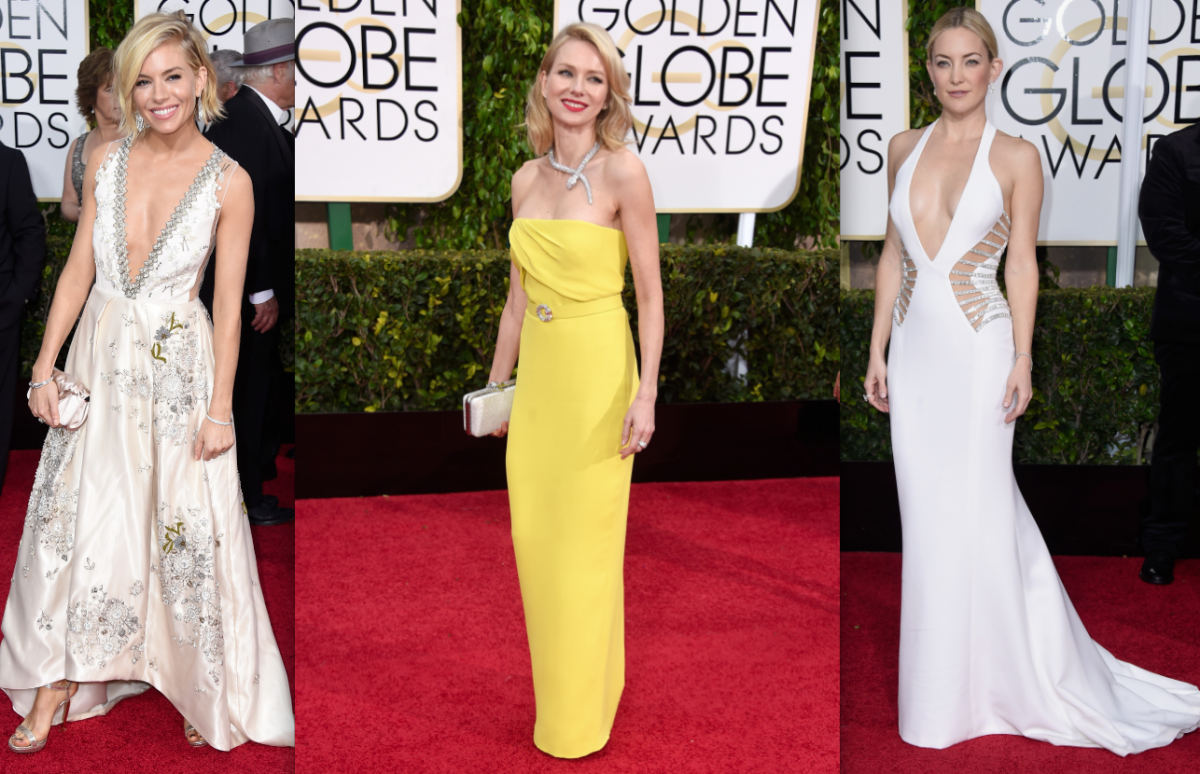 Last night, tinseltown came out in their finest (…and in some cases, not so fine) fashion to celebrate the 72nd annual Golden Globe Awards. There were plenty of winners taking home the gold inside, but who were the red carpet winners? Without further ado, here's a recap of the standouts and the less than impressive looks of the eve…
Versace, Versace, Versace: The Italian house owned the red carpet last night with some of the best dressed ladies of the evening donning the maison's looks. Jessica Chastain looked ravishing in her bronze pleated gown with a plunging V-neckline. Amy Adams' beautiful periwinkle draped one-shoulder gown was just the right hue against her alabaster complexion, but it was Kate Hudson who really showed off Versace's calling card. The actress wore a ultra sexy custom white gown cut-out at the waist and embellished with Swarovski crystals. The dress was custom, and it showed. It fit her like a glove and showed off every curve of her fantastic figure. Another stunner in Versace? Jane Fonda, who at age 77 has the body and skin to rival some of her red carpet peers who are half her age; she wore a figure flattering red asymmetrical gown with beaded sleeves and a sheer slithering panel of fabric that ran down one hip. Bravo!
White Haute: Some celebs threw color to the wind and opted for simple but stunning white looks. Hudson, of course, was among them, but other ladies who looked luscious in white included Emily Blunt in a custom cross-front midriff-baring gown by Michael Kors enhanced with fabulous Lorraine Schwartz turquoise earrings as well as a necklace. Meanwhile, everyone had high hopes for Rosamund Pike, but her white Vera Wang gown didn't quite hit the mark. However, we have to give her credit for her fab figure. (Pike had a baby just five weeks ago!) Salma Hayek wore a white Alexander McQueen strapless gown with a full skirt cinched at her tiny waist with a silver belt that flattered her slender yet voluptuous frame. Sienna Miller, never one for a red carpet mishap, looked stunning in her white plunging-V Miu Miu gown; the Twitter-sphere was going wild over her cropped wavy blonde tresses.
Retro Hair: Speaking of haute coifs, many ladies last night opted for old Hollywood glam, with sideswept, perfectly-placed curls like Chastain, Adams, Hayek, Allison Williams, Reese Witherspoon, and Diane Kruger. The look works, which is why it's still a Hollywood staple. Chastain's long ginger locks best exemplified the look.
The Clooneys: Let's face it. One of the highlights of this year's Golden Globes was the arrival of Hollywood's biggest "it" couple, Amal Clooney and George Clooney (move over, Brangelina!). George opted for a classic Giorgio Armani black tux (apparently his wedding tux) with a white shirt, while Amal wore a black Dior Haute Couture gown and her own white gloves. Ever the activists, both wore "Je suis Charlie" pins in support of freedom of speech. Then, of course, there was George's romantic speech where he told Amal he was so "proud to be her husband". He also mentioned waiting 53 years for "the one". Swoon.
Red Zone: The ladies were mad about red this year. Williams' crimson strapless bustier gown by Armani Privé stole the show in the blaze of red carpet rouge. Meanwhile, her costar Lena Dunham's satin red assym Zac Posen gown didn't hit quite have the same impact (that hemline was great, though!). Taylor Schilling proved that red is the new black in her gorgeously simple but statement making keyhole-detailed Ralph Lauren gown. Kate Mara played it a bit safe in a cherry red Miu Miu dress with a slight v neckline and a couple of ruffle embellishments topped off with a nude belt. We love that Julianna Margulies went with a less mainstream designer, wearing a strapless tea-length dress by Russian designer Ulyana Sergeenko, although there are far more dramatic red carpet numbers by the designer that she could've chosen. Helen Mirren showed off her curves in a red Giorgio Armani gown that showed off how incredible she looks at age 69 (Mirren and Fonda are to be admired by us all, non?).
Dior, J'adore!: Emma Stone wore a Dior crystal encrusted strapless jumpsuit that looked chic and fresh on the 26-year-old actress. Another Dior win was a much different look: Felicity Jones' positively regal, peacock blue ball gown.
Silver Belles: Julianne Moore, who took home the Golden Globe for best actress for Still Alice, sparkled in beautiful custom silver Givenchy gown with ostrich feathers at the hem. Moore told E! that she personally requested the feathered detailing to Givenchy designer Riccardo Tisci. Kruger, always dressed to perfection, looked divine in a glam silver gown by Emilia Wickstead. Very old Hollywood! Witherspoon wore a custom Calvin Klein Collection metallic beaded dress that looked just right and oh so Reese. Meanwhile, Jennifer Lopez went with her favorite silhouette: a robe-like dress, barely fastened solely in the areas you actually can't reveal on the red carpet (remember that famous Versace number at the Grammys?). This year, she wore a silver and cream Zuhair Murad that showed off all of her best assets, which even caused Jeremy Renner to blurt out a comment about her "globes" on stage.
Gucci Glam: Although the brand is currently sans creative director after the announcement of Frida Giannini's departure, Gucci glowed on the red carpet via Naomi Watts, who wore a canary yellow strapless gown enhanced by a stunning Bulgari serpentine diamond necklace. The combination was eye-catching.
Better luck next year: As always there were some misses this year, but we can't all be perfect can we? Kerry Washington's Mary Katrantzou dress had a length and fabric that simply wasn't flattering, and the shoes could've been a much better match. You've got to appreciate the risk taking, though! Jennifer Aniston's Saint Laurent dress was fine, but unremarkable. Ditto Maggie Gyllenhaal, who donned a blush pink strapless Miu Miu. Keira Knightley's Chanel frock with the butterflies and butterfly clutch looked frumpy and Lupita Nyong'o's Giambattista Valli Couture just wasn't her best. Here's to hoping some of your Oscar looks will redeem you, darlings!