I am so ready to relocate to Southampton where I will be most of the season turning out our five Daily Summer issues. I also plan on jetting to – during high season bien-sûr – St. Tropez, Capri, and Sardinia. And as I beach hop, I will be living in Thorsun, the coolest swimwear line on the planet, this very minute, for men .
Designed by George Sotelo, who has been in the fashion game for years, Thorsun pops with original prints and a bohemia luxuria vibe. George goes to Mexico frequently and visited the small desert town of Mata Ortiz and started collecting ceramics which influenced the line. Also in love with Bauhaus and Modernism, George calls the this collection "Modern Pueblo." I just call it chic. Thorsun is available on their site and at Bergdorf Goodman and The Webster in Miami.
I like the name Thorsun. Does it mean anything?
I've always been fascinated by extreme weather, especially the power of thunderstorms during the summer. Thor is the menacing God of weather patterns. Thorsun represents summer thunderstorms.
I always see photos of you on exotic beaches, so swimwear is literally a perfect fit for you.
I travel quite a bit and 100 percent of the time its to a warm weather beach location. I felt that I didn't have many options for swimwear and was having a difficult time finding prints that I liked. It was either too loud and signature or too basic. Plus I also needed a practical short that could carry all my stuff. I tend to carry everything along with me.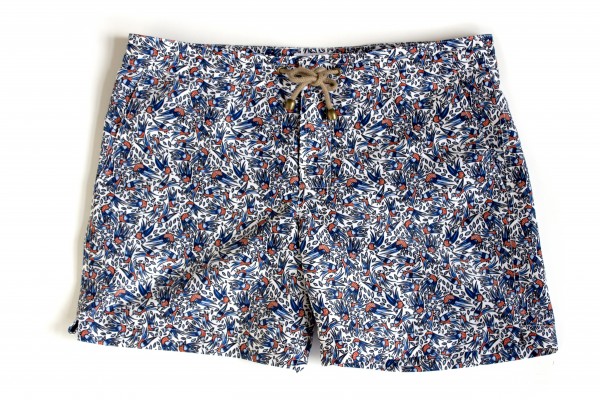 So you're truly the Thorsun dude.
The Thorsun guy is a guy who loves the beach, but isn't necessarily a surfer. He likes a pool party just as much as the ocean and you can usually find him near the bar.
What are your favorite beaches?
This a tough one. I love Posto 9 ½ in Ipanema, it has amazing scenery, caipirinhas, gorgeous people, and I always run into someone I know. Gouverneur Beach in St Barths is secluded, with amazing calm water. It's perfect. And pretty much any beach in the Yucatan during the low season, but not during Christmas and New Year's.
You're close pals with Linda Fargo and all the chic chicks. Any plans for women's stuff?
A lot of the girls I know have asked me for shorts. They want to wear them as a "boyfriend short" type style. I'm definitely looking into adding women's wear in a few seasons.