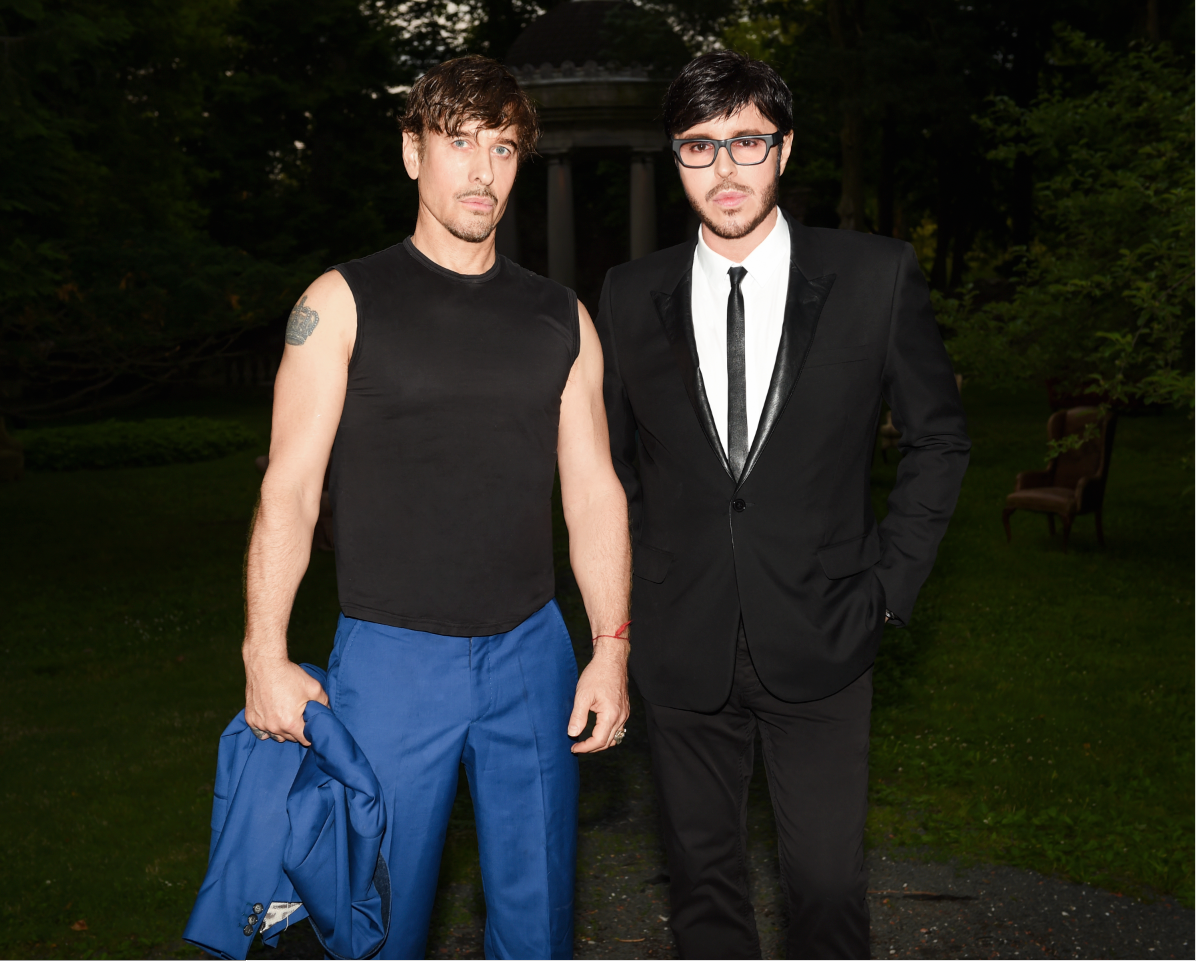 A clown faced mannequin slumped in an empty pool with a neon sign declaring "DEAD OF SUMMER" above the deep end…Juliette Lewis's familiar face encrusted in glitter rummaging through a medicine cabinet…a tantalizing reverse striptease…men in makeup, high heels and fishnets lounging around with assault rifles. Welcome to the glamorously twisted world of Steven Klein and Francois Nars.
"Wait, where are we again?" model Heather Marks wondered as she entered Alder Manor for the over-the-top Klein/Nars party celebrating the edgy photographer and makeup maestro's collaboration. "We're in Yonkers," her leggy female friend replied. And Yonkers could not have been chicer, as Klein, Nars, and producer Etienne Russo transformed Alder Manor, a millionaire's former weekend home, into a decadent Disney World for beautiful people, drag queens, and nightlife denizens. "Steven has worked on every detail of the event, bringing his world to life," Susanne Bartsch told me. That meant room after room of models in semi-S&M tableau vivants, video installations, sculptures, and, of course, gorgeous photographs. "This is the most fun fashion party!" stylist Eric Nicholson announced. "No one is complaining. Everyone is having fun."
There were mods by the busloads (and most likely these pretty faces were actually bussed in). Daria Strokus hung out with Alexander Wang, who raced from the dance floor to the garden, where guests puffed cigarettes and sipped champagne. Andreja Pejic was there, and so was Anna Ewers. Nomi Ruiz performed for a crowd that included Tenzin Wild, Sarah Brown, Timo Weiland, Zaldy, Stephen Knoll, Lauren Ezersky, photographer Jeremy Kost, Amy Sacco, Christian Siriano, Ryan Korban, Fiona Byrne, Mauricio Padilha, Amanda Lepore, Keegan Singh, Yasmine Petty (in red latex), and Peter Brant and Stephanie Seymour, who arrived avec son Harry Brant but left before midnight (Harry stayed on to dance to old Madonna songs spun by Honey Dijon).
The guests were as outrageously cool as Klein's truly, mesmerizingly magnificent art. And with noms de nightlife like Queen Satine, Darian Darling, Milk, and Blue Gage of The Boone, these party people went home looking as if their lives were just one big Steven Klein Vogue Italia editorial. Which, frankly, is a very stylish way to live.                                                                                                                                      
 Photographs by Neil Rasmus for BFAnyc.com