Bonobos presented their Fall '15 collection at The Ludlow Hotel recently, and the menswear crew sipped beer, listened to jazzy-punk twin brothers The Mattson 2 and checked out the classic-cool collection by Dwight Fenton, VP of design at the brand. I caught up with Dwight after the presentation…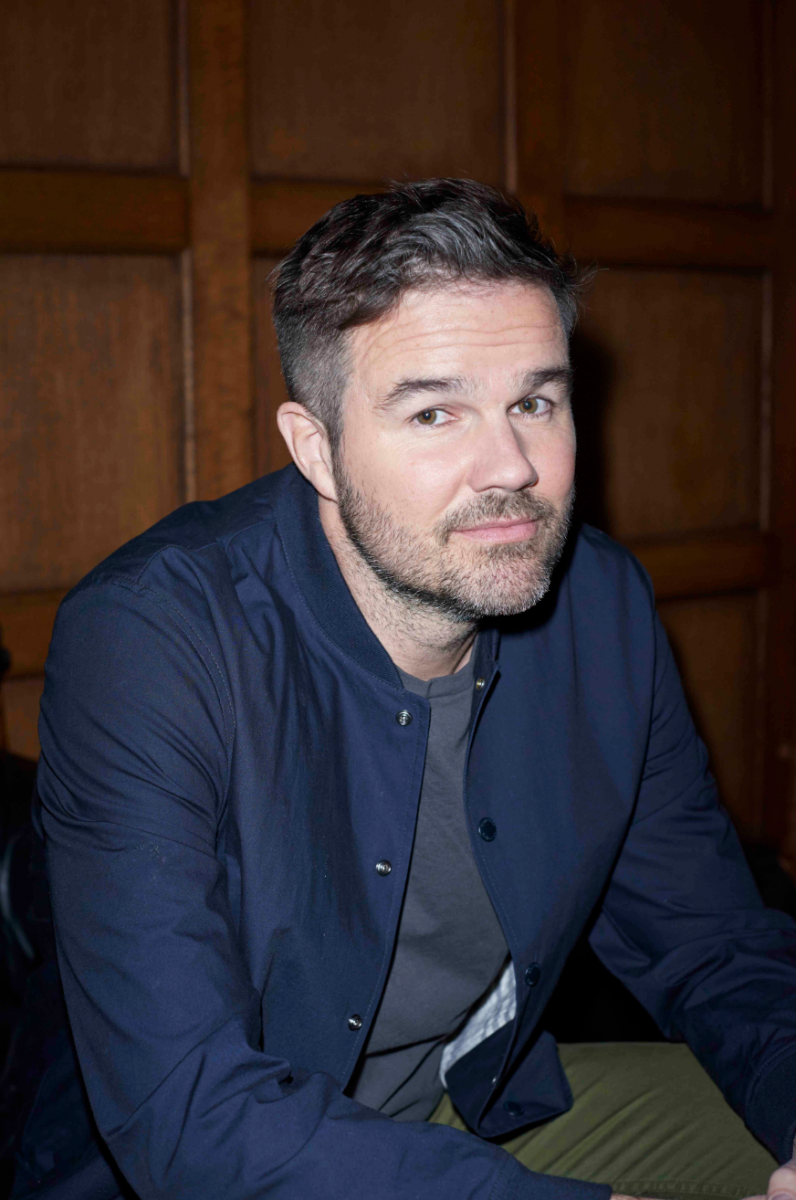 What was the inspiration this season?
Bonobos' Fall 15 collection started with a trip to The Last Book Store in L.A., where miles of rare books are as likely to be organized by spine color as by author. There are rows of these vibrant jewel-toned hardbacks that stand out amongst the older, better known books. The fall collection mixed the same jewel-tones of plum, emerald, and teal with the more staid fall tones like camel, navy and grey.  The combinations are at times modestly irreverent too, playing up the idea of rehabilitated grit; cleaning up traditional work-wear like buffalo plaid flannels and denim shirts, introducing more unstructured blazers, and bringing a little edge to traditionally subdued tailored pieces like suits and tuxedos. As per my usual M.O., there was a definite soundtrack to accompany the line: a blend of 80's post-punk and jazz fit the inspirations angularity. The Mattson 2, who performed at our presentation, blends those two worlds with their shimmery guitars and jazz based compositions creating the ideal accompaniment to our fall line.
How did you find The Mattson 2?
The folks at Pilgrim Surf & Supply are fans, so I first heard of them through those guys. It just happened to be at the same time that I was developing this collection. I loved M2's take on jazz, it made sense to me (I am not a jazz guy generally) and it fit the mood I was creating. I reached out to them on the off-chance [they would perform] and it turned out they were excited to play the show. Serendipity.
What are some cool things Bonobos has cooking in the future?
The suits we dressed the twins in for the show are new for us and a really cool add on to our suiting collection. With fits getting slimmer and slimmer in menswear, I've been wanting to add a stretch suiting program to the line for a while, and with The Jetsetter, we're finally there. Also excited about two brands we're working with: The first is a collaboration with Mulo, they took some of our swim prints and made them into espadrilles which turned out so well. The other collaboration is Vuarnet: I know you remember them! I've been buying vintage ones of eBay for years, but for me, it's not just nostalgia. The time feels right for these classics to make a comeback.
Any new Guideshops in the works?
We just opened our Brookfield Place store last month, and it looks incredible. In June, we will open the brand's first flagship store and largest Guideshop on Fifth Avenue at 17th Street. It will be, by far, out biggest store to date and I'm really excited about the work we've got planned with the interior. I can't wait to see it come to fruition. Just as the polar vortex is finally melting, we're launching a summershop in shop on bonobos.com in May, which will be a round up of top pics for the season including light weight versions of every guy's wardrobe essentials like light weight jeans. The summer shop will be stocked with the season's most dapper fabrics like linen pants, seersucker suits, and breathable button-ups.