This buyer's guide to aftershaves for men is broken into two main sections. First, we're going to explain why it's a good idea to slather your freshly bared chin with lotion, balm, or gel. Then we'll recommend the best 13 aftershave products available now, based on expert opinions, user reviews, and the personal experiences of our staff members. If you're already sold on the benefits of aftershave, go ahead and skip straight to our list of five-star products. However, if you secretly suspect that aftershave is just an old-timey affectation that hipsters use to evoke antique barber shops, then allow us to disillusion you of this myth.
Why Should I Use Aftershave?
This seemingly simple question has a whole range of answers because the benefits of aftershave are so numerous. Let's break it down one by one. 
Sanitization—Whether you've been shaving for two months, twenty years, or more, we all nick ourselves every now and then. Even when there isn't any blood, your razor will often slice some healthy skin cells, whether visible or not. Aftershave acts as a disinfectant. In fact, this was its original purpose. By sanitizing your skin after shaving you can be confident that any microscopic wounds won't get infected, preventing the development of acne or bumps. This also speeds up the healing process.
Moisturization—You may have noticed that your skin is particularly dry for a day or two after shaving. This can be frustrating because it means when your finely formed chin is at its barest and most visible, it's also plagued by flaking, blotchiness, or rough patches. Every aftershave worth its salt puts a lot of focus on moisturization, reviving your parched skin and giving it a healthy glow.
Soothing—Even if you have a light touch with the razor, sometimes shaving will provoke inflammation, redness, or itchiness. This is particularly likely if you have sensitive skin. Whether it be shea butter or witch hazel, every aftershave will include ingredients to calm and tone your skin.
Fragrance—Not all aftershaves are scented, but those that are usually put more effort and consideration into the fragrance than other skincare products. In many ways, these aftershaves can be treated as cologne-lite. They make for a nice middle-ground when you want to wear a proper, complex scent without making a loud statement.

 

Ritual—Though it won't appeal to every man, there is a satisfying sense of ritual to ending a shave with a burst of lotion, balm, or gel. It makes you feel confident, self-respecting, and ready to take on the day ahead.
For all of these reasons, using a quality aftershave is excellent self-care. Do yourself a favor and pick up one of the five-star products on this list. With that said, here are the best aftershaves for men right now:
1. Blu Atlas – Aftershave
A decade ago, we wouldn't have believed that an all-natural aftershave could outperform those that use synthetics. Yet, in the past few years, Blu Atlas has shown that harmful chemicals must be thrown aside if we're to continue improving skincare products. Each new shampoo, cleanser, or balm they release only proves and reiterates this point. In terms of moisturization, sanitation, and soothing, Aftershave gets full marks on all fronts. Add to this a super-smooth fragrance, an inventive pairing of caressing rose and light mint pep, and you'll understand why no other product could top this list. The moisturization is delivered by creamy shea butter and aloe leaf. Since these ingredients absorb differently, this cleverly ensures that any skin type will receive thorough hydration. Peppermint oil disinfects microabrasions on the skin. It has both antibacterial and antifungal properties, so whatever microscopic meanies might be causing inflammation or irritation, you'll no longer have to worry about them.  Rosewater has a cosmetic touch, brightening the skin with remarkable speed and healthy luminosity. Of course, all of these botanics nourish the skin with different vitamins and minerals, slowing down signs of aging such as wrinkles, fine lines, and sallowness. Though you may have heard that aftershaves containing alcohol can damage skin over time, this is only the case with heavily alcohol-based formulations of the past. The cetyl alcohol that Blu Atlas's Aftershave contains actually takes a fatty form, softening and smoothing flakiness to revive skin with a rough or dry appearance. Since reviewing this product, most men in our department have switched to it and, despite the balm's lofty reputation, no one's been disappointed yet! 
2. Claus Porto – Musgo Real Aftershave Balm
The Musgo Real Aftershave Balm is an all-round gorgeous product, in terms of design, fragrance, and feel. It neutralizes the burning, itching, redness, and stinging of an unideal shave with little effort. Smooth it onto your skin, rub it in, and go about your day feeling fresh and healthy.  Musgo Real uses the classic cure-all echinacea to hydrate the skin and deliver an ample dose of nutrients. Jojoba oil adds extra moisturization while combating acne and blemishes. Since the balm leaves no glossy residue on the face, we were surprised to find beeswax on the ingredients list. Though it's formulated to be imperceptible, this novel ingredient actually lends the skin a thin protective layer, keeping pollutants and impurities out of the pores.  Due to high concentrations of shea butter and essential oils, this is recommended for normal or dry skin. If you're on the greasier side, then there are products in the Musgo Real range that will cater to your needs more successfully. Between neroli, lavender, and vetiver, Claus Porto has put in the work to create a compelling fragrance for this product, though it is relatively light. Some men will prefer this to louder, more attention-grabbing scents, but if you are willing to embrace a stronger fragrance then it's worth looking at the Claus Porto cologne range.
3. The Cool Fix  – Targeted Gel Lotion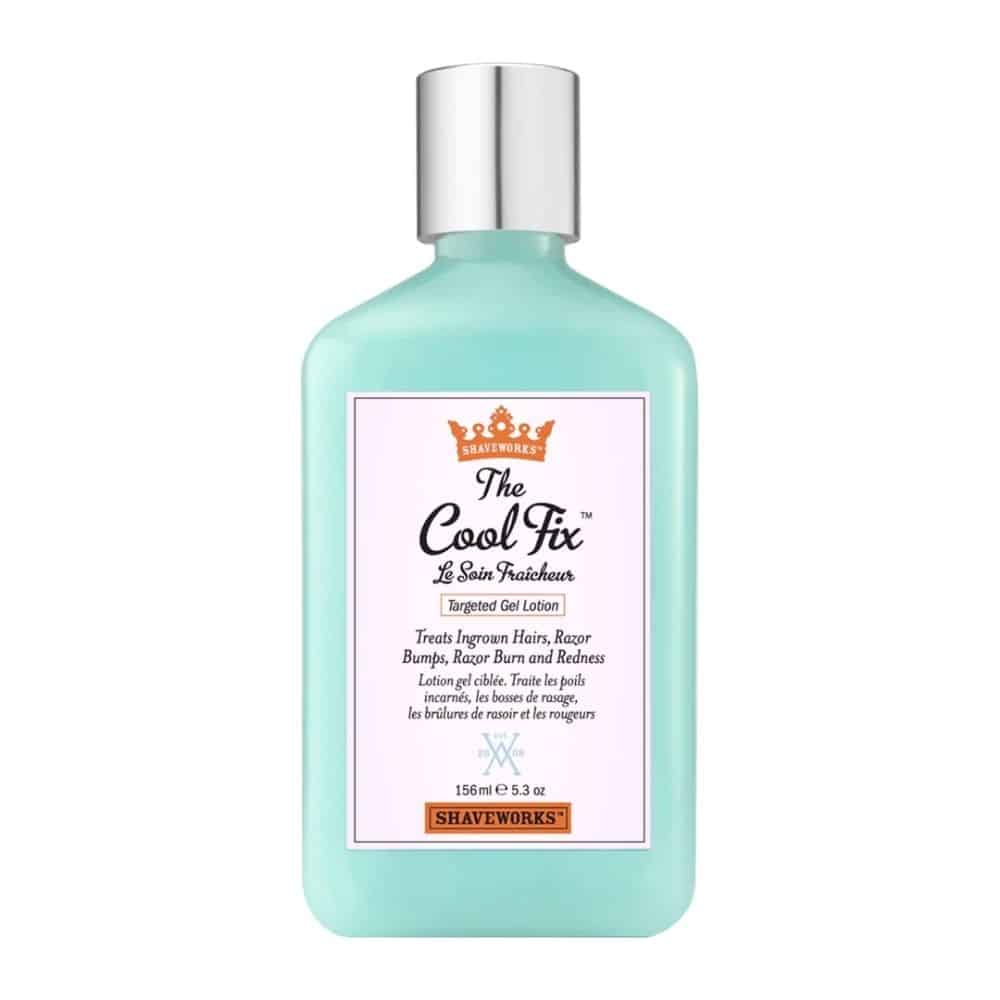 The Cool Fix's Gel Lotion uses various light acids to kill bacteria and exfoliate the skin. Though it primarily targets minor medical issues associated with shaving (ingrown hairs, razor bumps, razor burns, irritation, and redness), keeping on top of these problems will go a long way to giving you stunning skin in the long term. We found that it's most effective in freeing and preventing ingrown hairs, softening the skin, and working out their tips to allow them to grow unimpeded and stop inflaming the skin. The application of this gel concoction is invigoratingly cool and pleasingly tingly, and the fragrance is more sophisticated than you might expect. We couldn't find an account of what ingredients were used to build the scent, but there's definitely a balance of woodiness and citrus with a pine sap sparkle. This Targeted Gel Lotion from The Cool Fix doesn't only treat shaving woes though. Perhaps there are other areas on your body where you remove hair with laser, depilatory cream, or wax strips (if you go downstairs with these, you're among the bravest of men!).  Well, The Cool Fix is highly effective at soothing the skin issues associated with these more modern methods of hair removal too. Even if you rarely shave, this is a good product to have in the cabinet for you and the partner you may have.
4. The Bluebeards Revenge – Post-Shave Balm
Though their products can be hard to find on US shelves, The Bluebeards Revenge is an indie UK men's beard, hair, and body grooming brand that's brimming with character. It started out as the result of a boozy bet and grew swiftly to the point where a huge crew was gathered on deck to keep up with demand for their stellar products. Now they've garnered scores of awards, and the Post-Shave Balm demonstrates why. For all of its soothing power, this Post-Shave Balm is actually 100% vegan, using chamomile, aloe vera, and witch hazel to hydrate and calm the skin after each shave. In our experience, it doesn't leave behind a trace of the greasiness that many balms of this thickness do. Scent-wise, they've gone traditional and dependable with a combination of sandalwood, patchouli, and Madagascan vanilla. These notes blend into an aroma that's distinctly manly, yet very warm-hearted and approachable. If you'd like to get extra old-school, then The Bluebeards Revenge also sells high-quality straight razors at affordable prices. Just be careful to use it with a steady hand—you wouldn't want the "cut-throat razor" to live up to its name!
5. Proraso – Eucalyptus & Menthol Refresh Aftershave Lotion
If you pay attention, you may notice that many barbers stock up on Proraso products to refresh their clients after a shave. If that's not the sign of a quality aftershave brand, we don't know what is. Though Proraso offers several splashes, including sandalwood and green tea varieties, the Eucalyptus & Menthol Refresh Aftershave Lotion is easily our favorite. Between the camphorous eucalyptus and the sharp chill of mint, this product packs the most stimulating punch of any item on this list of the best aftershaves for men. The blast sizzles the nostrils, just for a moment, and feels satisfyingly tingly on the cheeks and chin.  That being said, the fragrance backs off to an appropriate degree, leaving a light whiff of freshness to carry you through your day. The oils behind this scent sanitize the skin effectively and astringent witch hazel settles and soothes rashes and razor burns. Much of the history of aftershave revolves around Italy, and Proraso keeps up tradition by having all of its products formulated and created there.
6. D. R. Harris – Arlington Aftershave Milk
Much like how milk helps neutralize the taste buds after you foolishly munch a Carolina Reaper to impress your friends, this aftershave milk resets skin from the states of redness, itchiness, and puffiness that shaving can provoke. It also has a powerful moisturization effect, while feeling significantly less oily on the skin than most devoted moisturizers. Though it's not advertised as a product designed for sensitive skin, many reviewers have noted that this product has a very mild touch. The Arlington Aftershave Milk is highly antiseptic, but won't sting your raw pores as it kicks out the bacteria. In terms of fragrance, while the citrus notes are commonplace in skin and hair care products, the scent of fern is thoroughly novel and really pays off. It's green and fresh in a particularly wild way, like the undergrowth of a thick, dark forest. Top marks in this department; we're excited to try some of D. R. Harris's colognes when we have the chance.
7. Santa Maria Novella – Before and After Shave Cream
We love a product that does double duty, and Santa Maria Novella's Before and After Shave Cream wisely boasts its dual-purpose in the name. As an aftershave alone, this cream is high caliber enough to earn a place on this buyer's guide to the best aftershaves for men. It's packed with healthy oils and vitamins and has a novel scent based in the green tartness of pomegranate. Yet, it's the "before" part of the package that's pushed Santa Maria Novella's shave cream up a few spots on our list. When rubbed through a beard of stubble, the hairs become more supple and pliable, paving the way for one of the smoothest shaves you're ever likely to have. This product doesn't just treat razor burn and rashes after the face, it helps to prevent them in the first place. To avoid confusion, we should note that this is not a shaving cream. Once applied you should then add a regular cream, after allowing a few minutes for the hairs to soften.
8. Clinique for Men – Post-Shave Soother
Other than being stylish and minimalistic enough to suit most bathrooms, here's a product for practical men who aren't interested in elaborate branding and trendy design. Powerful soothing, moisturizing, and healing may be all you're after, and Clinique for Men have you covered.  The cool tingle you feel when you apply this gel is the primary ingredient of aloe vera getting to work. Aloe is widely recognized as a powerhouse that can conquer even severe inflammation, redness and irritation. It also moisturizes, evens hyperpigmentation, combats acne, and diminishes the appearance of fine lines and wrinkles. Backing up this star ingredient are liposomes, which have nearly identical chemical structure to the membranes of skin cells. This makes them adept at delivering active ingredients to skin in a way that's easily and deeply absorbed. Thanks to a lack of oils, this Post-Shave Soother doesn't leave any grease or heaviness behind. A small dab will cover your whole chin, allowing a bottle to last longer than you might first assume.
9. Penhaligon's – Blenheim Bouquet Aftershave Balm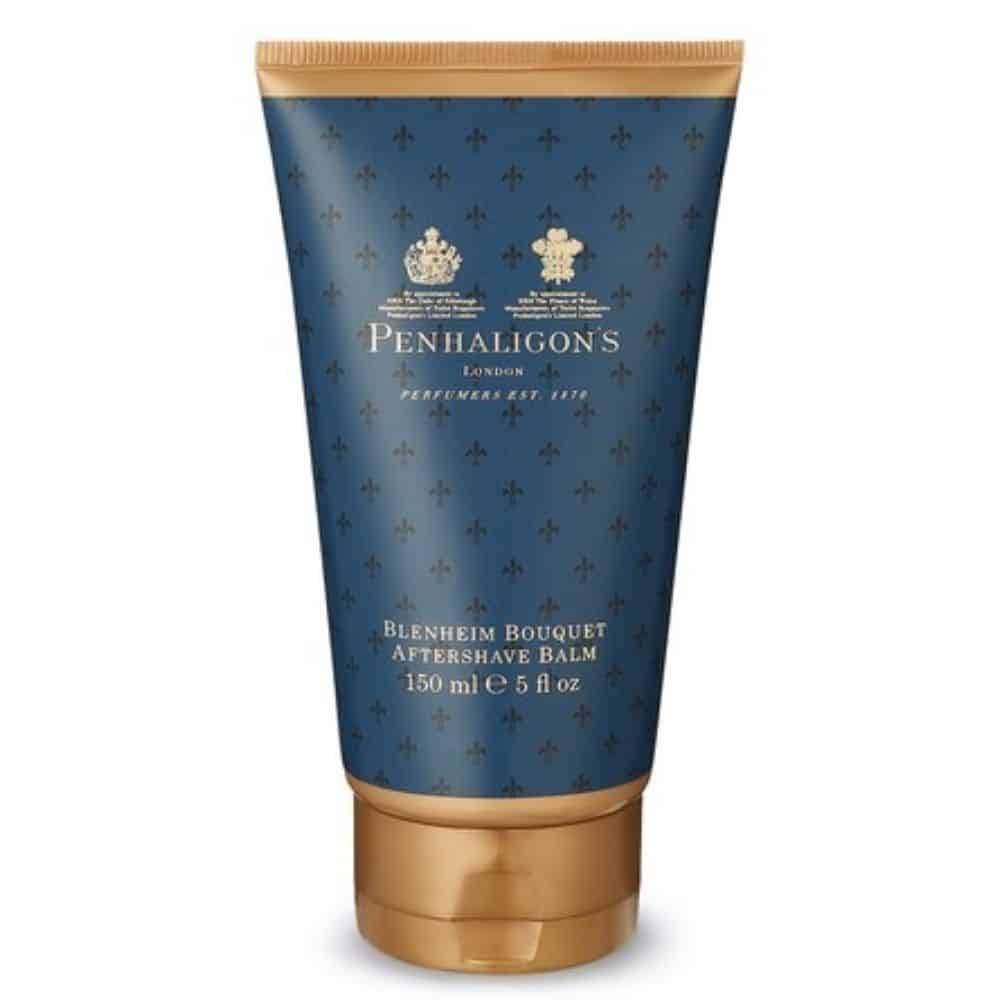 The Blenheim Bouquet range was first created for the Duke of Marlborough in the early 1700s. When a wealthy noble approves of your product, you know you're onto something special, so Penhaligon's has stayed true to its original formulations with a few tweaks to reap the benefits of modern science. 
Like the previous entry on this list, the healing and soothing power of the Blenheim Bouquet Aftershave Balm is largely provided by aloe vera. Where aloe-based products are usually gelatinous in texture, here the ingredient is blended into a thick cream. Tree moss and oak moss extracts add additional vitamins and minerals to the mix.
The fragrance of this balm is an invigorating blend of lemon, black pepper, pine, and oakmoss, leaning harder into the citrus than the Blenheim Bouquet eau de toilette. By elevating the freshest note in the scent, this cream projects cleanliness and vitality, which fits neatly with the purpose of an aftershave.
10. Colonel Conk – Unscented Aftershave Lotion
So, you're a cologne connoisseur or just a fan of your own natural musk. You can still use an aftershave without it messing with your scent profile. A few companies offer unscented formulations and Colonel Conk's is one of the best. Here, Colonel Conk has relied nearly entirely upon natural ingredients but none that your nose will notice. Coconut oil is key to the concoction, creating a natural protective barrier to prevent any tiny nicks on your chin and cheeks from becoming infected and locking in moisture for long-term skin hydration.  A touch of tea tree oil speeds up the healing process of your skin and reduces allergic reactions, which are particularly common immediately after shaving. The absorption is satisfyingly speedy, calming irritated skin in moments. If you do prefer scented varieties, Colonel Conk also offers versions of this product in citrus, cedar, and lavender.
11. Marie Veronique – Aftershave Tonic
Marie Veronique's pore tightening tonic takes a scientific approach to post-shave skincare. It's designed to mimic and maintain healthy pH levels, making it suitable for extremely sensitive skin types. This product contains the small miracles we call humectants. These are compounds that attract water from the air and from within the body, drawing it to the skin's surface to provide natural, long-lasting hydration. On top of this, Marie Veronique has packed their formula with botanically derived ingredients to benefit the skin in various ways. Even if you've inflamed your skin with a particularly close shave, you'll soon feel cool as a cucumber thanks to…Cucumber!  This underused ingredient also softens the skin's surface and stubble, lessening irritation as the hair begins to grow back. Elderberry adds to the calming effect while nourishing your skin with vitamins A and C. As a bonus, if you have acne, the tea tree oil in this tonic will clear it up in no time.
12. Ralph Lauren – Polo Aftershave Balm
For our final fragrance-heavy product on this list of best aftershaves for men, we're recommending Ralph Lauren's Polo Aftershave Balm. The cologne upon which this is based is shamelessly masculine. Ever-popular wood and aromatic accords are most dominant, while tobacco, leather, and moss enrichen the scent with a darker energy. Top notes include crushed juniper berries, spiced carraway, and fresh basil. This opening is a nice throwback to the 70s when the original fragrance was first created, but the deeper levels of scent hit a more timeless tone. The heart notes place pine needles and leather at the center, adding florals and bitey pepper for good measure. The base, which resonates the longest, is a blend of tobacco, oakmoss, amber, cedar, and vetiver. Together, these notes strike a pleasing balance of dry warmth and grassy wood.
This performs relatively well in terms of moisturization, sterilization, and soothing, but the fragrance is the main reason for buying it. While the scents of most aftershaves last nowhere near as long as colognes, Ralph Lauren's Polo Aftershave Balm will see you through a full eight hours.
13. Lucky Tiger – After Shave and Face Tonic
There's a good reminder in the name of this product: After Shave and Face Tonic. Many of the items on this list don't have to be used only after a shave just because they're called aftershave; their active ingredients can have a broader positive effect that you shouldn't need an excuse to utilize. "Face tonic" is an old-timey way to refer to what we now call a "toner", a thin lotion that will moisturize, refresh, and protect your skin. Lucky Tiger uses aloe vera, calendula, and borage oil to check these boxes confidently. The scent fades fast, which could be a good thing or a bad thing depending on what you're hoping to gain from the product. You can splash this tonic straight onto your face or dab it on with a soaked cotton ball if you'd prefer. Considering the After Shave and Face Tonic's classic bottle design, we'd have given Lucky Tiger extra points if they'd followed through on the nostalgia and used glass instead of plastic. That being said, this packaging probably helps them keep the product at such a low price point.
Presented by: Grooming Playbook