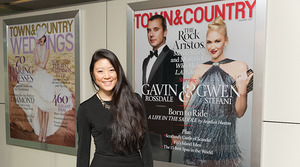 The Assistant Files, Vol 40: Leena Kim, Town & Country's Jay Fielden
|
(NEW YORK) This week The Daily visited the chic société of Town & Country, for another installment of The Assistant Files. We sat down with Leena Kim, who's in charge of keeping EIC Jay Fielden on schedule (and well-fed). While frequent trips to the glossy's archive closet and the Hearst caf keep Kim busy, this NYU grad is also a fan of the T&C happy hour. Does your office have a namesake cocktail?!
BY DENA SILVER  
Where were you before you joined Town & Country?
Ever since I was little, I wanted to work in magazines. I was a big magazine collector, so I went to NYU to study journalism and Romance languages. Then, I did a couple of internships in magazines and fashion, because that was the realm that I wanted to get into.
Where did you land internships?
I was an intern at Teen Vogue for three semesters, and then I graduated and went abroad to Paris. When I came back, I interned for George Cortina, a stylist, but I decided to return to magazines.
So how did you get the gig here?
I found this job on Hearst website's job listings. I applied for it and luckily enough, I got hired.
Lucky indeed! Why do you think you stood out from scads of other applicants?
I really made it a point to follow up with the managing editor, Linda Nardi, because you never know if your resume is going to be picked up by the system or not. The process lasted about a month.
What was your first interview like?
My first interview was with the previous assistant, Micaela English, and the second was with Linda. I had my interview with Jay last. All three of my interviewees made me feel comfortable and at-ease, especially Jay. He was a gentleman, very conversational, and we both bonded over our shared interests.
Did Jay's previous assistant, Micaela, train you on the job?
I came in to train with her two days before I was supposed to start and before she started her new role as web editor at T&C. She showed me the ropes and gave me all the resources I needed. She gave me this binder of basic information about Jay: travel information, [credit] card information, birthdays, preferences, and PR contacts. I spent two days with her learning what everything was about and memorizing names and faces. She really helped me transition.
What's an average day like around here?
I get in around 9:30 a.m. and check my email and voicemail. Jay usually gets a couple of newspapers, so I put those in his office and pour a pitcher of water for him. When he gets into the office, I get breakfast for both of us.
Where is your breakfast from?
I always get breakfast from the cafeteria and eat it with Jay in his office. He likes to get scrambled eggs or oatmeal with gluten free toast. We go over his schedule for the day, even though he has a written schedule on his desk at any given time. Then I ask him where he wants to go for lunch later in the day and if he'll need a car.
Which newspapers does Jay usually read?
Everyday he gets Women's Wear Daily, New York Post, The New York Times, and The Wall Street Journal. Every Monday, I get him his weekly magazine reads: The Economist, The New Yorker, Bloomberg Businessweek, People, and Us Weekly.
Does he read other Hearst glossies?
I ask the other editorial assistants to send me their current issues, because he likes to keep up with Harper's Bazaar, Esquire, ELLE, ELLE Décor, and Marie Claire.
Does Jay have a favorite lunch spot?
He has a couple. He really likes Harry Cipriani on 5th Avenue, Le Marais, and The Century Club.
What are your daily duties?
The bulk of my day is to keep things running smoothly from one appointment to the next, but if I have downtime, I head to the archive closet. Town & Country has been around since 1846, so we have all the old issues from 1900 to today. It's a huge trove filled with information and images. I look through to see if we can put any old content on the web, which we usually do once a week. Often I pull out items that Jay can use as a resource or as inspiration for something in the future.
Are you flipping through actual old issues?
The issues are bound, so some of them are really tattered, but most are in really good shape.
What's your favorite era to look back at?
I like looking at the '60s! I found an issue with Grace Kelly with her son Albert on the cover. I also found ones featuring Dolores Guinness and Audrey Hepburn, Dina Merrill, Aristotle Onassis, Jackie Onassis, and Lee Radziwill.
How would you describe Jay's office décor?
It's definitely the most interesting office on this floor.
How so?
It's very masculine, of course. He's from San Antonio, Texas, so you can see elements of that. There's a cool bar-type thing set up in the corner, and he has two cacti. One's really big and the other is smaller and it sits on his desk. I guess that's a good talking point for him when he has guests, because they always ask about the cacti and where they're from.
Aside from being the assistant to the EIC, do you have any other specific duties?
Because I really like to go through the archives, I get to choose a cover to post once a week on the website. We have this thing called T&C Family Album where I write 200-300 words about either the cover topic or something interesting about the issue itself. For example, there was a December issue from 1963, and they had Christmas party advice and how to weather the party season. It gave tips on which spas you should go to, which lipsticks are in this season, and there was even a formula on figuring out how to lose weight.
Does Jay ever tell you stories about his past editorial experience?
He tells me about when he was just starting out at The New Yorker as an assistant. He was given all these responsibilities that seemed really daunting, tedious, and difficult at the time. But now looking back on it, he finds that they were really valuable learning experiences. I can look at what I'm doing right now and know it will all be worth it in the end.
Does Jay ever bring his kids to work?
He has two daughters and one son, but only his son has come into the office for a day. It was really fun; we just hung out in the fashion closet and in Jay's office. We took some photos and Jay took him out to lunch. It was a nice father-son bonding day.
Have things changed around here since Alex Gonzalez started?
Things are slowly changing around here. Alex is very talented, and he has a great vision.
Did you help Alex's assistant settle in when Alex arrived?
Definitely. Alex also has an assistant at Marie Claire, so we're always talking on the phone and trying to coordinate schedules and things like that.
Do lavish gifts often get sent to the T&C offices?
A lot of people gift us food. We've gotten caviar sent to us;
we'll have it for happy hour.
You have an office-wide happy hour?
Occasionally. We have our own Town & Country cocktail!
What's in T&C's cocktail?
It's a mix between an Old Fashioned and a Manhattan. Our assistant editor Sam Dangremond, who's very dapper, always organizes the happy hour and makes all the cocktails.
Where can we find you after office hours?
Usually at a wine bar with my friends. I really like wine, so choose any wine bar, and I might be there.Jay is a really big wine enthusiast, too. He actually just gave me a recommendation for an Argentinean Malbec that I'm still trying to find.