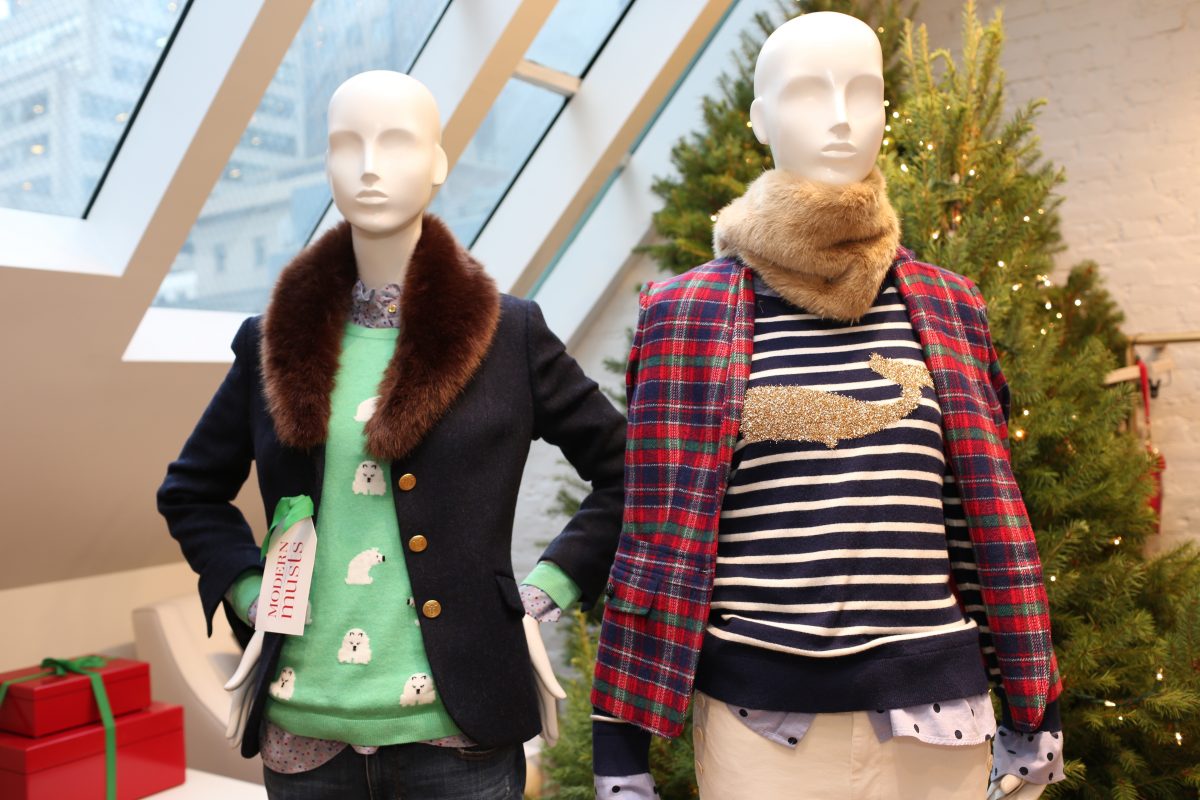 It might have been a sweltering 85 degrees outside Tuesday evening, but it was a Winter Wonderland inside Talbots Madison Avenue Flagship. Starring in the company's latest campaigns, supermodels Niki Taylor and Ubah Hassan hosted the preview and even tried their hand at the DJ booth with DJ C. Devone. We caught up with the ladies to get the dish on their latest campaign and the standout pieces…
Tell us about starring in the latest campaign for Talbots!
Niki Taylor: I have been with Holiday since 2013 and it has been amazing! [The Talbots team] is like family—we text each other twice a week.
Ubah Hassan: We are in this group [text] chain, and we'll send each other messages and pictures. I don't even know how I got in this mix working with Niki, I am just very grateful. I see them more than my family!
Thoughts on the collection?
Hassan: This collection is my favorite, I swear! It is so beautiful. Each of the pieces go with everything – the flats, the jackets, the sweaters, and it's made well.
Your favorite pieces…
Taylor: Definitely the cashmere sweaters…I am a big cardigan girl, so anytime I get to shoot or model a cardigan I am always like, Can I get that one? They are timeless and are never going to go out of style. This season I am also really loving all these pins…they are such a great statement. It's a little bit of reflection of your personality and just a nice extra touch. And then my favorite coat is this long, sleeveless camel coat.
Hassan: I love that one. I feel like in the winter you want the best coat that you can get because you don't have to dress much if you have a beautiful coat. I also love the sweaters with the boat neck. It makes a woman so sexy. It accentuates but it covers at the same time.
Who is the Talbots woman?
Taylor: The Talbots woman is elegant, confident, cool, and classy.
Hassan: The most important thing for the Talbots woman is that the clothes are tailored well. If you are tall, skinny, big, small, it fits you properly. I think with clothes, no matter what you wear, if it is tailored well, you look amazing.
How would you describe your personal style?
Taylor: I live in Nashville, so I'm in jeans, a T-shirt, flip flops, and boots—very casual. In the winter, I bring it a little bit more with jackets and that's the great thing about being somewhere you get four seasons! You get to change the colors and different fabrics in your closet.
Hassan: Some days I show up at work with sweatpants. Some days I show up with a gown. I am all around a woman; I dress for how I feel.