If you find yourself sporting a tiger face on your maillot, chances are, you have We Are Handsome to thank. Fueled by the It factor of its animal prints, the Australian brand has expanded into activewear and ready-to-wear, and it's now found in 38 countries around the world. Husband-and-wife team Jeremy and Katinka Somers discuss the phenomenon.
How did you two meet?
Through a mutual friend who took Katinka to a talk where Jeremy was on the panel. After some serious discussions, Katinka was hooked! Introducing herself to Jeremy straight after the talk, it was clear from that moment that they were meant to do life together.
What are your professional backgrounds?
We both come from advertising backgrounds. We spent our early careers working on global brands; many long hours and more deadlines later we decided to leverage these skills on our own creative endeavor.
How do you divide responsibilities?
Jeremy handles the print design and development, brand partnerships, and sponsorships. Katinka handles the style design and development and managerial duties. Together we manage the brand, creative and styling responsibilities.
How do you develop your prints?
All the prints are created by Jeremy and are inspired by a life of of travel and cultural inspiration. Technically, each print is a creative merge of a variety of images and illustrations in Photoshop.
Which print was your first big success?
The entire first collection was well received, but the biggest success was The Amazon—a Panther print, worn by Rihanna.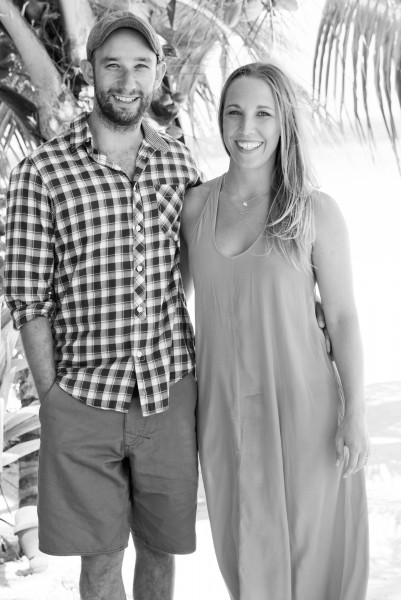 Why do you think people responded to it?
Each We Are Handsome product is bold, truly creative, and well designed. We presented our collections on a perfect medium at a time when the market was dominated by block coolers, stripes, and dots. We've focused on quality and creativity ever since and have grown our audience through well-made pieces that become firm wardrobe favorites.
Your collection is heavy on one-pieces. Why do they feel so fresh to you?
A one-piece embodies elegance and sophistication. They compliment and accentuate the wearer's natural curves and can be paired with apparel or resortwear to take you from beach to the bar in an instant.
Why did you name your collection We Are Handsome?
The name was inspired by Jeremy's grandmother, who often refers to women as handsome. We added "We Are" as we wanted to incorporate the wearer in our immersive brand experience.
What kinds of beachwear are you offering?
We provide a well-edited assortment of styles to suit a range of body shapes. We strive to create a well-designed, quality product that will become a piece that's loved through the years.
What silhouettes are you most excited about for Summer '16?
This season, we have drawn inspiration from the rich era of the '90s. We're channeling the mood of the supermodels of the time, the varied textures, color palettes, and shapes. We're presenting a collection filled with high-cut and paneled styles, cropped shapes, and textured looks. Our striking lines intersect and play with the eclectic prints, covering a spectrum of creative influences from the era.