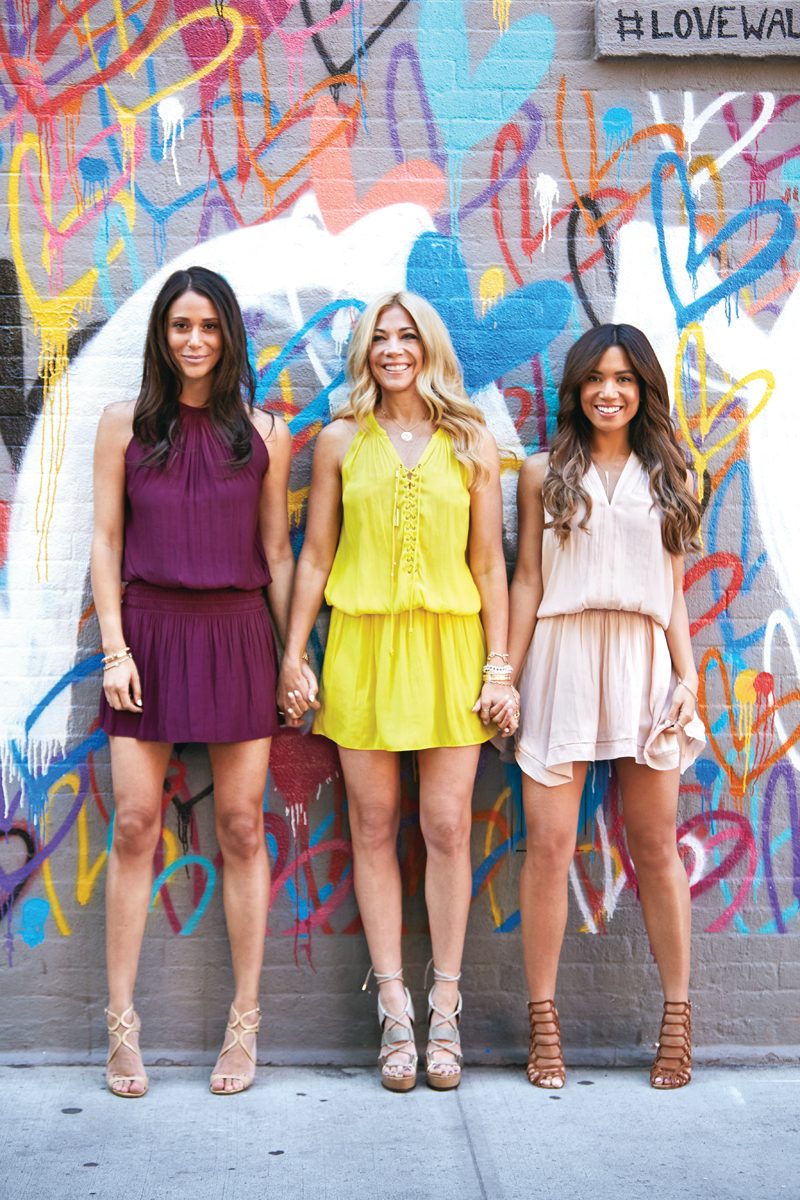 Ramy Brook's idea of a wear-everywhere wardrobe has proved to be a serious hit with women from all walks of life—top bloggers included. At her flagship in New York's Nolita neighborhood, designer Ramy Sharp and Insta stars Lindsi Lane and Jessi Malay show us their unique takes on pre-fall while Sharp explains how the brand has evolved into a modern-age must. PHOTOGRAPHY BY RYAN LIU
Have you always been so web-savvy?
I'm a big fan of Instagram in general, and I especially love bloggers. They're in the know and in the now—they're more on top of things than most people. Jessi [Malay] is one of my favorites from the West Coast—she's a singer and a big influencer who has worked a lot with brands like Revolve. She flew in for this shoot because we have become very friendly. She is a big fan of Ramy Brook, and she looks good in everything. Lindsi [Lane] is an up-and-coming blogger and stylist from the East Coast; I met her last summer in Southampton. She's friends with the owner of Kyle by Alene Too, where we have a Ramy Brook shop-in-shop.
How much time do you spend exploring social media?
In a 24-hour period? [Laughs] I'm on my phone constantly, and when I wake up, I spend a big portion of my morning searching the sites and looking at Instagram. Sometimes, it's hard to tell the actual influence social media has on sales, but throughout my day, I hear so much talk about Instagram and that it's been extremely helpful in building the brand.
How do you like to see your pieces worn on the street?
I love individualized style. A lot of our pieces are solid color, so you can dress it up with your own jewelry, shoes, and scarves. It's so interesting that three people can wear the same dress and it will look different on everybody.
You were an early adopter of the jumpsuit. Are you still loving them?
I'm in a jumpsuit all of the time! Whenever I have an evening event and I don't know what to wear, the jumpsuit is the answer. One and done!
What's your approach to partnerships?
Collaborations are very important, especially when we partner up with brands that don't offer clothing—jewelry designers, activewear, shoes, and other categories that complement Ramy Brook. I've worked with Barry's Bootcamp, SoulCycle, and Free People.
You're a known fitness buff. What's your new thing?
I love working out. I don't have anything new, per se, but now that the weather is really beautiful, I'm back to running. I love spinning and going to Barry's Bootcamp, and not that golf is a way to work out, but I started playing again. I'm not good at all!
Is there a golf line in the works?
[Laughs] I do not like golf clothing. The skirts are too long and the shorts are unflattering, so I've been wearing tennis skirts with golf shirts. I can see doing something for golf in the future; maybe I will collaborate with somebody.
How do you see the Ramy Brook brand evolving?
My original goal was just finding that sexy top that I couldn't find in the stores, so we started with six sexy tops and one dress. As time went on and customers started to really love my stuff, I wanted a full collection. Then we added pants, jackets, sweaters, and prints. We're adding more fabrics, textures, and categories. Ultimately, in three years, we want to triple our business, and then in five years we want to just skyrocket the business into something huge. I see handbags, jewelry, belts, possibly shoes. One day, I'd like to have it all.
How has the store on Prince Street changed things for you?
September will mark our second anniversary. It's great to have a brick-and-mortar store, and we also consider our website to be its own flagship. Now that we've built the brand, the store has become a destination, and experiencing our world in a brick-and-mortar setting really provides a bigger perspective.
How big of an operation do you have now?
We have about 35 employees, and we just expanded our showroom on West 39th Street. We also have a great internship program—this summer, we have 13 college students making things lively and fun.
Are your kids involved in the business?
They have seen me start this business from nothing five years ago when my oldest was 11, my middle was 8, and my youngest was 6, so they have really experienced the growth of the business. My daughter is definitely way more involved than the boys, but they have all come to the office. My oldest son is interested in the business end. He asks a lot of questions. I think it relates to a lot of things he studies in school. They're proud! I recently went to my son's eighth-grade graduation, and one of his classmates wore a Ramy Brook dress that she bought at Bloomingdale's!
Have you thought about doing something bigger at Fashion Week?
Yes, and eventually, we will. We recently put on our first fashion show when I was honored at the City of Hope luncheon. It was a great experience, better than I thought it would be, and now, I feel like we have the show experience a little more under our belt.
What's your best leadership advice?
I started my business later in my life, so I walked into it with a lot of confidence. Having confidence and loving what you do can take you a very long way—there will be a lot of people who will say it can't be done. It's not easy!
Who have been your biggest teachers and mentors throughout this process?
When I first started I went to a few people who were beyond helpful in so many ways. One was Stefani Greenfield; she really took time out of her day to sit with me and teach me retail math. She's patient, kind, really insightful, and smart, and she's been a strong supporter and role model. Jennifer Miller and her husband have also been really helpful—they have a jewelry store, and from the beginning, they were there, and they still support me to this day.
What about retail partners?
We have great retail partners. I thank them for helping build the brand, and they do a great job. Saks Fifth Avenue has been amazing; they really are what I call a true partner. We work together, we create together, we talk about the way we sit on the floor together, and what goes in the catalog. Our business is on fire. Bloomingdale's offered us windows, great space on the floor, catalog placement, and everything I could want to help build my brand, and they've been a great partner, too. Neiman Marcus is also great—they're a growing business for us.
What are your favorite getaway spots when you need to recharge?
I love going down to Florida—I can check on my stores and work at the same time! I don't like to sit; I always need to move. Relaxing is not the easiest thing. Another place that I absolutely love going is Anguilla. We stay at the Viceroy, and it's great for my kids, who are all different ages. We've been going there for almost 15 years. Highly recommend!