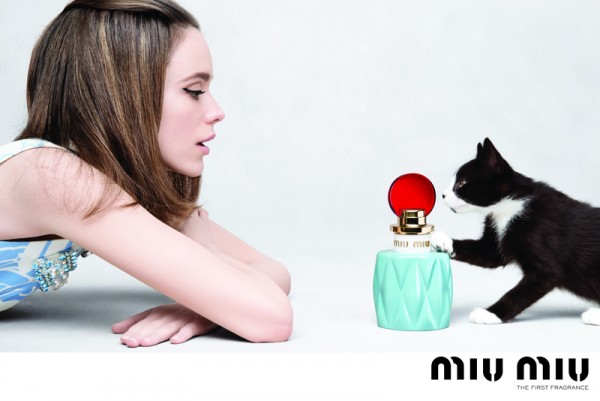 You might know Stacy Martin from her racy role in Lars von Trier's Nymphomaniac Vol. I and Vol. II. But her latest role is being the face of Miu Miu's first fragrance. Oh and by the way, she's done six other films just this year. We caught up with the burgeoning star to find out about the new fragrance and what it's like working with all of the greats from von Trier to Miuccia Prada and Steven Meisel.
When you first got approached to do the campaign what did you think? This is your first fragrance campaign and their first fragrance.
I was quite surprised and excited to work with the team again because I had worked with them once beforehand on their fall/winter 2014 ready-to-wear campaign and it was such an amazing experience. I really discovered a whole new philosophy of working within fashion that I had not anticipated. Since it was their first fragrance, it was such a big honor and it was a big step.
What was he like to work with?
Amazing. When I first worked with him for the fall/winter 2014 Miu Miu campaign it was the first time he had shot for Miu Miu. I think the whole Prada team was quite excited. It is so incredible to work with someone like him who has such a huge talent and respect within the industry and he is so quick. I think he understands really what Miu Miu is and he understands that he is shooting a person and he kind of marries the two and the result is that you don't even see it happening and he goes, 'Okay we got it!' And you think, 'Oh, I thought you were just fixing the light.'
Tell us about meeting Miuccia.
She is so amazing. She is a real artist and really supports the arts, and actresses and artists within architecture, film, or painting. I think that it's amazing that someone like her is within that industry and tries to move things forward. She is so humble and shy, but you can tell that her tenacity knows no limits and it's quite incredible to see woman leaders like her.
Did you wear Miu Miu before you started working with the brand in the first campaign?
No, I don't think I could afford it!
Were you into fashion or consider yourself someone who follows fashion?
It's really new. I don't think I even follow it now but I have a new awareness in terms of what fashion week is and what collections are but I don't necessarily follow it. I am quite lazy in that sense but I appreciate it.
How was the Venice Film Festival?
It was so fun. I had been to Venice, but never to the film festival and it was so relaxed. It's one of the festivals that really focuses on film, actors, and directors and it was so cool to be a part of that. One of the films that I presented won two awards so it was quite an amazing moment to be there and present something and to get that response.
What is next for you?
I am going to take a break and then I'll probably get really impatient because I am not really good at balancing working and not working, but I am just sort of on the back end of presenting all the films that I did last year so I am going to do that.
Your career took off very quickly and you worked with Lars Von Trier straight out of the gate. What was that like for you?
I was a big fan of his work beforehand. Usually, you can only aspire to work with people of his caliber, but when it became a reality it was quite strange and exciting at the same time. Then we did the film and it took about a year for it to come out so there was quite a progression in terms of people even getting to know who I was because I had never done a film before. I didn't even have an agent before signing. I kind of managed to catch up and learn a little bit about everything beforehand so when it came out there was a whole other adjustment because what people thought the film would be was actually different from what it was and that was quite exciting to hear journalists say, 'Actually it was much better than I thought' or 'It's actually a movie. I thought it was just going to be some weird porn thing.' It was quite exciting to hear people admit they were wrong.
In terms of the fragrance, have you been wearing it? Do you like the bottle design? Do you wear fragrance on a regular basis?
I do wear it, which was something I was nervous about. I thought, 'What if I don't like the smell? Then I have to sort of say to people that I wear it when I don't wear it.' That would be quite weird! But I do wear it and the bottle is amazing. The fragrance is so earthy and the actual scent of it kind of evolves constantly because changes. You put it on and it kind of grounds itself, which I really enjoy.