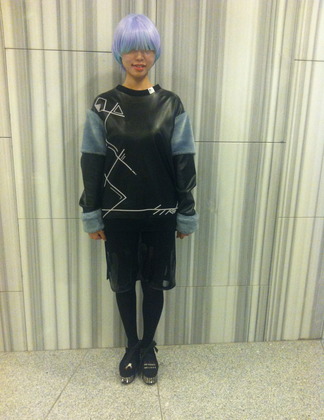 Spotted At Seoul Fashion Week: Cyber Chic and Very Blue
|
A PSA for street style photogs everywhere: get thee to Seoul next season for truly fascinating looks off the runway. Meet Viviana Kim, who once got wigged out by Vogue and has a decidedly digital sartorial M.O.
How would you describe your style sense?
Cyber!
Quite the tresses you've got…
It's a wig. It goes with my style for today. I change it every day; I switch between four wigs.
What inspired you to wear wigs?
Reading Vogue Korea.
Who's your favorite chic American?
Alexander Wang. His style is very High Street.
How would you sum up Korean style in one word?
Change.