Hi, everyone! Sophie and Charlotte here to bring your our second subject, Kátia Barros the Co-Founder and Creative Director of the new 'it' girl brand FARM Rio. This Brazilian brand is all the rage right now. If you were at all in Montauk this summer, you probably saw their super chic pop-up shop at everyones favorite day into night party spot The Surf Lodge. All the coolest girls of NYC have been seen wearing this brand, like fashion director of Shopbop Caroline Maguire. If you haven't yet, you must go check out their flagship store on Prince Street in soho — it literally feels like you have escaped NYC and entered a beach paradise. We got to know Kátia a little better below!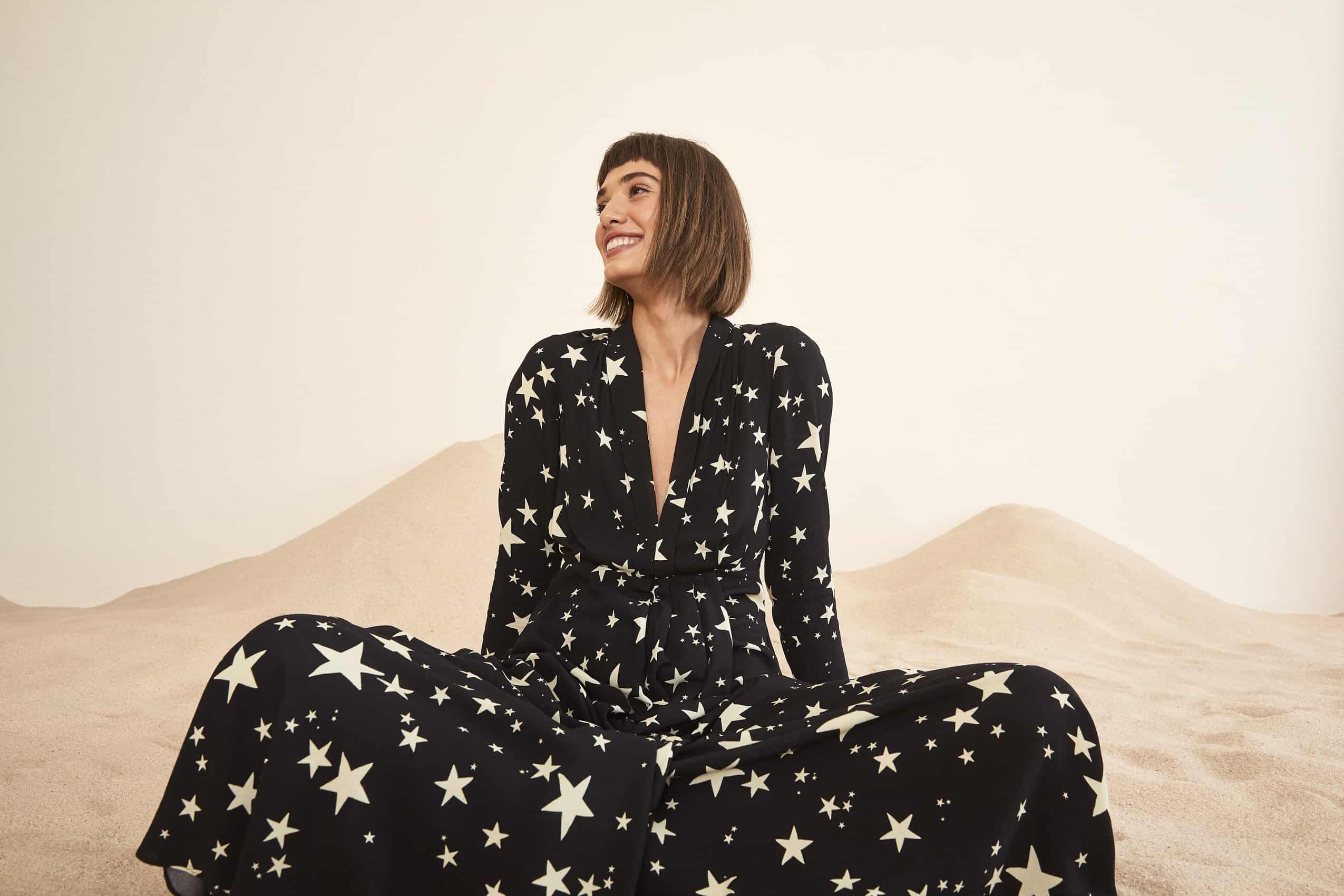 Sophie and Charlotte: Tell us about yourself and your brand! We want to know your full backstory.
Kátia: I began my career as an auditor but I was always drawn to the world of fashion. I wanted to capture the joyful energy and creative spirit of my native Rio de Janeiro and built FARM Rio to share this with the world. My co-founder, Marcello Bastos, and I launched FARM Rio in 1997 as a small booth at a marketplace, and it has been exciting to grow the brand over the last 22 years into a household name in Brazil, with over 75 stores across the country — and now in the US too, with our flagship store in Soho, summer pop-ups in Los Angeles and Montauk, and a Miami store to come before the end of the year!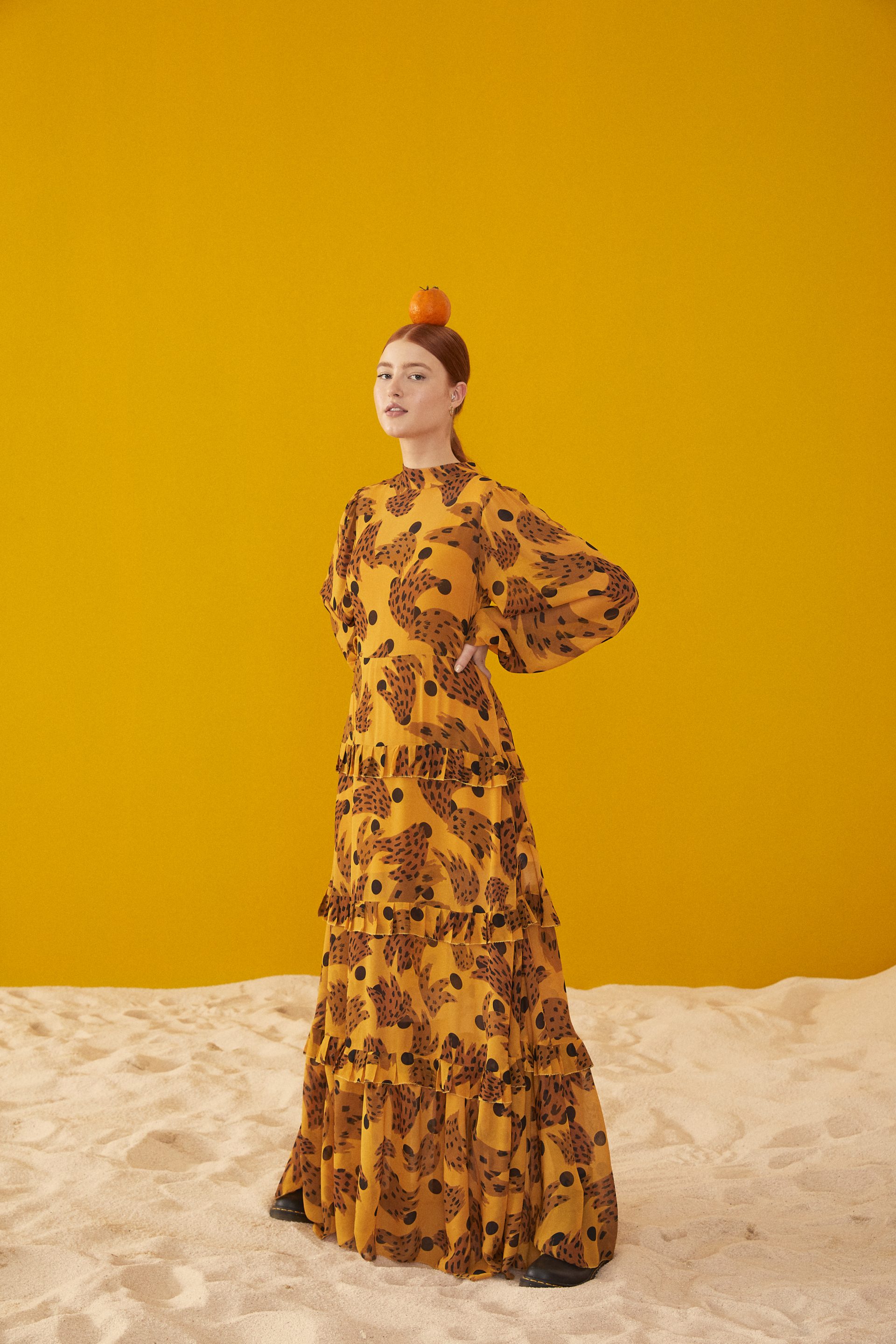 Sophie: How did you come up with the name FARM Rio?
Kátia: We're inspired by the culture and colors of Rio de Janeiro and we want customers to feel embraced in the Brazilian culture when wearing FARM Rio. Our prints and designs are based on elements found in nature and symbolize the joy of life. Through our products, stores and experiences, we look to help customers share in the values of community, celebration, and creativity that Brazil inspires and FARM Rio embodies.
Every detail in our collection is inspired by Brazilian elements, but with a twist. We put our own spin on it, using textures and colors we've seen in nature or drawing from motifs that are signature to FARM Rio, like toucans, bananas, and cashews. Through print engineering, all of our prints are specifically designed for each piece, allowing for the perfect positioning of elements on each garment.
Charlotte: What sets FARM Rio apart from other brands?
Kátia: We design all our prints in-house. We have a special design team dedicated to print engineering, strategically pairing each garment with the perfect pattern to create over 400 prints for each collection, evoking a sense of joy with every product. Our design process takes a ton of teamwork we use Brazilian elements as our inspiration, using textures and colors we've seen in nature or drawing from motifs that are signature to FARM Rio, like toucans, bananas, and cashews.
For our US collections, we create new, elevated shapes and designs that are made specifically for the US market. We have a dedicated team working on the US collection and we're so excited to introduce our very first Fall Collection this year, which features materials and styles that we haven't previously used in Brazil, including printed velvet pieces, reversible puffer jackets, beaded sneakers, and corduroy.
We are proud to have joined forces with One Tree Planted, an organization whose mission is to make it simple for people to give back to the environment. For every FARM Rio purchase, across the website, store and other retail partners, and every newsletter sign up, we donate one tree to be planted in the Amazon rainforest, in the hopes ofreaching 100,000 trees planted by the end of March 2020. Our goal is to help recover endangered forest ecosystems and protect freshwater supply, and we want to make it easy for our customers to join us in this mission.
Sophie: What's your inspiration behind your awesome Soho store? How did you decide to create the beach atmosphere in the concrete streets of NYC?
Kátia: We want customers to feel like they've stepped into a Brazilian oasis. We partnered with renowned Brazilian designer, Marcelo Rosenbaum, to transform the space, with every detail inspired by the country's natural elements like the beach and the sun, along with the communities that reside there.
The store features a sand-lined, rustic wooden deck, a flower shop Brazil-based FLO Atelie Botanico (FLO) with a selection of flowers and plants for purchase, and large fitting room pods weaved in cotton crochet and adorned with stones and crystals. Each pod is intricately hand-made by designer Gustavo Silvestre, who works with former inmates in a process to integrate them into society.
As we move into fall, we prepared the store for colder temperatures with woven works from Brazilian artist, Ines Schertel. Through an ancient spinning technique, she creates pieces with sheep's wool, providing a warm and welcoming environment. We see it as the perfect backdrop to the vibrant colors and prints seen throughout our collections, and ultimately, lends to a playful, "toes in the sand" experience for our shoppers.
Charlotte: What's your favorite print from the collection?
Kátia: The Borogodo print is my favorite in the Fall Collection. Borogodo is a quality, a genuine glow or natural je ne sais quoi, and a feeling that a person gives off. It's something that we see in the women of Brazil, in the way they move, walk and dress. It's a word that can be hard to explain, so I'm excited that we've now turned it into a print. The intricate print features symbols of Brazil, including pineapples, trees, faces, jaguars, eyes and birds.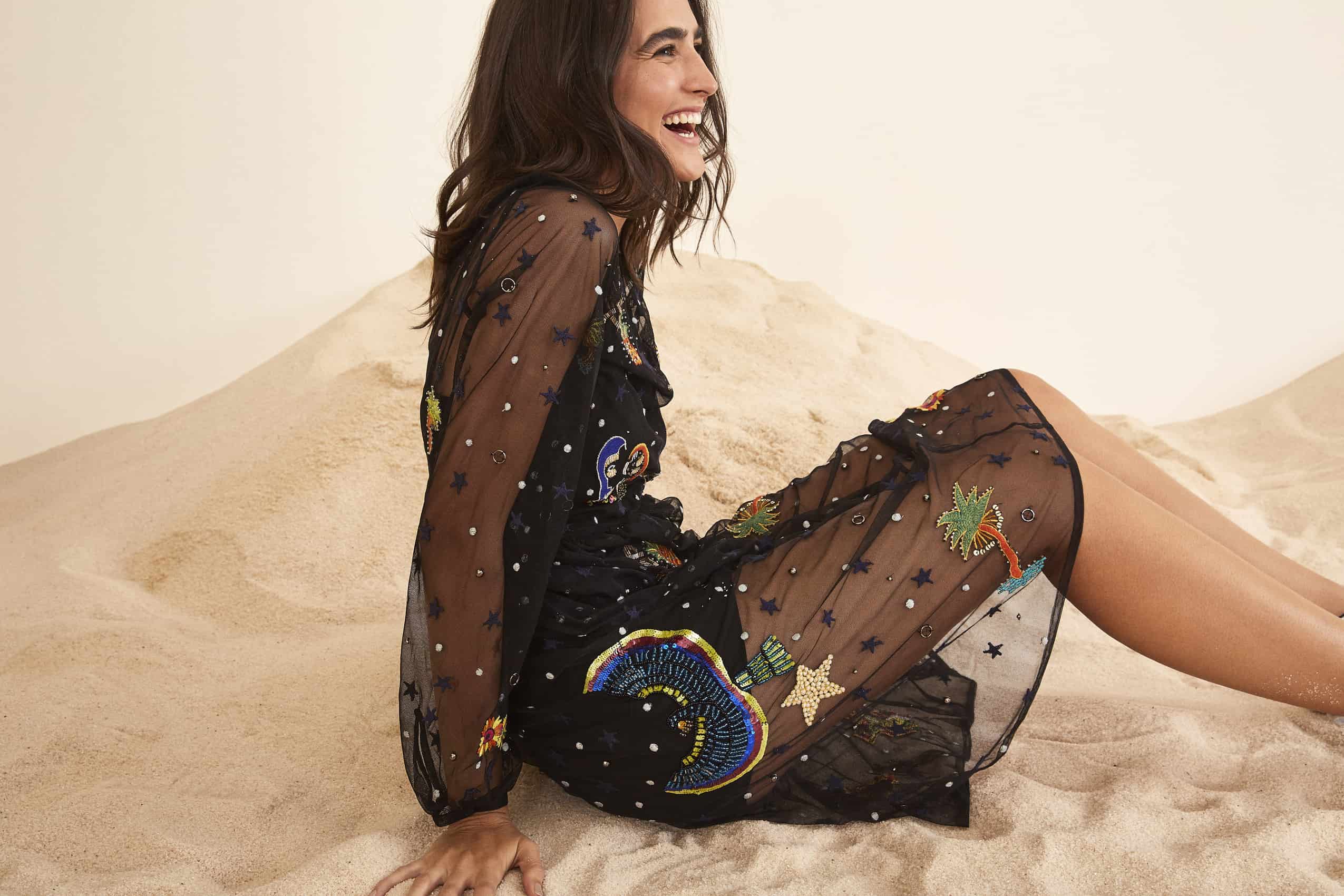 Sophie: Can you share any special projects you are working on?
Kátia: We're proud to partner with brands that share our vision and work on long-term meaningful collaborations with like-minded brands, including Havaianas and adidas.
We first collaborated with Havaianas in 2007 and have released three collections a year ever since. This year we launched our first collaboration collection in the U.S, featuring our signature prints that were inspired by the nature and animals of the Amazon forest. We also entered our sixth year of partnership with adidas this year and continue to debut signature collections of sportswear styles inspired by the energetic spirit of Rio De Janeiro.
We also love spotlighting local Brazilian makers online and in our stores. We have an ongoing partnership with the Yawanawa tribe in Brazil to introduce a line of artisanal jewelry. Featuring colorful beading and powerful spiritual symbols, the line contributes to the sustainable economic growth of the Yawanawa women and their families.
We also want customers to be able to fully immerse themselves in Brazilian lifestyle and fashion, so we offer a selection of Brazilian-made jewelry, home accessories, and skincare products from outside vendors in all our stores.
Charlotte: What's next for FARM Rio?
Kátia: The next 5 years for FARM Rio are focused on global expansion. Our goal is to bring the spirit of Brazil to the rest of the world and I'm excited to use the success we've seen in the U.S. as our launching pad to continue to grow in new markets across the globe, with new store openings and global wholesale.
Sophie and Charlotte: Where can we find you?
Kátia: Shoppers across the U.S. can find us at FARMRio.com, as well as on Shopbop.com! We also have our flagship store in SoHo, New York, and look forward to opening in Miami before the end of the year.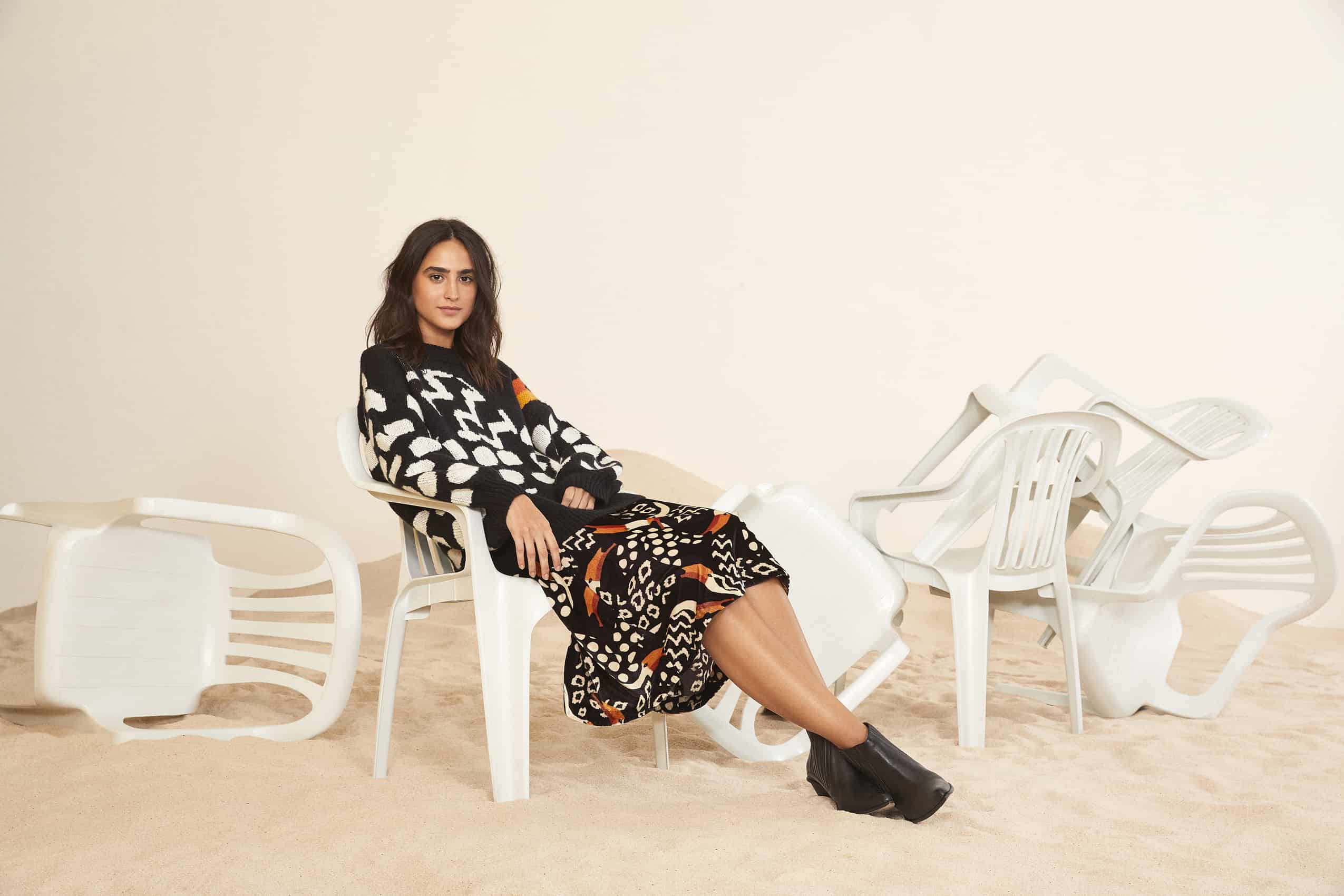 Subscribe to our newsletter and follow us on Facebook and Instagram to stay up to date on all the latest fashion news and juicy industry gossip.