That's right, jewelry designer Solange Azagury-Partidge is making fine jewelry out of human teeth! The freaky little baubles are part of her new "Sentimentals" collection, which includes everything from an 18ct gold locket shaped like a brain, called a "Memory Bank," to an 18ct gold ring engraved with tiny sperm swimming towards a diamond at the center of an ovum. But, of course, the best items in the entire collection for sheer wow-wow weirdness are definitely the earrings and ring made out of actual human teeth.
The earrings are called "Baby" and feature little clusters of real, human baby teeth set in 18ct gold and studded with half a dozen diamond "fillings." The provenience of the teeth is a little murky just now. They might be the designer's children's teeth or they might be some other random baby teeth. The boutique was unable to confirm one way of the other, which raises a whole host of questions: Is it weirder to wear the teeth of someone you know, or someone you don't know? If these are Azagury-Partridge's children's own baby teeth, would she really want to sell them? And if not, where did these mistery teeth come from? Does Azagury-Partridge have a secret Tooth Fairy connection? Oh my god! Is the Tooth Fairy real and reselling baby teeth she gets for a dollar at a massive mark-up? So many questions!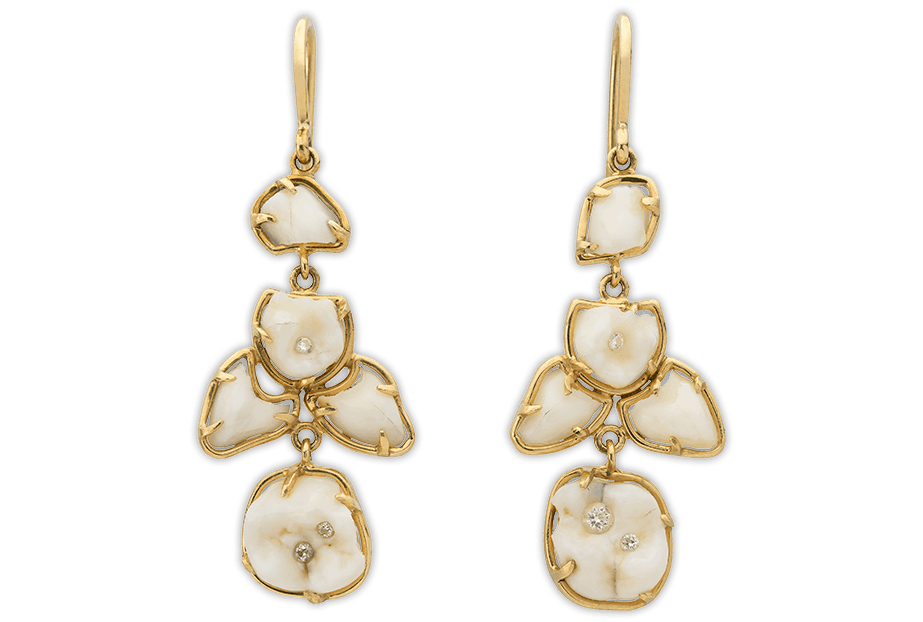 In addition to the earrings, there is also a ring called "Wisdom." LOL. The one in the press packet and on the website is actually a fake tooth created with them help of a real dentist who specializes in creating and working with prosthetic teeth, but, if you wanted, you could bring in your own real wisdom tooth — or perhaps a molar? — and have something made just for you, complete with diamond fillings!
The ring with the ceramic tooth is $7,700, but if you bring your own tooth, it only costs $5,300. Such savings! The earrings, meanwhile, are $10,900, and, again, if you want, you can bring in your own baby teeth and have custom earrings made as well.
Azagury-Partridge is probably best known for her oft-copied Hotlips rings, cheap versions of which can be found at every knockoff fast fashion junk shop from Forever21 to Claire's, but her best stuff is always a little odd — or, in this case, a lot odd — and god bless her for it. True, human tooth earrings aren't for everyone, but that's part of what makes them so great. Also, if you think about it, is this really any stranger than saving some macaroni portrait your kid gave you for Mother's Day. Maybe you'll never even actually wear them, but everytime you look at them, you'll get wistful and maybe even laugh a little, and what more could you really ask for?
Subscribe to our newsletter and follow us on Facebook and Instagram to stay up to date on all the latest fashion news and juicy industry gossip.