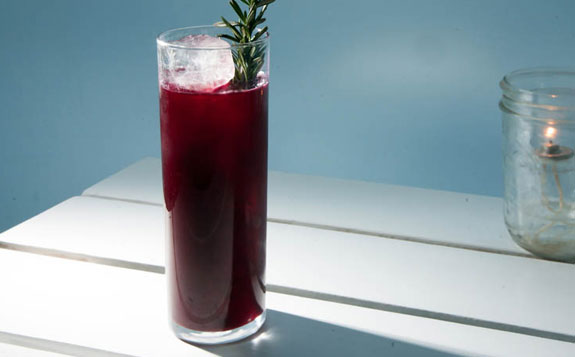 Lazy Point took over the old Anchor Bar digs on the western fringes of Soho (the kids are calling it Hudson Square these days) back in February, and the white-washed, nautical-chic space has been luring in fashion types ever since. Starting tonight, you get can your Lazy Point fix out on the Island: Owner Gunther Bilali and Jason LaGarenne have paired up this summer with nightlife vets Sean "Mole" McKenna and artist Sean Kinney who've been throwing infamous Monday night bashes out East for over a decade. (The weekday bash started at the Star Room in 2002, moved to Georgica in 2009, and has now set up shop at the Memory Motel for the first time. The first Monday night pop-up of Lazy Point kicks off tonight at 9 p.m., with tunes by DJ Phresh; check out the pop-up at specific dates in July and August.  
How did your Montauk pop-up come about?
Being inspired by the actual town of Lazy Point, where I grew up, it was only natural for us to partner with the Memory Motel since it shares the same values of authenticity as Lazy Point does. Rather than hosting a weekend pop-up like everyone else, we chose to stay true to our roots and core values by catering to locals who live out east year round, as well as visitors who choose to stay out during the week.
How did the East End inspire your western Soho spot? 
I grew up in Lazy Point, which is a little-known area of Napeague; it's the area between Montauk and Amagansett.  It has this authentic, rustic coastal vibe. There is nothing contrived about it.  Many residents still make their living from the sea, and experiencing the raw, natural beauty of the place makes you forget you're only a couple of hours away from New York City.  So many cocktail bar concepts are over-the-top or uncomfortable, so I wanted to create an aesthetic that has always inspired me and give people an authentic experience.
How did Lazy Point come about?  
You know, I just got tired of the speakeasy aesthetic, and these self-serious places that sucked the fun right out of nightlife and cocktail culture. Many of these bars were dark, hyper-masculine, speakeasy-type places, and we wanted Lazy Point to be the polar opposite: bright, colorful, fun, great music, approachable drinks, friendly staff and authenticity… everything I wasn't finding when going out in Manhattan. Every few year, it seems people forget nightlife is supposed to be fun!
What did you keep intact, if anything, from Anchor Bar? 
The old sign, which is just a big metal anchor, is hanging on one of the back walls.
What's the menu like?
When I'm drinking, I like to keep it simple! The brisket sliders and the grilled cheese have been standouts for me. The oyster preparations have been amazing as well.
What's your favorite cocktail on the menu?
My favorite is definitely 'Beets by Dre' (above) with Fords Gin, fresh beet juice, rosemary infused syrup, and fresh lime. It's a simple, straightforward drink, but with complex flavors. Myself and our mixologist, Jeremy Strawn, just go in the lab and put together cocktails we feel are accessible and fun. We start with ingredients and spirits we love and work from there.
Tell us about some chicsters that've been to Lazy Point! 
We soft launched with a NYFW after party for Proenza Schouler this past February.  Since then, we have hosted events for Nylon, Paper, Refinery29, and the Marc Jacobs team. We have also had DJs Leslie Kirchhoff and Gillian Sagansky spin.
Do you expect to get lots of fashion-y types at Lazy Point during NYFW come September…and perhaps at the Men's shows next month?
We have already seen an insurgence of the fashion crowd, with patrons from PR Consulting, KCD, IMG, and the CFDA, as well as various Conde Nast publications.