When it comes to fashion folks we can't get enough of, few spring to peoples' minds quicker than Stacy Smallwood. The bubbly doyenne is, we'd wager, single-handedly responsible for bringing countless prominent international designers right to the fingertips of shoppers in the South. Need proof? Sitting pretty on King Street in Charleston, South Carolina, her colossal and influential 10,000 square foot boutique Hampden carries over 150 names across ready to wear, shoes, handbags, jewelry, and more. In news that we love to hear, the pandemic actually proved to be a great thing for this independent and woman-owned business, as shoppers gravitated towards Hampden's in-house personal shoppers and stylists who would send them curated assortments to try on at home before returning what they didn't like while enjoying the rest. Bingo! "From the beginning we wanted to break the mold of what the fashion landscape looked like in the South," Smallwood says. Now it's your turn to get to know this front row fixture; here's her impressive story.  
Where do you think your love and aptitude for fashion comes from? 
Until I was 18-years-old, I had two big loves and dedications—equestrian horseback riding and ballet dancing. Two very different disciplines, but both gave me the strength, confidence, and structure to instill the work ethic needed to own my own business. The creativity of performing on stage alone allows you to engage with an audience and understand their needs. It is a powerful feeling of joy, connection, and strength. It's the same feelings we experience when helping clients at Hampden. I always loved getting dressed as a child and would lay out my school outfit every evening.
What are some early fashion memories?
Growing up in the '80s and '90s, I remember having a pair of white scrunchie leather boots that reminded me of Madonna and I never wanted to take them off! It's fun to see the oversized shirts, white boots, and mini skirt trend return because it brings back fond memories and yet it is reinvented in a totally new direction and I can express myself in a different way now [while wearing them] being in my 40s.
Tell us more about your '80s and '90s style! Were you always into discovering new designers, or when did that come into play?
I always had a unique style and shopping was my weekend hobby. I looked for interesting pieces but was limited by choice growing up in South Carolina before the internet even existed. Traveling was so important to my parents and our exposure to different cities and cultures always allowed me the opportunity to see new styles and discover everything from big designers in NYC to handcrafted garments in Africa and Italy. The explosion of emerging designers began taking shape when I was working as an assistant buyer at Neiman Marcus. I naturally gravitated towards smaller stores in the Dallas area that were exploring these new collections and taking risks. There was a new story to tell and I wanted to create my own curation of these brands that spoke to me.
What was it about your role as a buyer that captivated you to begin with?
I always had an interest in fashion, but I never thought I could make a career out of it. I honestly didn't know what jobs existed in the industry but my life changed course when Neiman Marcus came to Vanderbilts career fair and interviewed students for their buying program. It was a vigorous interview process but one that only made me get more clarity on the fact that buying was exactly what I wanted to do.
What were some formative lessons you learned at Neiman Marcus that you still always look to now?
The role requires strength in financial planning, analyzation of data in order to communicate with both stores and vendors, and using reporting to influence future purchases. Buying is often not what people expect because it does require a combination of creativity, analytics, and finance in order to drive sales and make decisions. For me, I was able to combine my creativity from my youth and the analytical side of my studies at Vanderbilt. The foundation of retail math, understanding gross margins, the process of negotiations, and the importance of communication are just a few of the things I learned at Neiman Marcus. Starting my career there allowed me a broader understanding of the industry and I truly don't think I could have grown Hampden to what it is today without that foundation.
View this post on Instagram
Take us back to the early days of Hampden. First off, what's the name in reference to and what made you decide on Charleston?
Hampden was actually my middle name as well as the name of my great, great grandfather who came from Scotland to Charleston. I walked King St. as a child and appreciated the magic that it holds. I come from an entrepreneurial family that always encouraged me to form my own path. So when designers started to emerge in New York, I thought it was the perfect time to represent them in a smaller environment and open my own store. At 27-years-old, I took the bold leap into starting Hampden in February 2007 with only a 1,500 square foot space.
You gained nationwide traction immediately for your eclectic offering of those designers. Who are some names who've been with you since the beginning?
In those first years we stocked brands like Alexander Wang, Rag & Bone, Band of Outsiders, Peter Pilotto, and Thakoon. From the beginning we wanted to break the mold what the fashion landscape looked like in the South.
Walk us through what it is about a designer and their collection that has to hold your attention when you're deciding on your buy
The most important question I ask myself are: does this designer have a unique point of view that fills a gap in my product assortment and will my customer connect with this product? There are so many great designers out there, but if I don't think we can sell it, then it won't work.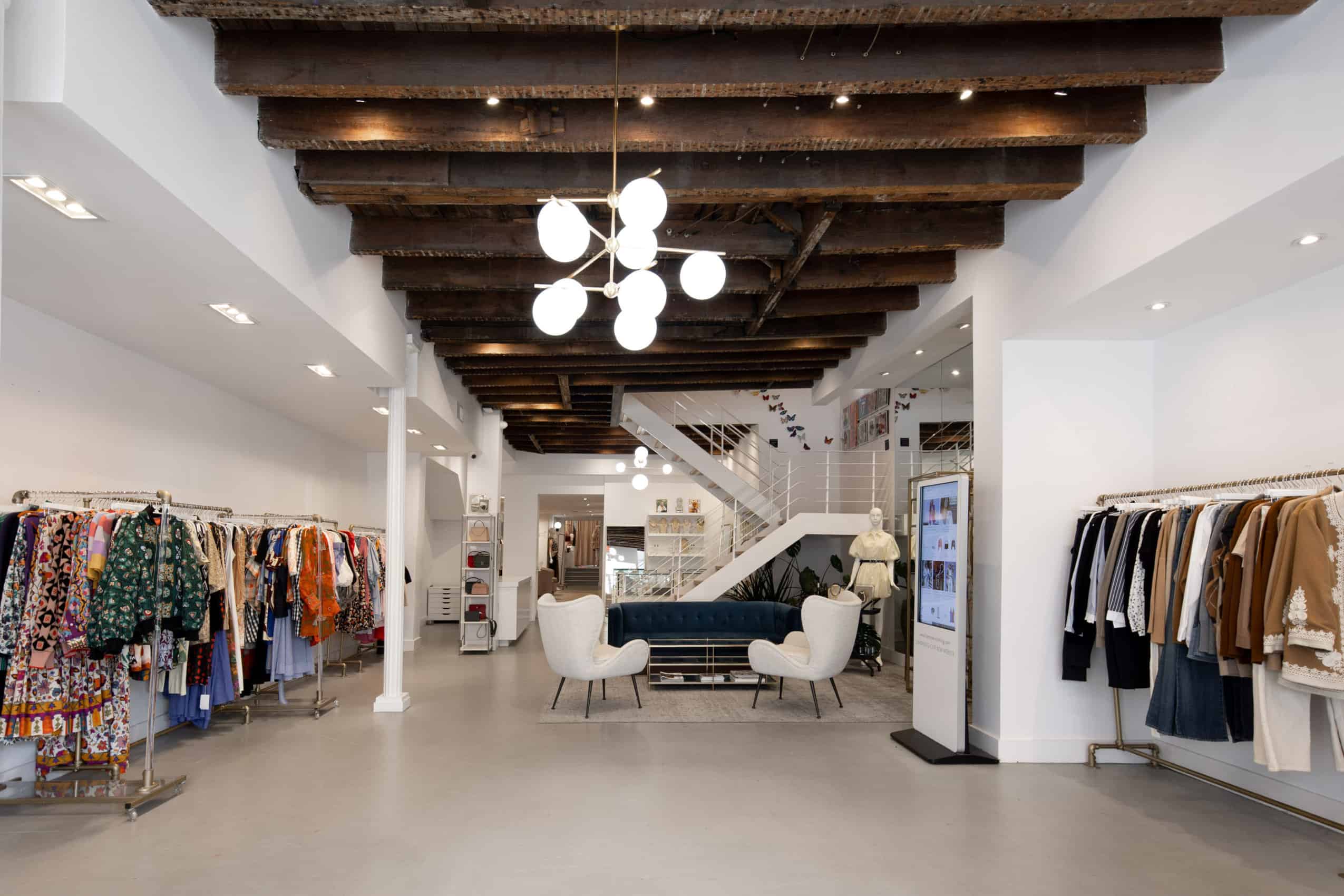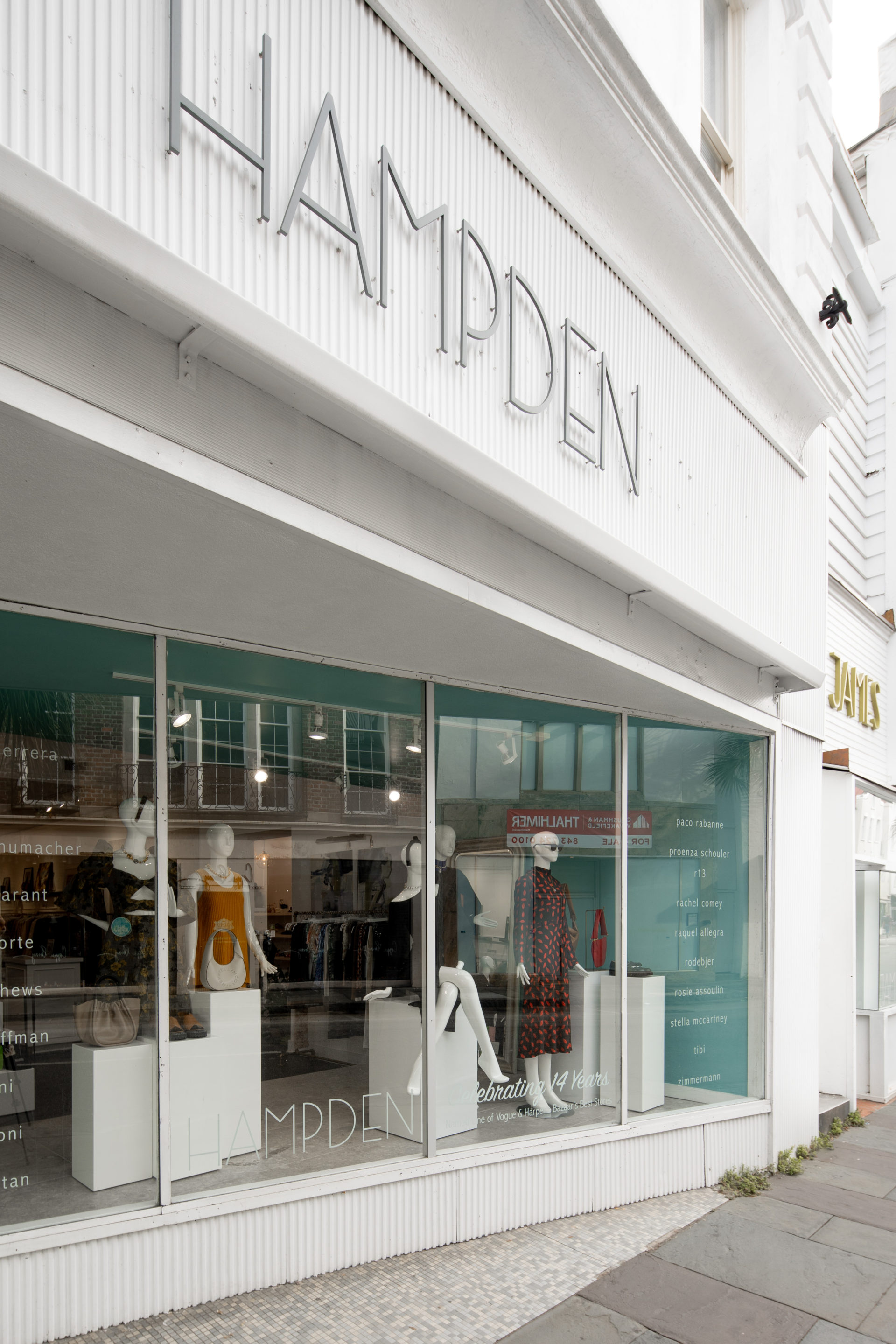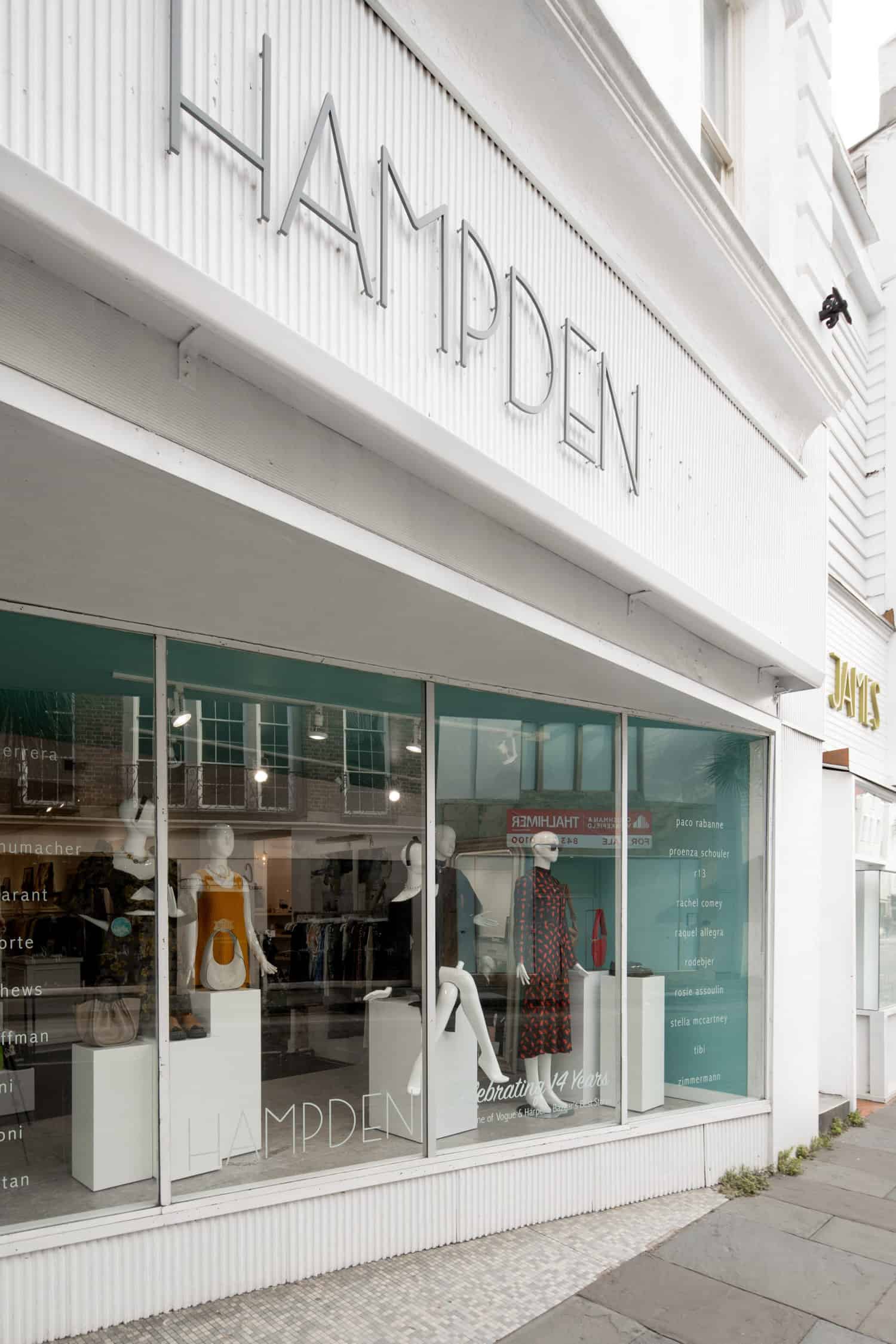 Who've been some new names making you excited and that are proving popular at the boutique?
We are so excited to receive two new brands for the Fall season: La Collection and Sa Su Phi. La Collection is an Antwerp-based designer brand that speaks to minimalist luxury with a bit of androgyny. Sa Su Phi, a brand founded by the former president of Valextra, plays with proportion to create the perfect button down shirts and oversized sweaters, all while using Italian fabrics. Our clients are currently obsessed with Christopher John Rodgers for his bold color, statement making
knitwear, and fabulous gowns. The platform heels from Rupert Sanderson continue to be a favorite when it comes to our growing shoe assortment too.
What traits do you strive to have as a business owner and leader?
Humble, hungry, smart! Those are our three core values at Hampden and the standards we use when hiring great people to join our team. As the owner, I think it is important for me to embody those and lead by example. When a leader is willing to be humble and admit they don't know everything, then they can be open to hear other ideas from a different perspective and continue their own growth. As leaders, we have to continue our own personal growth in order to continue the growth of our business. As we open up and challenge ourselves, we open up possibilities and opportunities for our business.
Why did you make the decision to move to a bigger retail space?
Expansion over the years from 1500 square foot space has been a natural progression of the growth of our business and the availability of a space opening up on King St. just next door. My dad used to have a sign in his office that always stuck with me, " Success is when hard work meets opportunity." I keep expanding when the opportunity presents itself because I've never been scared of hard work.
Images: Hampden's Fall/Holiday campaign
What milestones since the pandemic have been most formative for the business?
We had just re-platformed our website for the sixth time over the past 15 years and I launched on Shopify in November of 2019. With every single item in our stores available for purchase on hampdenclothing.com, we were able to service our clientele on a digital platform.
You must have quite the personal collection of clothes too! What does your own closest look like?
I've been spending so much time in NYC for work that I decided to get an apartment in the city. So, now I can keep my warmer clothes in my walk-in closet in Charleston, and my heavier coats and sweaters in New York! I believe the more organized you can keep your closet, the easier it is to get dressed in the morning. I organize my closet by category: dresses, tops, jackets, pants, and then that's organized by color. My favorite pieces are a John Rocha tulle black dress I purchased in London at his store before he retired, a navy and white stripe coat with white leather sleeves by Sacai from the first season we carried the collection, a white vintage Chanel bag I purchased at a Paris flea market, and a black oversized R13 blazer that I wear almost once a week.
We know you have the best recs! Five places in Charleston we simply have to try?
1. FIG for dinner.
2. 167 Raw for lunch.
3. Vern for dinner.
4. Leons for lunch or dinner with a big crowd.
5. Malagon for a small crowd/dinner date.
What makes you excited about the future of brick and mortar retail? And what about the world of e-commerce?
I think COVID was an opportunity for all retailers to re-think how we do things and how we can think outside the box. Our e-commerce site allows clients all over the country and world a visual window into our store's inventory and drives them to reach out to their stylist or personal shopper for a personally-selected approval box. Clients who shop in-store and don't live in Charleston can order online and utilize the live chat for questions and view every item flat image and on a model. I think, moving forward, it isn't about one or the other, but each complementing the other and offering clients options so they can choose how they prefer to shop.
In a nutshell, what do you think makes Hampden unique?
Hampden has over 150 designers across 10,000 square feet; an assortment of shoes, handbags, ready to wear, jewelry, and home; with every item is available on our independent website for which we produce all of our own photography and  content. Those facts make us unique to any other speciality store in the country. What truly makes us special is our commitment to empowering women to express themselves through fashion. It's our mission to tell the stories of the designers and communicate the art of fashion so everyone feels they can participate and not be intimidated.
Lastly, what's on your Fall '22 dream wishlist ahead of fashion month?
A brown leather Rosetta Getty blazer with gold buttons—her leather is so soft, the fit feels fresh, and
the colors give it a cool '70s vibe. One of our Extreme Cashmere exclusive striped dresses. When styled with a trench coat, this cashmere dress is perfect for a long day of running around shows. The long denim skirt from Tibi, with one of their oversized button downs will be the perfect style and I can play with fun accessories like the black knit Marni boots or the Plan C lug sole white loafers. And with, a JW Anderson bumper moon bag under my arm, I will be ready to go. Oh, and the Dries Van Noten citra floral shirt, which will be great with a wide-leg jean from ASKK NY.
[Read More: SO YOU WANT TO WORK IN FASHION? APRIL HENNIG, MODA OPERANDI'S CHIEF MERCHANDISING OFFICER, HAS THE ADVICE TO SUCCEED]
Subscribe to our newsletter and follow us on Facebook and Instagram to stay up to date on all the latest fashion news and juicy industry gossip.