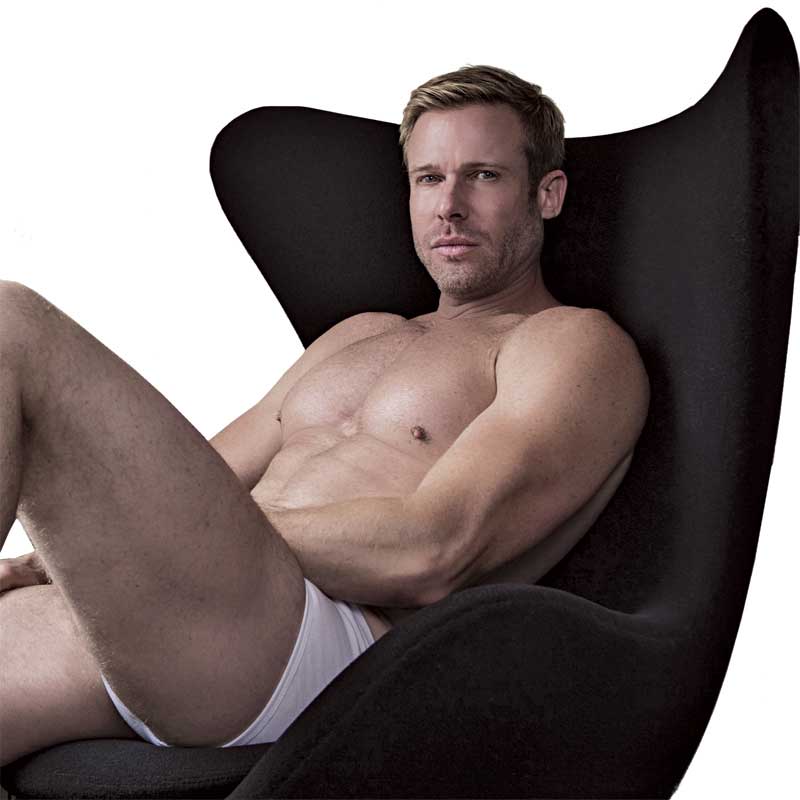 Of your Daily's many Instagram obsessions, none has captured our attention quite like the feed of Paul Margolin (follow him @PaulMargolin). The oft-shirtless president of Marc Bouwer explains why he's willing to bare (almost) all.
Let's be professional. How long have you been at Marc Bouwer?
Since 1990. Marc and I met through friends at a party. We used to be boyfriends, and I helped him with the business. He did Whitney Houston's wedding dress, and I was modeling at the time but tried to get PR for the dress. It was more challenging than I thought.
What was your modeling career like?
It was short-lived—I only did it until I was 22. I didn't do the European thing. Only in America. I was with Ford for a bit. When I saw the potential growth of Marc's business, I saw the opportunity and left modeling behind.
Were you doing shirtless shoots back then?
Not many. I'm more comfortable with my body now than I was at that time. It comes with maturity!
Who took all the pro photos on your IG feed?
I've been thinking about getting into modeling again, so I'm putting a book together with shots from different photographers. I looked at pictures of myself after I stopped modeling, and I didn't like them. I always knew how to find the angle in the camera, but I lost it a little. I decided to work with photographers again and got some really nice results. I feel like I've gotten better and stronger. Being on Instagram has already started getting me certain offers. Certain brands have offered to send me things—clothes, jewelry…
Are you vain?
There's some vanity involved with being in shape. Wellness is a big part of it—it's about a good and healthy mental state, too, which changes when my physical state is stronger. People like to be looked at and be seen. I feel good about the way I look. I like the way my clothes look on me now. I was a little pudgy when I was growing up. They started calling me "butterball" and "the Ring Ding kid," but I always dressed well.
How did you start getting in shape?
I did push-ups. In 1983, there weren't that many gyms around, because they weren't as popular. I went to a Nautilus in Yonkers, and my mother bought me a machine. By my mid-twenties, I started feeling great about my body. There was a period where I was less concerned, but now, social media is a big motivator. I wasn't always able to show my peak fitness. How many TBTs can I do to show what I looked like at one time? I don't have to count on Throwback Thursday now. I'll post old pictures every couple of months, but they don't get as many likes as current pictures do.
How does that make you feel?
I like that people like what they see now.
Can you thank Instagram for your body?
It has been a motivator, for sure. When you're over 40, you don't go out as much as you once did. There was a period when I became less social, so it wasn't as important to me. Not that I have to be on Instagram to be seen. I just feel like you see a lot more from everybody else. You think, I'd like to be fit and get those results. I forgot, for a period, how much I liked it. I also stopped drinking for a bit, which helped.
What's your routine at the gym?
I go only once a day. Twice would be overkill for me. I don't like to overwhelm myself. For example, salad can overwhelm me if there's too much green. There's something so green about salad. I like a routine, and I go every day. Even though people say you should have resting days, I'd rather go to the gym. But I don't feel the need to do it if I'm on vacation.
Would modeling conflict with your day job?
I think it would be fine. I see a lot of people leading multifaceted lives. I've been working with Marc for a long time. We talked about it. He said I've created an energy by doing it. It's another way for me to be creative. Modeling is a goal right now.
You're going to turn 50 this year. How do you feel?
A lot of times, I feel like Sally O'Malley from Saturday Night Live and say, "I'm gonna be 50!" There's something funny about it, because I don't feel 50. A lot of New Yorkers feel that way. Social media has connected us to a broader audience. If I was in my twenties, I would never want to go out with anybody over 40. Now, people react differently.
What kind of comments are left on your feed?
I get "zaddy" a lot. [Ed note: That's slang for a really "handsome" guy who looks really fashionable, according to Urban Dictionary.] Sometimes, I have to look the words up. You can be young and be a zaddy, too. If you believe that stuff, you can believe the bad stuff. I don't want to get too hyped about it, but I don't get a lot of negative comments. The people who follow me seem to like what I'm doing. I try to keep it fun and show my body and what I'm wearing. Every once in a while, I'll throw in a selfie in the bathroom. It gets a different response. People also have a big thing for body hair, and say things like, "I prefer the hair!" Either like it or don't, but don't clog up my comment feed.
What does your family think of this?
My dad is really impressed. He can't believe how good I look. He's 76!
Do you have a signature pose?
A little smize. People say things about my lips. I have big lips, but I can prove that I've had them since I was little. I like to look directly into the camera. I'm trying to learn different poses, but my signature would be smoldering. Is that too egotistical? I like a sexy look.
What makes a sexy photo?
Style it a bit, although it doesn't have to be over-styled. Hints of things are sexy. Photos in bed are sexy, perhaps because I love sleeping so much. There's nothing like crisp sheets and a great pose. This isn't sexy, but if I'm home and taking a picture by myself, I always make sure there's no Windex on the counter in the background.
Have you showed your tail?
I've let other people who have shot me show it. I haven't shown it on my own. The pictures are nice. I just haven't wanted to put the butt on my page. I might at one point.
You don't want people to think you're an old adult film star.
Exactly. One of my friends said, "You've got one foot in!"
Would you ever consider that field?
I wouldn't. That doesn't interest me.
Who do you find sexy on Instagram?
Candice Swanepoel, Mr. [Eric] Rutherford, Khloé Kardashian. Laverne Cox, who we work with all the time, will put some sexy bathing suit shots up. Her Allure shoot inspired me to have my butt in a picture.
Do you get stopped on the street?
Sometimes!
Did you want to be famous growing up?
Doesn't everybody want a little fame?
What makes a good Instagram account?
People want to get to know somebody and become familiar with them. Group shots don't do well. People like a close-up. Click!

Photography: Lueur Photography; StevenGabriel Photography; Michael Craft/Twisted Images; Laurent Guinci; Alex Marshall Photo; Duc Nguyen Photography