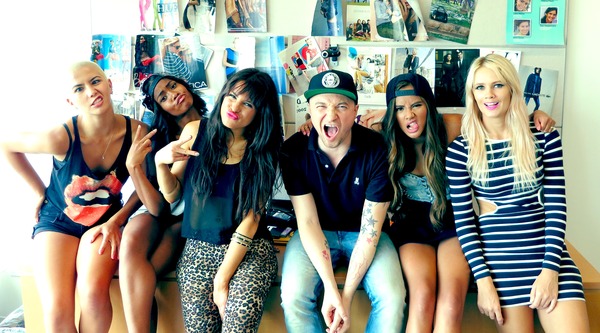 Sergio Says! Musings From Cosmo (and Beyond…)
|
How was your week? Did it involve two starry screenings, a din at the Spotted Pig with a soulful music crooner, and a deskside performance by a haute girl group? Didn't think so! That's how Sergio Kletnoy's week unfolded, both at his Cosmo gig as Joanna Coles' assistant extraordinaire and far, far beyond the work grind!
Monday
Now that the tomfoolery of New York Fashion Week is behind us, we can all get back to eating solid foods, drinking for fun and not because the cocktail looks cute with your outfit, and wearing normal clothes that aren't ridiculous and one size too small (I'm not naming names). Today I was visited by G.R.L., a five-piece girl-group that literally has an army of supporters behind them. Their fanclub includes the hottest pop-producers in the biz, Max Martin & Dr. Luke, Britney Spears and Miley Cyrus' manager Larry Rudolph, one of my fave songwriter-turned-pop-stars Bonnie McKee who co-wrote their killer pop masterpiece "Vacation" and the mastermind behind the Pussycat Dolls. Robin Antin. Emmalyn, Lauren, Natasha, Paula and Simone literally took over the Cosmo office with their voices, style and maje girl power. I asked them to perform in front of the Cosmo staff, which they did without blinking an eye (choreography and killer harmonies included) and within five minutes everyone on staff kinda wished they were in a girl group. The power of G.R.L.!
Tuesday
While THE BOSS was on a judging panel for L'Oreal's Women Of Worth Awards, I jetted off to Spotted Pig for an intimate dinner with everyone's favorite romantic heartthrob James Blunt (of "You're Beautiful" fame) to celebrate his upcoming album Moon Landing. Surprisingly Blunt was a complete opposite of his sensitive balladeer image – he wasn't topless (a la his "You're Beautiful" video) or sad, he drank beers like the rest of us, made jokes and entertained us with his witty sense of humor. After spending time with him and talking about life on the road, fame and songwriting I developed a total man-crush. James is the kind of dude you want to hang with in hopes of being serenaded with… You're beautiful, Sergio… Blunt's fourth album, out in the U.S. on November 5th, is filled with beautiful, raw ,and emotionally charged songs. The first single "Bonfire Heart", co-written with incredibly talented Ryan Tedder is going to melt even the coldest of hearts (i.e. mine!)
Wednesday
Move over Brad Pitt, there's a new adonis in town and his name is Chris Hemsworth. At this evening's Ferrari with The Cinema Society and Piaget premiere of "Rush" all eyes were on Miley's FIIIIINE ex-brother in law, Chris. Pandemonium began the moment Hemsworth stepped onto the red carpet, minus his super hot wife Elsa Pataky. He looked dapper in all black everything: two-piece suit and dress shirt combo, with two buttons breezily opened to offer just a peek at his Thor-like heavage, his crystal blue eyes were to die for, and that shoulder-length hair made everyone swoon. Chris made a quick stop on the press line and left for a more engaging matter, my guess the gym. The film is a must-see, not only for the edge of your seat racing but for all the derriere, chest, legs, lips, face, back and more derriere shots of Chris. You're welcome, ladies and gents! Every time Chris' perfect face appeared on the screen, whether fully dressed or in the nude you heard a collective "oooohhhh and aaaahhhh" from an audience that included Courtney Love, Dana Delany, Oliver Platt, Albert Hammond Jr, Paul Haggis, Kelly Klein, Craig McDean, Dan Stevens, Alexander von Furstenberg, Olivia Chantecaille, Debbie Bancroft and Tyson Ballou. I ended up sitting next to the Swedish blond bombshell and Playboy playmate Victoria Silvstedt, who could barely contain her excitement whenever Hemsworth appeared on the screen, and I honestly can't blame her. After the film I made a two-hour pit stop at the after-party held at the roof-top of Hotel Americano where over D'Usse cocktails named Lauda's Libation and The Formula (after the film) I found myself trading life stories with Liza Minnelli's publicist. I know I know, I have a tough life…
Thursday
While JoCo was celebrating the release of Debora Spar's (President of Barnard College, the women's college affiliated with Columbia University) new book "Wonder Women: Sex, Power, and the Quest for Perfection" I jetted off to the Tribeca Grand Hotel for The Cinema Society and Purity Vodka screening of Tribeca Film's "A Single Shot" starring Sam Rockwell, Jeffrey Wright, and William H. Macy. The film is a dramatic thriller about a tragic death of a young girl, which sets of a game of cat and mouse between a hunter and criminals out for his blood. It was one of the darkest films I've ever seen, visually and mentally. I couldn't wait to leave the theater and headed straight for the after party held at Bar Naná where over Purity cocktails named Take the Money and Run, and A Single Shot Martini (I seriously need a damn cocktail named after me…) I did my best to forget the dark content of the film along with Dominic West, Mark Sanchez, Rupert Friend, Billy Connolly, Leslie Bibb, ALL five Queer Eye guys, Kelly Rutherford, David Alan Basche, Alysia Reiner, Margot Bingham, Nichole Galicia, Bill Skarsgard, Charlotte Ronson, Madonna's ex and Lola's daddy Carlos Leon, Prabal Gurung and Olivier Theyskens.
Friday
OBSESSED:
"Lovers In The Parking Lot" by Solange
"Shot At The Night" by The Killers
"Dark Horse" by Katy Perry & Juicy J
"Pure Imagination" by Fiona Apple
"Kangaroo Court" by Capital Cities
"Wrecking Ball" by Miley Cyrus