Coming from a family of couturiers in Russia, designer Rubin Singer was exposed from a young age to refined technique and elegant design. He brought his craft to NYC, where he became an associate designer at Oscar de la Renta and then to Bill Blass, where he was head designer of three Blass licensees, and later the head designer of Kai Milla. When he launched his eponymous label in 2007, he inserted his own name in the evening-wear/red carpet game. Singer breaks down the evolution of his career, landing the fashion credits for Vanity Fair's November cover, and more.  
Rubin, when did you realize you wanted to become a fashion designer?
I'm the third generation of Russian fashion designers in my family. I grew up watching my father work, which imbued my understanding and passion for the craft.
How do you maintain your Russian heritage in your designs today?
It's inherent in my design, having grown up watching my father work. From a young age the whole culture and sensibility was taught to me by my parents. Russians are well-known for their flair and drama…and I think I follow in that vein. 
You launched your namesake line in 2007. What did working at Oscar de la Renta and your previous roles teach you in this new phase of your career?
Working for Oscar de la Renta taught me how to edit, control, and work with restraint. It truly taught me how to be a professional.
Where do you look for inspiration for your designs?
Everywhere. I've been inspired by the structure of grammar, the film Metropolis, mathematical formulas such as Homomorphism, cultures (i.e. Russia, Japan, Germany) and mythology in my "Vakyries Dominion – Super Bowl Collection" among many others. The brand caters to women and men that transcend age, shape, and demographics. These glamorous, modern clothes empower the people that wear them. 
What are you most known for?
High-end evening-wear built the brand and name for myself. It is most recognized on the red carpet and on stage; however, it is not all that I do. 
Who are your muses?
My mother, Marlene Dietrich, Marchesa Casati, Madonna, Maya Plisetskaya, and Iman. 
Kate McKinnon is wearing your bra and shorts on the November cover of Vanity Fair—how does it feel?
Amazing! To get a cover of such a legendary and iconic magazine is both an honor and a joy.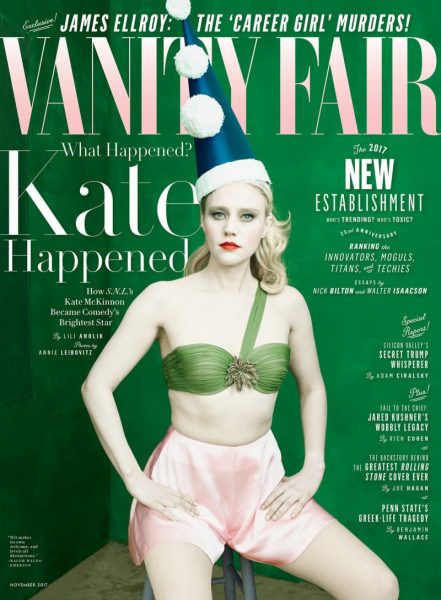 Are you an SNL fan?
Absolutely. My favorite was seeing Christina Aguilera as Samantha from Sex and the City. It was rude but hilarious. 
You have a celeb following ranging from Sharon Stone to Rumer Willis—what's it like seeing major celebs in your designs today?
It is one of the most gratifying things I can hope for as a designer. I love seeing my clothing on a myriad of talented, influential, amazing, and beautiful women. 
How do you see your brand expanding?
We are currently expanding into ready to wear and accessories.