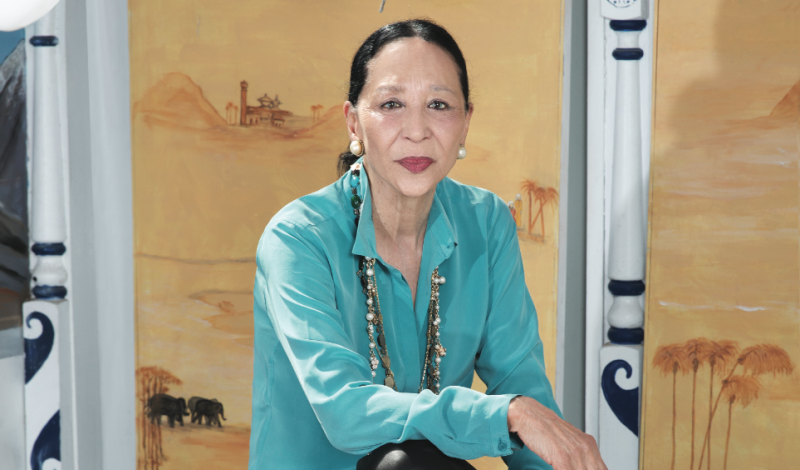 Sometimes there are interviews that remind you how lucky you are to work in this industry, and that was the case when I got to interview legendary model China Machado in 2014. By now you've probably heard she passed this weekend, and she will not be forgotten. Machado was a Richard Avedon muse and the first non-Caucasian to appear in Harper's Bazaar in 1959. Her career got another act years later when she appeared in a campaign for Cole Haan and on a New York Magazine cover. She broke down doors for minority models, spoke her mind, and LIVED life. I'm so grateful to have spent some time with her, and thankful to her biggest fan, IMG's Ivan Bart, for bringing her fab to a new generation. What a dame! Here's our 2014 interview. 
Your name is pronounced "Cheena," but it's spelled China.
When I changed it I was in Paris so it sounded like "Shee-Na." When I was in South America, they used to call me Chinita. When I was in Spain, I was called La China. With the English pronunciation, I think of dishes.
Does it drive you crazy when people mispronounce it?
No! As long as they say it.
You've had quite the life! Starting with falling in love with the famous bullfighter Luis Miguel Dominguínat 19! 
Your sins always come out. I'm a Catholic girl and I had been in a convent school for eight years. Then I met him. He swept me off my feet, and he took me off to Spain. I had never seen a bullfight in my life, but the man was gorgeous. Every single woman was in love with him including Ava Gardner and Lana Turner. He was handsome, funny, charming, dangerous, and then he was a bullfighter! [Laughs] What's a girl going to do?
Do you laugh a lot?
I laugh all the time. If I didn't laugh, I don't know where I'd be. The first title of the book I'm writing was going to be, I'm Always Running After the Laughter which is very true in my life. I didn't have a very happy childhood growing up in Shanghai. But my mother's family had five sisters and they were always laughing. Somehow that meant happiness to me and I was always looking for it everywhere.
You're writing an autobiography?
A memoir! About two years ago my book agent wanted me to do a coffee table book and it sounded so dumb. My story is more than just a coffee table book of photos.
How so?
I broke a racial barrier. At that time I didn't even know it because I was working in Paris for Givenchy and Balenciaga. I thought I was a little exotic, but in America they didn't want to put my picture in magazines because [apparently it would cause] everyone in the South to cancel their subscription. Robert MacLeod, the VP at Harper's Bazaar said, 'We can't publish these pictures! This girl isn't white!' Dick Avedon said his contract was coming up and if they didn't publish my pictures, he wasn't going to re-sign his contract. That was 1959 and things were still a little iffy. That's how I got in.
What was he like as a person?
He was so wonderful to me. I wouldn't have a career if it wasn't for him. He was highly intelligent, simpatico, funny, and one of the most driven men I've ever met. When you took your picture with him, you thought you were the most beautiful person in the world. What is charm? Charm is when someone gives you the absolute attention and that's what he did when he took my picture. It was between you and him. He knew what picture he was taking, even before he took the picture.
He dubbed you as 'probably the most beautiful woman in the world'…
[Laughs] Yes! And I said, 'What are you talking about?'
You seem very humble.
I wouldn't say I'm humble. I'm very realistic and practical. I'm lucky I stopped modeling so I don't have to look at myself all day long. The other girls were very insecure. If they were 15 and you were 20, my god! That's the essence of modeling. It gives you everything and makes you insecure at the same time. You keep thinking that it can't last.
What was Diana Vreeland like?
A character! She was exceptional. She had a talent for finding talent. Diana recognized it immediately. She loved people with a sense of humor. Her whole life was fashion.
Was she intimidating?
She could be. She wasn't a very tall woman. She was kind of small and slight. [Laughs] Let's face it, she had a man-ish face!
Compared to when you first started, what do modern-day fashion shoots feel like? 
The biggest difference is money. When Bruce [Weber] shot me a few years ago, there were 30 people. When Dick and I shot, it was the two of us, his assistant, and the models. I did the hair and make-up on [myself and the other] models. Back then, Harper's Bazaar was so tight with money. They wouldn't even let us give tips when we went on trips. Now these sittings cost $100,000.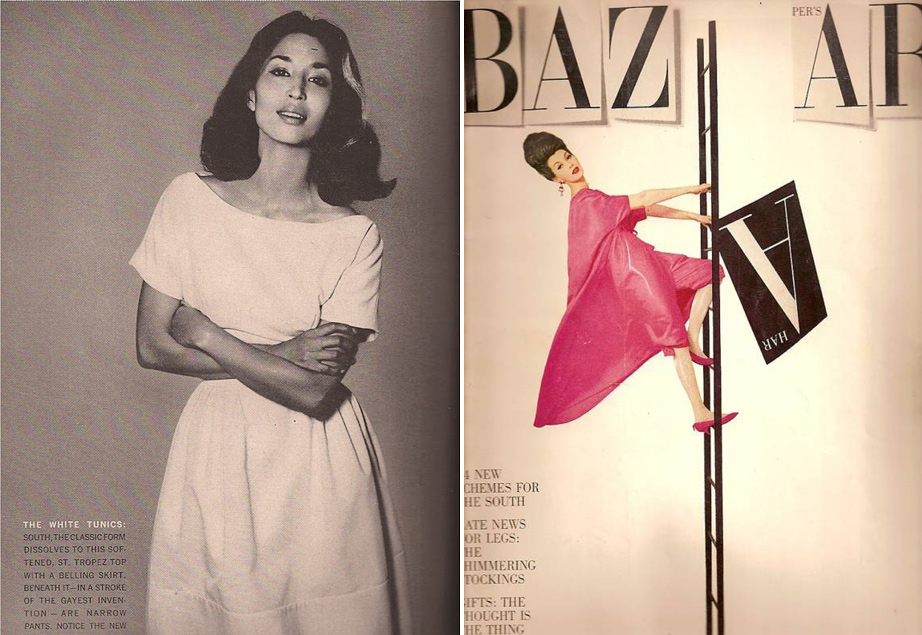 You live out in the Hamptons now. 
I live in Sag Harbor. I'm always busy, even though I thought I retired in 1991. Then I opened a country bazaar. Everything I felt like buying, I sold. I had a gourmet corner for food, I sold clothes, it was crazy and then I did two art galleries for painting and photography, which went on for five years.
Are you a workaholic?
No, but I can't be bored. I'm always active. My friends call me Little Ant. I'm always moving. That's why I'm skinny, because I've never dieted or exercised in my life.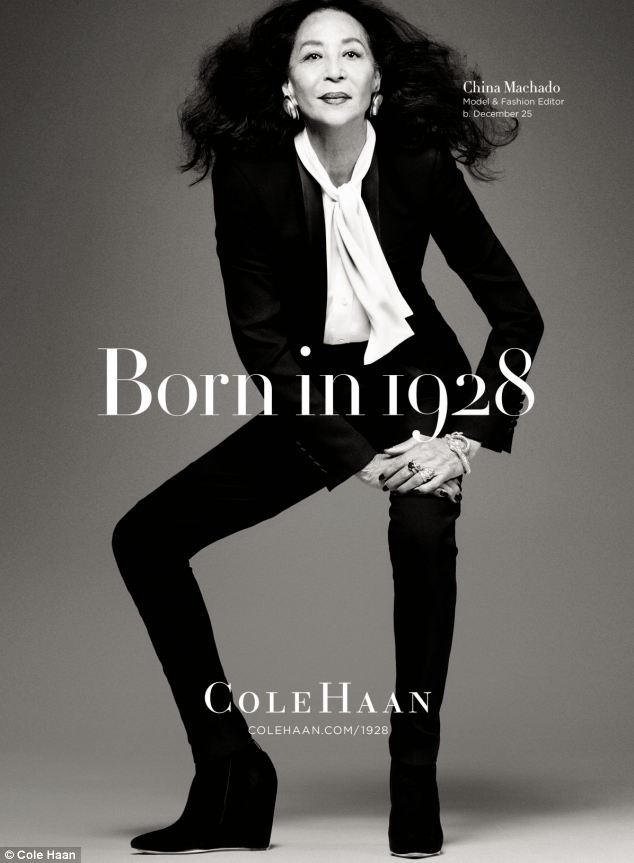 What time do you go to bed at night?
12:30 or 1 a.m. My day starts when my husband brings me coffee at 7:30 a.m. I stay in bed until 9 a.m., watch the news, and I start moving. Then I'm off! I'm always busy.
Do you still smoke?
I've smoked for 64 years! I smoke Parliament 100s. I smoke like three a day. I also smoke electronic cigarettes.
What are your eating habits like?
For breakfast I'll have a croissant and coffee but that's it. At 11 a.m. I'll have a little tiny sandwich and then at 3 p.m., I always have to have a hot meal. It's either left overs from the night before or scrambled eggs or whatever is around. At 5 p.m, I have some tea with cookies and then I have my dinner.
Would you do a documentary on your life?
We're trying. I have footage of the bullfighter from 60 years ago. I have everything.
Is there any photographer you'd like to work with today?
As long as he's got the right lights…
What are you most proud of in your career?
That no man has ever given me a cent. I took care of my children by myself.
How would you like to be remembered?
[Laughs] I haven't gone yet! I danced the merengue on New Year's Eve!