Richie Notar's Harlow On The Harbor
|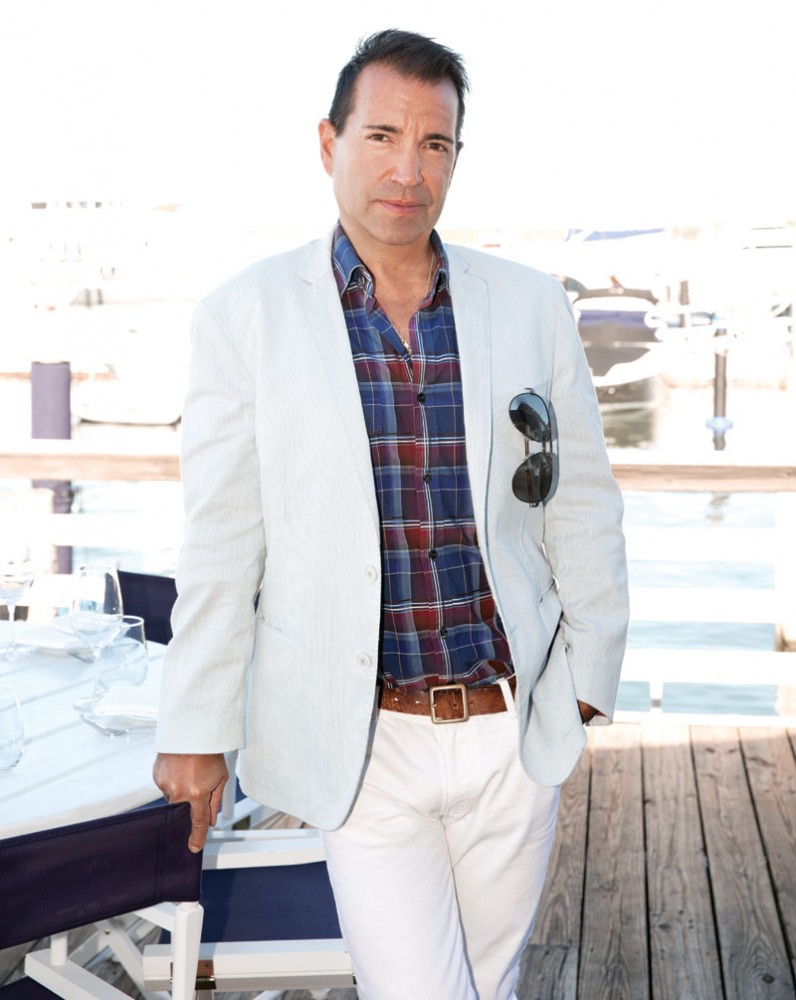 After conquering midtown Manhattan, Nobu cofounder Richie Notar is taking his seafood-centric Harlow concept to Sag Harbor. So what if it ruins his summer?
BY ALEXANDRA ILYASHOV
Congrats on the new spot! Why did you decide to open out east?
You mean, why I did I decide to pretty much destroy my summer? [Laughs.] I guess there's just something about the Hamptons that keeps pulling me back in. I'm like Pacino in The Godfather: Part III. I had a [Nobu] pop-up out here a few years ago and people have been asking me when I was going to do something like it ever since. I always said the opportunity had to be right, and when this space became available, I just couldn't say no. It's one of the only places out here where you can actually sit on the water and have a nice dinner!
What's your niche?
In my experience, planning where to eat on a Friday or Saturday night can be completely exhausting when it should be relaxing. I want spontaneous diners, so we're first-come, first-served. Worst-case scenario, you can always wait at the bar and watch the sunset with a margarita in your hand. I can think of worse places to wait for a table, that's for sure.
What's been holding you back?
This is a people-pleasing business, so it's very hard to say no to people. I have a little boy who is 21 months old and an 8-year-old daughter, so that was a concern. But I said to my wife, 'Listen, this opportunity has come about, and I think it's really good, but you know what it will mean for this summer.' She thought it was a no-brainer, and I had to do it. And so I did!
Did you consider other locations?
A few places called me, but it's kind of like dating—you wind up picking the one you have a good feeling about. I love the outdoorsy aspect of this spot. There also wasn't a lot of redesign needed. It was more of a polish-up.
Did you modify Harlow's menu?
We always try to change up the menu, but I'm a big believer in winner dishes. Once you find them, you should keep them. But if we see fresh fish coming off a boat in Montauk, for example, we'll buy some and put it on the menu that night. We're trying to be as spontaneous as possible.
So, what's on the menu?
Our shellfish platters are rocking; they go great with sparkling wine. The salmon isn't a local fish, but it's also great. We also do a wonderful lobster salad and a terrific softshell crab.
Who's your competition out east?
Harlow East is very different from what's out here now. There are five or six very good restaurants in Sag Harbor, but I don't look at them as competition. They're just other options.
Where do you eat besides Harlow?
My favorite place to eat is my house. I started as a chef, so I love cooking, and I'm darn good at it, if I do say so myself. I love fabulous burrata with heirloom tomatoes and balsamic, grilled branzino, a crisp Pinot Grigio, and grilled peach or watermelon for dessert. I could live on that.
What's your personal Hamptons history?
I've been coming out here for over 30 years in one way or another. In 1991, I kind of got burned out [by New York] and I moved out to Montauk Manor for what I thought was going to be a month. It ended up being two years. I became a local, with a red pickup truck and a Jack Russell.
Do you miss the old Montauk?
I kind of do, yeah. It was a wonderful mix of artists, writers, and working fisherman. Now, it's about driving around in a Bentley with the big house and a private chef. That's all well and good, but I miss when it was about wearing shorts and having a BBQ at home. I want to see trees and deer.
What's your typical day in the Hamptons?
I get up early with my young boy and my dog and check out the turkeys in our backyard. It's pretty cool that my kids get to grow up seeing that. I grew up seeing squirrels! A little later, I go to farm stands, like Iacono Farms in East Hampton, which has great heirloom tomatoes. My kids like to feed their goats, and they have a chicken farm, too. After that, I'll get a workout in, and maybe a swim. Sometimes I'll run the three miles from my house to the restaurant, check who's coming in that night, have a coffee, then run back home.
What's your pad like?
My Hamptons house has five acres at the end of a road, on a nature reserve. When I'm with my family, it's really nice to have that privacy. It was built in the '80s, so it's all white, with a flat roof. It has clean, simple lines. I redesigned it a couple of years ago to make it a little more industrial chic. I put in bright Brazilian stained wood and squared off some of the '80s roundness.

How does your daughter, Harlow, feel about a second restaurant bearing her name?
She's a little kid, so she doesn't go around bragging about it or anything. But in her own quiet way, I think she's extremely proud.
What else is on your plate?
I'm also developing a property in Harlem, the old Lenox Lounge. I designed Harlow East and Lenox Lounge at the same time, so I'd be in nautical mode for Harlow and then I'd have to put my Harlem hat on and go all retro. It was like living in two different worlds. It's important to be meticulous about design.

Would you ever move out East again?
Maybe in a hundred years, but I'd go bananas right now. I'd have way too much anxiety about missing out on the world. I'm trying to conquer London again, and that isn't going to happen if I'm sitting on my ass in the Hamptons.