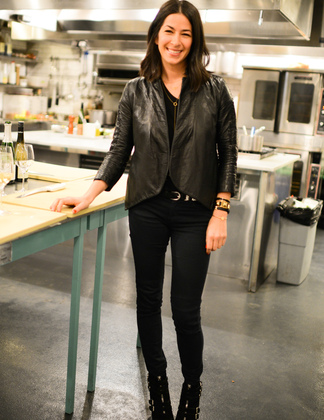 Rebecca Minkoff Dishes On Her Festive Menu
|
As the chic chef that she is, Rebecca Minkoff will be toiling away in her Brooklyn kitchen tomorrow. So what's on the menu? A savory winter squash dish plus a dose of the Thanksgiving Day parade. Delicious!

What did you do for Thanksgiving this year?
Dinner with my family at my apartment in Brooklyn.
How proficient are you with the whole cooking thing?
I love trying new things for the holidays!
So what was on the menu this year?
I recently had an event for our Holiday Denim [collection] with No Kid Hungry at Haven's Kitchen, where we cooked a variety of dishes for a "Friendsgiving" meal. I loved the mashed winter squash with kale sage pesto—I recreated that for my dinner.
What's the one tradition you never miss out on?
We always watch the Thanksgiving parade while cooking dinner. It's something that I've always enjoyed…it's a classic holiday tradition!